Cooking ebooks
Page 2 of 19
Category:
Cooking, Food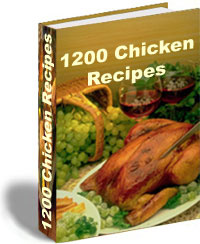 1200 Chicken Recipes$9.95
Add to Cart
Buy Now and get a second e-book for free!!!
Click here to see the long list of these ebooks
(priced for $9.95 or less).
Add to Wish List
+$5
Title:
1200 Chicken Recipes
Description:
555 Pages
1240 Chicken Recipes
Samples:
A 10 Minute Szechuan Chicken

Categories: Chicken
Yield: 4 servings

1 1/2 tb White-wine vinegar
4 Chicken breasts*, skinned an 1 ts Sugar
3 tb Cornstarch 1/4 c Water
1 tb Vegetable oil 6 Green onions, cut into 1" pi
3 Cloves garlic, minced 1/8 ts Cayenne or to taste
5 tb Soy sauce (low salt)

Cut chicken *(these are 1/2 breasts, as you buy them in the market) into 1
1/2 inch cubes. Lightly toss with cornstarch in bag to coat. Heat oil in
skillet or wok; stir-fry chicken and garlic until lightly browned. Add soy
sauce, vinegar, sugar and water. Cover and cook 3 minutes or until chicken
is cooked through. Add green onions and cayenne; cook uncovered about 2
minutes longer. 221 calories per serving.
A 100% Parmesan Chicken

Categories: Chicken, Cheese
Yield: 3 servings

6 Boneless, chicken breast 1/4 c Dry bread crumbs
Halves (about 2 pounds) 1 ts Each dried oregano leaves
2 tb Parkay Margarine, melted And parsley flakes
1/2 c (2 oz) Kraft 100% Grated 1/4 ts Each paprika, salt and black
Parmesan Cheese Pepper

Heat oven to 400-degrees F. spray 15X10X1-inch baking pan with no stick
cooking spray.

Dip chicken in margarine; coat with combined remaining ingredients. Place
in
...
Click here to read the full description!

Rating: (4 after 1 votes)
Cooking Package!
114 Cooking ebooks Click here to see the full list of these ebooks
(total value $710.95)
Buy Now
just for $30.95
$680
off
Mistake found?
Select spelling error with your mouse and press Esc