Category:
E-Marketing, How To, E-Business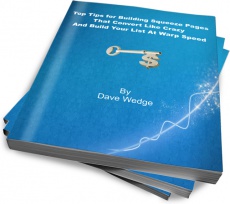 Open ebook.
Add to Wish List
+$1
Reviews:Reviewed by Chris Efird on 2017-09-09
My Rate
4
The book covers the majority of all the basic e-marketing information, and does a good job explaining the information
Reviewed by Luningning on 2017-08-29
My Rate
3
this book is fun to read i like the conversation its helping to,,thats why i love ebook so much a lot of sense
Reviewed by Abhay Bhati on 2017-05-25
My Rate
4
best book on building squeeze pah
ges whch ultimately leads to conversion like crazy. . it helped me alot. . thank u
Leave a review and rating!
Title:
Top Tips for Building Website Landing Pages That Convert Like Crazy
Author:
Dave Wedge
Description:
How to build a list of email subscribers that can then be marketed to by follow up email. This ebook contains examples and a step by step process.
This is now proven to be the single best way of building online business. Selling cold from the page is becoming more and more difficult.
Usually referred to as a Squeeze page, this type of landing page is designed specifically to capture a visitor's email address and gain them as a subscriber.
This provides a long term opportunity to build a relationship and create trust by showing your value and providing an insight to your business and your knowledge.
Such a relationship makes selling a lot easier as many of your subscribers will become fans who will happily purchase what you have to offer. Very often they will recommend you and pass on your details to friends and family.
All leading online marketers practice this approach, there is a well used phrase in the Internet Marketing world that "The money is in the list", but first you have to start building that list.

Ebook Type: PDF
Rating: (3.66 after 3 votes)
Category:
Horse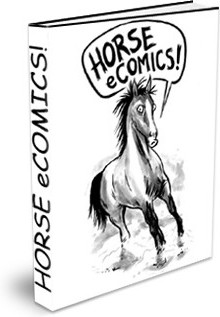 Download this ebook here
Add to Wish List
+$1
Reviews:Reviewed by bruce dackler jr on 2012-12-06
My Rate
5
based on internet
Reviewed by virgil texas on 2012-12-06
My Rate
5
im gay
Reviewed by Bob on 2012-08-07
My Rate
5
Funny comics!!!
Leave a review and rating!
Title:
Horse eComics!
Description:
These are comics inspired by @Horse_eBooks tweets.

Horse_eBooks is a twitterbot that, in an effort to bypass Twitter filters, posts random excerpts from its online book database. This results in PURE COMEDIC GENIUS. All comics are by Burton Durand, unless specifically noted.
Also, you can purchase original comic artwork! E-mail to author for pricing. Larger comics will cost a little more than 3-panel strips.

Rating: (4.75 after 4 votes)
Category:
Horse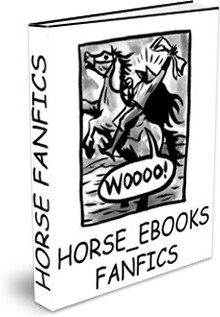 Download this ebook here
Add to Wish List
+$1
Reviews:Reviewed by Ross on 2013-01-17
My Rate
5
"Horse_ebooks stops mid-sentence to answer his phone, ringing in his saddle" love it so much xx
Reviewed by Lydia on 2012-12-11
My Rate
5
Life is fleeting and intangible.
Reviewed by Cheesegod on 2012-12-06
My Rate
5
Kevin
Read all 5 reviews...Leave a review and rating!
Title:
Horse_Ebooks Fanfics
Description:
Sample:
Horse_ebook's date
Lydia checks her date's okcupid profile on her iPhone one last time while waiting at Starbucks.

"This picture is kinda blurry," she thinks to herself "and his face looks a bit long but he seems kind of cute. I hope this date turns out okay."

Just then a horse walks through the door, wearing shades with a bouquet of flowers in his mouth. He trots up to the table and drops the flowers.

"W... whats this?" stutters Lydia.

"Flowers (roses, daisies, vanilla, spring and more)," replies the horse.

A few seconds of silence pass.

"And much, much more...".

"So uh..." Lydia looks down at her phone, "Horse_ebooks, what do you do?"

"Horseracing is my favourite sport and it also supplies me with an addition"

Horse_ebooks stops mid-sentence to answer his phone, ringing in his saddle. He looks back at Lydia, noticeably distressed.

"The most dreadful thing that can ever happen to a horse owner has happened to John and"

Horse_ebooks doesn't bother finishing his sentence as he gallops out the door, leaving Lydia sitting at a table alone, sipping a pumpkin spice latte.

Rating: (5 after 5 votes)
Category:
Computers, Internet, Programming
Open ebook.
Add to Wish List
+$1
Reviews:Reviewed by Luningning on 2017-08-30
My Rate
5
pretty good information very easy to follow i love this ebook
Reviewed by gino ain on 2015-08-06
My Rate
4
good ebook for newbie. Simple english and easy to follow
Reviewed by jon on 2015-05-20
My Rate
5
The eBook is written pretty simple and is informative for every newbie or experienced programmer or webdesigner.
Leave a review and rating!
Title:
How To Create Your Own Website - Step by Step - Guide
Author:
Jon DeLectar
Description:
Hi there,
Ive written an eBook about "Creating Your Own Website" with the free Content Management System (short: CMS) wordpress.
In the eBook I cover everything from seting up your own hosting, choosing the right themes and plugins. Designing the website and so on.
I will also explain how to promote the website so you get daily visitors or readers onto your Website/Blog etc.
There are also a few monetization methods explained where you can enable ads or products from other people into your website and earning money from that one.
The ebook is for newcomers in the WebDesign/Programming area as well as for the more experienced WebDesigners/Progreammers which may find a few golden nuggets in there.
With the book in general I try to bring the actual standard to the normal Joe and also try to explain everything in a Step - by - Step Style so anyone knows whats going on.
Ive put in pretty much work in the book so that it is informative, easy to understand and all in all a good read.
Enjoy.
Your,
Jon DeLectar

Ebook Type: PDF
Rating: (4.66 after 3 votes)
Category:
Business, Education, Science


Open ebook.
Add to Wish List
+$1
Reviews:Reviewed by Luningning on 2017-08-30
My Rate
5
this book is very is very good im going to recommend this to all my friend. very good book
Reviewed by bryan len on 2015-06-19
My Rate
5
Good source. I recommend this ebook for the people who are associated in radiation,industry platform.
Leave a review and rating!
Title:
Oil and Gas service - Radiation Professionals
Author:
Radiation Professionals
Description:
I was so confused about what to buy, but this makes it unasletanddbre.

Ebook Type: PDF
Rating: (5 after 2 votes)
Category:
E-Marketing


Download this ebook here
Add to Wish List
+$1
Reviews:Reviewed by james on 2010-06-04
My Rate
5
learned a lot of valuable info.
Reviewed by Dexter Roache on 2008-03-05
My Rate
5
Nothing left out and the plan is workable.
Leave a review and rating!
Title:
How I Made My First $100 Online
Author:
Andrew Seltz, The Go-To Guy!
Description:
Learn how a struggling Internet marketer discovered a simple method to make money online - and then learn how to duplicate his success.
This ebook leaves out no detail and you can start implementing the methods immediately - no other information or products are required.

Rating: (5 after 2 votes)
Category:
Education, Law and Legal, Medicine
Title:
How to Figure Out if a Doctor Caused a Family Member's Death
Author:
Richard P. Console
Description:
MyInjuryAttorney presents a free eBook on how to figure out if a doctor caused a family member's death. This guide is for all the grieving family members and friends that don't know where to turn after losing a loved one to an overdose.
When death was preventable - like an overdose is - it's natural to wonder what could have stopped it. Family members may blame their loved one for taking the medications, or they may even blame themselves for allowing it to happen.
What few people realize is that the cause of an opioid death sometimes happens years before the overdose. Often, this tragic path starts with a negligent doctor. When physicians inappropriately prescribe powerful opioid painkillers, they can trigger an addiction that changes the patient's life forever.
For many families, one of the biggest obstacles to finding closure is the sense of blame. My hope is that this content will help answer some of your questions about blame after an overdose and about your family's legal rights. Given that we are in the midst of an opioid crisis this content is worth a read.

Ebook Type: PDF
Rating:
Category:
E-Business, E-Marketing, Internet
Title:
Traffic Exchange Red Pill Report
Author:
Andrew Seltz - The Go-To Guy!
Description:
Looking for reliable methods to drive traffic to your website? Learn why traffic exchanges are a waste of time, and 4 methods you can use right now to open the traffic floodgates for your website.
These 4 methods are 100% free and can bring you hundreds and thousands of highly targeted visitors to your website.

Ebook Type: PDF
Rating:
Category:
Weight Loss, Health, Diet
Title:
5 Steps to Fat Loss
Author:
Ryan Graham
Description:
Most people struggle with the idea of losing Body Fat.
However it is easier than you think, and it does not involve going on crash diets.
This book is designed to help you achieve your dream body whilst enjoying your life.
In this book you can learn:
Why most weight loss diets fail.
That by making small daily changes to your lifestyle the fat will melt away.
How and why we get fat.
Which foods to eat and which to avoid.
A step by step guide to changing the way you eat.
That finding a passion is more important than simply burning calories.
Tips and tricks to keep you on the right track.
This book is about more than losing body fat, it will guide you towards optimal health and happiness.
It is an easy read and not heavy on the science. The principles can be used by anyone from Overweight housewives to Professional Athletes.
I have wrote this book to share my wealth of knowledge on the subject of exercise and nutrition in that it can help people lead a better life.

Ebook Type: PDF
Rating:
Category:
Fiction, Romance, Women
Title:
Crossing the Mirage - Passing through Youth
Author:
BS Murthy
Description:
If passing through youth was like crossing the mirage of life for Chandra and Nithya, it proved to be chasing the mirage of love for Sathya and Prema though for plain Vasavi, Chandra's pitiable sibling, it was the end of the road.
As life brings Chandra, who suffers from an inferiority complex for his perceived ugliness, and Nithya, who was bogged down being jilted by Vasu, together, they script their fate of fulfillment.
And as poetic justice would have it, Sathya, who caused Prema's heart burn, himself was led down the garden path by Kala, doing a "Sathya on Sathya".
Just not that, life had in store just deserts for Vasu, who preferred Prema for Nithya, owing to the latter's retribution as he tries to stalk her afresh.
Besides, after many a fictional twist and turn, the way the story ends, challenges the perception that fact is stranger than fiction.
Begin now to read the book - Youth is the mirror that tends us to the reality of our looks. The reflections of our visages that insensibly get implanted in our subconscious lend shape to our psyche to define the course of our life....

Ebook Type: PDF
Rating:
Mistake found?
Select spelling error with your mouse and press Esc