Young Adult ebooks
Page 3 of 4
Category:
Christian Books, Young Adult, Adventure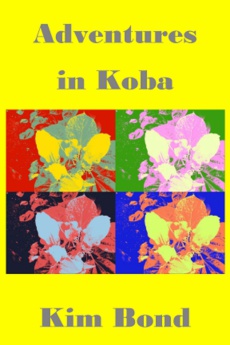 Open ebook.
Add to Wish List
+$1
Title:
Adventures in Koba
Author:
Kim Bond
Description:
Adventures in Koba is a fiction book for middle grade juveniles, young adults, and adults who are interested in fresh Christian literature. Sarah and Trip are twin teenagers who begin an exciting adventure through the land of Koba after they decide to protect a kindhearted fairy named Maria. After they leave the safety and comfort of their home in Green Hills, they realize the old myths are true! Frightening creatures, terrifying landscapes, and treacherous spiritual beings do exist in the land of Koba. The teenagers along with Sarah's friend, Rosa, face many trials as they journey to places like Bliss Mountain, Grande River, Rock Graveyard, and the Thorn Forest. This book is written in an easy-to-understand language with many layers of symbolism and depth so every age level can appreciate this modern classic. Both Christians and Non-Christians can enjoy this artful tale. Are you willing to journey to this mysterious land of Koba that exists somewhere between heaven and Earth?

Ebook Type: PDF
Rating:
Category:
Fantasy, Romance, Young Adult
Title:
Trading Faces
Author:
Ann Herrick
Description:
When Darcy and Cyble switch bodies and lives, they discover that they see things they never noticed before when they are looking from a new perspective.
Darcy is thrilled to wake up as beautiful Cybil, but Cybil is less than thrilled to find herself looking like some plain girl she doesn't even recognize.
Darcy gets the exchange-student boyfriend, popular friends, a spot on the cheerleading squad, a shot at starring in the school play and a luxury home in the best neighborhood.
Cybil finds out what it's like to be invisible, except for a couple of dorky, faceless-rabble friends.
But Darcy discovers the popular life is not exactly what she thought it would be and Cybil discovers a great guy she never would have looked at twice, let alone once.
Still, each girl ends up wanting her own life back, but the problem is--how do they accomplish that goal?

Rating:
Category:
Fiction, Novels, Young Adult
Title:
Broken Voices
Author:
Winona Rasheed
Description:
Broken Voices is a young adult fiction read, a novel. Turn the pages and meet Ella Rose Abbott who is not your typical high school student.
Enrolling into a new school in Washington DC, brings about a lot of challenges as she tries to keep a secret hidden from her peers. She is different, even though she appears normal on the outside, looking like the rest of the 9th grade students in her class; However, her inability to speak and hear brings out the bullies around her, making her Freshman year in high school uncomfortable.
This book deals with peer pressure, bullying, being handicapped, social issues, teenage drama, and new friendships, which Ella Rose learns to cope with.
In the privacy of her home and when she is around the only person she trust at school, she can be herself with her handicap as she speaks with her hands and her broken voice.
Fitting in becomes an issue when she has to read lips and use sign language to communicate and when she stands up to her worse enemy.

Rating:
Category:
Humor, Romance, Young Adult
Title:
The Perfect Guy
Author:
Ann Herrick
Description:
Rebecca is crushing on her new stepbrother, Pres. Celeste, her friend, tells her that Pres could feel differently, but Rebecca ignores the advice. Celeste's brother, Josh, who is also friends with Pres, volunteers to help Rebeccca with a school project, and Rebecca comes to depend on his help more than she realizes.
Rebecca also struggles to find a way to connect with her new stepfather. Through several twists and turns, Rebecca learns that perfect is not necessarily what she first thought.

Rating:
Category:
Adventure, Children, Young Adult
Title:
Duke & Michel: The King Tingaling Painting
Author:
Elias Zapple
Description:
The incredible sequel to Duke & Michel: The Mysterious Corridor is here and things get a lot worse for Michel.
Having returned home after his adventures in that strange universe, Michel has to return. He reunites with Duke, the talking, greedy, sarcastic, food-obsessed, narcissistic, lazy, arrogant Basset Hound. Michel's super happy to have to get Duke to join him again.
Unfortunately, they become pawns in an evil game between the Master and King Tingaling, who's still royally riled about a painting depicting him in a compromising position with his favourite pig, Buttercup.
Will Michel and Duke survive? Will Duke & Michel find out what's happened to Michel's family? Read it to find out.
Read Duke & Michel: The King Tingaling Painting already? Don't worry, the sequel, the third Duke & Michel book, is already out! Duke & Michel: Return of the Nibbles is out now and things get even worse. Will light ever shine again in Michel's world? More hilarity and adventure awaits!

Ebook Type: Audio Included,
Rating:
Category:
Fiction, Romance, Young Adult
Title:
Life, Love, and Surviving High School
Author:
Ann Herrick
Description:
Becca would like to skip right over high school and avoid all the first dates, first loves, first failures and whatever other scary firsts she might encounter.
She worries that she might lose the friendship of her three BBFs and has practically sworn off guys. But on the very first day of school she sees Brent and suddenly she's lovestruck. Problem is, Brent has a long-time girlfriend, Claire--not that Becca would ever get up the nerve to talk to him anyway.
Meanwhile, Colt finds herself working with Colt on everything from study sessions to the school paper, and develops a comfortable friends-only relationship with him. Her relationship with her friends, however, is getting more complicated, especially when Randi confides that she is thinking of doing "It" with Justin, who just happens to have a very jealous girlfriend.
One day Claire offers Becca a special gift--and that changes Becca's whole outlook.

Rating:
Category:
Horse, Romance, Young Adult
Title:
Out of the Blue
Author:
Cheryl Bruder
Description:
This story is an amazing mix of horsemanship, love and native Indian spirituality.
Dana Foster knows very little about horses and even less about true love until she meets a horse named Moose. Out of necessity, she comically stumbles her way through the mysteries of everything equine in an effort to train Moose so he would not be sold and lost to her forever.
She has had more than her share of devastation, trying to cope with the loss of her best friend, Gerry White Cloud, as well as the constant reminder of apparently losing her soul mate, Neil Spencer, to another woman. So she turns to Moose and her Native Indian spirituality to help her survive.
However, there is no way for her to know that the mysteries and power of the spirit world would draw her and Neil closer together to share the leading roles in their own present-day Indian legend.

Rating:
Category:
Fiction, Romance, Young Adult
Title:
My Fake Summer Boyfriend
Author:
Ann Herrick
Description:
On summer vacation, as a favor Katie decides to pretend she is a girlfriend of Alex for the summer in order to protect his job. With a background of summer sun, they develop a friendship that is on the verge of turning romantic, when who should arrive but Nicole Kendall, Alex's old girlfriend. In three days, Nicole ruins Katie's relationship with Alex. In retaliation, Katie feigns interest in Logan, Lisa's handsome older brother.
Katie soon finds out that not being totally honest in a relationship can cause problems she had not dreamed of.

Rating:
Category:
Fiction, Romance, Young Adult
Title:
Winter Haven: a novel
Author:
Mell Mckenzie
Description:
In the town of Winter Haven, nothing exciting ever happens, not until Devon Lecusken returns. Tyler falls for the mysterious heir of Winter Haven's most prominent family, but the Lecusken boy is troubled and has demons. Once rumors of his return spreads, old wounds and grudges re-emerge. The town is again abuzz. Devon has history in Winter Haven, much of which isn't positive. Suddenly Tyler's life is fuller than she ever imagined, dealing with her love affair with a bad boy and its falling outs.

Ebook Type: PDF
Rating:
Category:
Fantasy, Spirituality, Young Adult
Title:
Playing on Yggdrasil
Author:
Alex McGilvery
Description:
Playin on Yggdrasil is a story about Justine, a girl who has to live with bullies, grief and a tree that helps her escape all that. Only her escape may be worse than her real life.
The story is told from her father's point of view. As Justine tells her dad about her days whether at school or with Drasil her friend who is a tree and maybe more than a tree, he works through his own understanding of his world, God's place in the world and what it might mean to live the kind of radical love that God appears to call him to.
Playing on Yggdrasil is a spiritual fantasy that sees faith in a very different way than most people think of fantasy. It asksdifficult question and refuses to hand out simple answers. The love of father and daughter is tested in ways that they never imagined. In this world, or in any other world it is necessary to chose between being a person who lives by grace and hospitality or a person who embraces violence and pain as the meaning of life.
Playing on Yggdrasil
a girl, a tree, a war

Rating:
Young Adult Package!
4 Young Adult ebooks Click here to see the full list of these ebooks
(total value $33.90)
Buy Now
just for $15.95
$17
off
Mistake found?
Select spelling error with your mouse and press Esc