Category:
Music
Title:
Easiest Holiday Songs Ever for Guitar
Author:
Lisa McCormick
Description:
12 Holiday Classics You Can Play with Just 3 Easy Chords.
The Easiest Holiday Songs Ever for Guitar Available immediately as a video download!
Lisa will teach you to play every song in this rich collection of holiday classics, using just 3 easy chords!
Perfect for beginners, teachers, parents, church and community group members.
Each song lesson features chords, lyrics, and strumming, plus a simple melody solo to enable you to play the song.

These 12 holiday classics come with a ebook that contains lyric sheets, tablature, chords, and standard notation. Each song includes a simple melody solo for easy duets.
Play and sing these holiday classics with your kids, your friends, your family and community. This collection will delight you and your family season after season.
If you can play the chords G, C, & D, you can play:
Jingle Bells, O Christmas Tree, Silent Night, Joy to the World, Deck the Halls,
Angels We Have Heard on High, Hark the Herald Angels Sing, The First Noel,
Away in a Manger, Good King Wenceslas, Wassail Wassail All Over the Town, Here We Come A-Wassailing.

Ebook Type: PDFVideo Included,
Rating:
Category:
Music
Title:
How to Write Songs That Sell
Description:
The Melodies Module
How to use the right combination of repetition and change to create catchy melodies
How to create a strong melodic hook in your music to keep your listeners addicted to what you're singing
How to organize your scale or chord notes into patterns to come up with a singable melody your fans will love
The scales available to you for your melodies in each key of 6 different modes, and how to turn them into a melody over any chord progression (or before you even have a chord progression)
How to avoid writing overcomplicated melodies that are hard to sing (for you AND your audience)
How to change the rhythm of a melody to give it a completely different sound
How to reference proven successful melodies to give people a familiar sound, while at the same time making the melody completely your own
How to change the notes in a melody (while keeping its rhythm) to come up with a fresh idea
How to create melodies that match the intent of your song's big idea
How to create a powerful contrast in your melodies as your song travels from your verse to your chorus, in a way that will keep your listener excited each time they hear a new part of your song
What the 2 components of a melody are, and how changing anything aside from those two components won't affect your melody at all
A cool trick for making your listeners want to hear your
...
Click here to read the full description!

Ebook Type: Video
Rating:
Category:
Music
Title:
The Getting Heard GOLD LIST
Author:
Owen Critchley
Description:
Did You Know That Using Specific Phrases to Describe Your Songs Can Lead Thousands of Fans to Your Music?
I'd like to announce a very special new resource and very simple method that will place your songs, your music, head and shoulders above the thousands of other indie songwriters, musicians and bands out there.
How does "The Getting Heard GOLD LIST" work?
Every day, millions of music fans search for new music to listen to, buy and talk about with their friends.
** This is important**: Remember, fans search the web using TEXT. I'll say it again. They ARE searching for MUSIC LIKE YOURS with TEXT… i.e. words and phrases.
What you probably haven't thought much about is HOW they are searching for new music.
But the truth is, music lovers and fans are having a really hard time finding new songs and music they are looking for. Why?
Aha! That's right. Musician's sites are 90% pictures (strike 1) and audio players or widgets (strike 2) and almost no useful TEXT (Strike 3!) Totally useless for getting found and heard because, of course, all search engines like Google, Yahoo etc, search a website looking for… TEXT.
Think about it for a second. * Hint: What do 99% of musicians and band sites look like?
If your music site doesn't have much useful text, you cannot and will not be found.
Ok. This is where the GOLD LIST
...
Click here to read the full description!

Rating:
Category:
Music

Buy this ebook here
Add to Wish List
+$1
Title:
Black & Smooth CD Magazine
Author:
Richard R. Foggie
Description:
Black & Smooth CD!, Magazine!
The latest in Multi-Media! communication!
In today's information age!, there are many secrets!, that have come to light!
Secrets!, that explain, the problems of the past!, and that reveal the present day!,
pre dic a ments, that were systematically placed in the lives of every american citizen!,
which would destroy the opportunity for the So-called American dream!, and replace it with the
American Nightmare.
Could it be!, that the forces of evil!, whose negative thoughts!, images and concepts that we Americans!, fought against!, during World War two.
Are now seated in our nations highest offices!, and are controlling and manipulating!, the destiny and thought life!, of the American people!
Visit Site To Learn More

Rating:
Category:
Arts, Entertainment, Music
Title:
Free to be Creative at the Piano
Author:
Edward Weiss
Description:
Have you ever wanted to just sit down at the piano and play what you feel? Without worrying if it's good enough or if you have enough 'talent?' Edward Weiss, author of "Free to be Creative at the Piano" says you can!

Ebook Type: PDF
Rating:
Category:
Music
Title:
The 7 Deadly Sins of Mixing
Description:
One of the biggest problems with amateur studios is the "amateur sound" they produce. Face it - as long as you sound like a home studio, your clients will never be blown away by their recordings. I'm going to pump up your recordings to professional status in 7 simple steps.
This ebook could be worth thousands of dollars in additional business! When you sound like a pro, you won't have any problems landing big time clients with deep pockets.
The 7 Deadly Sins of Mixing is my personal guide to overcoming the amateur sound and adding the sparkle and pizazz your clients would expect from a pro studio.
Bonus to the "7 Minute Marketing For Home Recording Studios"

Rating:
Category:
Education, How To, Music
Title:
MusicBandWebsite Guitar Playing
Author:
Scott Biladeau
Description:
In this ebook you will learn the basics for playing guitar. You can also have links too videos, and other resources. There is also a bonus.. as well as charts. This ebook starts out with the history of the guitar. Great information for knowing about all the diffrent guitars. Strumming excercises in the ebook you will see practice makes perfect. Guitar tabs.. in this section.. you will learn that tabs dont give you timing and strumming. The chromatic scale you will learn all about notes and and there are links too help you.

Ebook Type: PDF
Rating:
Category:
Education, Music, Self Help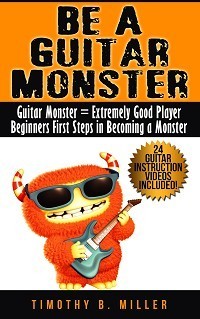 Download this ebook here
Add to Wish List
+$1
Title:
Guitar Lessons for Beginners
Author:
Timothy B. Miller
Description:
This guide and videos are for complete beginners in learning guitar. You can learn guitar with this guitar guide and easy to folllow videos. Just follow along and you be able to play your guitar without years of practice!
Exmaple eBook for How To Be A Guitar Monster Guide.
Learn you how to hold the guitar, open strings, tuning the guitar two different ways, fretboard notes that you have to memorize, strumming patterns for beginners and most common basic sturmming patterns for acoustic guitar players.
Then you will go into children's songs, you've got to start somewhere. After you get the children's songs you will learn a very nice strumming patter for your big songs. CCR songs and more.
Then you will introduce to differnet guitar patterns and tab and music knowledge you will need in the future.
This is a complete program geared towards the beginner. When all done with the complete course you will be able to play your guitar for the first time and will be able to learn more complex songs.

Ebook Type: PDF
Rating:
Category:
Arts, Music, Romance

Buy this ebook here
Add to Wish List
+$1
Title:
Stolen Light
Author:
Claudia Riess
Description:
"In this art-world thriller, Riess draws the characters with a broad brush, but they all have the capability, chemistry, and give-and-take of a strong mystery-solving duo...complex and intriguing..." Kirus Review
The story of "Stolen Light' begins with the killing of a sugar plantation owner in Cuba during the revolution. Now, more thant 50 years later, a young art-magazine writer and a more seasoned art historian team up for an academic endeavor. They wind up delving into the murder of the surviving daughter who had sought their under-the-radar help in recovering her father's stolen artworks. The investigation takes them to London and Florence, where the mystery and their passion for each other unfold.
Author Claudia Riess's first novel, "Reclining Nude," was published by Stein and Day. Oliver Sacks, neurologist and author of "Awakenings," had said her first book was "exquisite--and delicate...a most courageous book, full of daring--a daring only possible to a passionate and pure heart."

Rating:
Category:
Entertainment, Music, How To
Title:
How To Be A Mobile DJ In 30 Days Or Less
Author:
DJ Jake Barton
Description:
Welcome to DJ Jake Barton's Special Report:
How To Become A Mobile DJ In 30 Days Or Less!
The following guide is designed to help beginners take the first step towards becoming a DJ. This guide will emphasize the critically required steps you need to achieve your dream to become a DJ.
This guide is broken down into an easy to read Question and Answer format. It reflects the most pressing questions aspiring DJs have in getting started.
This guide will answer questions such as:
1 - What qualifications do I need to get into the Mobile DJ business?
2 - How much does it cost to get started as a Mobile DJ?
3 - What to do with $1,000?
4 - What is the bare minimum equipment needed to get started as a Mobile DJ?
5 - Do you need to know everything about music before you begin? Or can you learn as you go?
6 - Should you buy the best of everything in the beginning? Or start slowly and upgrade?
7 - Should you focus your money on buying light or sound equipment?
8 - Should you use your real name or create a unique DJ name?
And much, much more.

Ebook Type: PDF
Rating:
Music Package!
19 Music ebooks Click here to see the full list of these ebooks
(total value $186.75)
Buy Now
just for $29.95
$156
off
Mistake found?
Select spelling error with your mouse and press Esc