Fantasy ebooks
Page 5 of 6
Category:
Adventure, Children, Fantasy
Title:
Duke & Michel: The Mysterious Corridor
Author:
Elias Zapple
Description:
Follow the adventures of skateboarder Michel as his cousin goes missing and he meets up with a greedy, sarcastic, narcissistic, talking Basset Hound. Together they go on a mission to find Michel's cousin and do battle with the evil Master.
A bizarre fantasy story set in an alternate-reality all linked together by a mysteriuos corridor. Each door in the corridor takes you to an even more bizarre world such as Skaters' Paradise, Candyland, Napland and Planet Football. You'll laugh until your guts explode. Get it now before Duke insults you.
Excerpt from Duke & Michel: The Mysterious Corridor:
Duke to Michel: Even though I'm fairly certain you'd struggle in a quiz against a pigeon, you are capable enough of opening doors.
The first in the Duke & Michel series. The 2nd and 3rd books are now out!


2nd Book: Duke & Michel: The King Tingaling Painting
3rd Book: Duke & Michel: Return of the Nibbles
The final book in the series due out in 2016.

Ebook Type: Audio Included,
Rating:
Category:
Fantasy, Romance, Young Adult
Title:
Trading Faces
Author:
Ann Herrick
Description:
When Darcy and Cyble switch bodies and lives, they discover that they see things they never noticed before when they are looking from a new perspective.
Darcy is thrilled to wake up as beautiful Cybil, but Cybil is less than thrilled to find herself looking like some plain girl she doesn't even recognize.
Darcy gets the exchange-student boyfriend, popular friends, a spot on the cheerleading squad, a shot at starring in the school play and a luxury home in the best neighborhood.
Cybil finds out what it's like to be invisible, except for a couple of dorky, faceless-rabble friends.
But Darcy discovers the popular life is not exactly what she thought it would be and Cybil discovers a great guy she never would have looked at twice, let alone once.
Still, each girl ends up wanting her own life back, but the problem is--how do they accomplish that goal?

Rating:
Category:
Sports, Fantasy, Humor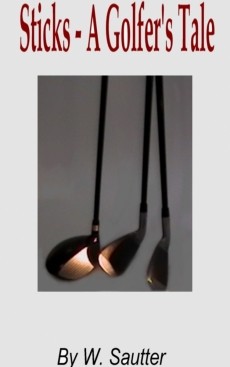 Open ebook.
Add to Wish List
+$1
Title:
Sticks - A Golfer's Tale
Author:
Walt Sautter
Description:
I wrote "Sticks" not just as an entertaining story but also as a satire of the spectacular claims made by golf manufacturers about their equipment.
Playing golf is a rewarding experience. Unfortunately, playing it well requires skill, practice, patience and dedication. These are the things which most of us are unwilling or incapable of doing.
Most, myself included, would like to find a short cut to success whether it be in golf or anything else.
In golf, the short cut is usually a new well-advertised driver, the latest putter or even a "super ball" guaranteed to add an extra fifty yard to your drive. These rarely if ever, fulfill the average golfer's dream of spectacular play. The only improvement of his game that they might make is that his wallet is a bit lighter and his walk around the links is then possibly a bit less tiring.
So is there really a magic piece of equipment that will allow one to circumvent all required hard work?
"Sticks" addresses the question - "What if?
What if a magic shortcut really did exist and someone found it?"
Bob Andrews, the book's central character, may have found it!
How did he find it and what happens when he does?
You'll find out when you read "Sticks - A Golfer's Tale", the ultimate golf fantasy.
More Books By Walt
Skeet Shoot
Fish Farm
The Three Dollar
...
Click here to read the full description!

Ebook Type: PDF
Rating:
Category:
Fantasy, Fiction, Horror
Title:
Sheep's Clothing
Author:
Elizabeth Einspanier
Description:
Thanks to his New York education, Dr. Nathaniel "Doc" Meadows has always been a skeptic when it comes to the old ghost stories of the frontier. He strongly prefers the logic of his medical practice, and saw no reason to give these tales any creedence. This changes in a hurry, though, when he offers his aid to a gravely-injured half-Sioux gunslinger named Wolf Cowrie. Cowrie brings some terrifying news with him: three vampires have moved into the small town that Doc has grown to love, and they are feeding on its population.
Wolf has his own reasons for hunting the sinister Russeau and his female companions. Russeau stole away a woman that Wolf had planned to marry, turning her into another of the foul creatures. Doc, meanwhile, is understandably terrified by the prospect of facing down blood-sucking demons, but he has vowed to protect the people of Salvation from any ailment--even one that is supernatural in origin. Doc needs to get over his skepticism in a hurry if he is to save the town of Salvation from a slow death.

Ebook Type: Audio Included,
Rating:
Category:
Fantasy, Romance
Title:
Burden of Blood
Author:
Wenona Hulsey
Description:
Nicole is a police officer in a sleey town who is content in her denial. She has a powerful, magical secret but she can hide it only so long before and ancient grudge causes the dorment power to burst to life.
Dance with ferce warriors and Gothic fairies as southern tradition dcollides with Irish folklore in this modern day urban fantasy. Follow Nicole through the whole ebook series as she struggles with her past, her growing power, and struggles of the heart as she tries to save a world no human should ever know about.
Reviews:
"The thrills start from page one and continue to the very end. I absolutly loved it and am looking forward to book 2. " 5 STARS! - Kim Norris- The Kindle Book Review
"How can you resist a story set in the South that treads on Irish folklore? You can't! 5 STARS! -John Ross, Author of "Another Lousy Day in Paradise"
"I loved the twists and truns, the characters, I laughed, I got mad, and I cried. I simply can't wait to read more from this author!!" 5 STARS -Allison M. Woodhams
"I stayed up until the wee hours of the morning just to finish because I had to know what happened next!" 5 STARS - Sarah Ross

Rating:
Category:
Adventure, Children, Fantasy
Title:
Anne and Stan's Magical Salt and Pepper Pot Adventures
Author:
Robin Rowles
Description:
Anne and Stan are a large pair of novelty salt and pepper pots. Certainly not your normal everday salt and pepper pots! - Why? - Because one day, they encounter a total transformation, and they magically come to life!
Anne and Stan are frightened, so they decide to keep this transformation a secret from their family - until they gain knowledge and feel confidence in their new lives!
When a perfect opportunity comes their way, they decide to escape from their homely kitchen - and go on a big adventure. Anne and Stan have a lot of fun and they soon encounter exciting challenges.
They also gain in confidence when they make some treasured new friends along the way.
Anne and Stan will really surprise you!
I promise you will grow to love these lovable characters.
This book has been written to promote: Harmony, Friendship, Fun, Opportunity for all, and Adventure.
Take this opportunity to find out more about Anne and Stan. Join them on their truly remarkable and exciting journey! - Ideal for family reading.

Rating:
Category:
Animals, Fantasy, Fiction
Title:
An emperor for the animals
Author:
Prince Bradford
Description:
The birds, fishes and animals have been having a series of meetings. They are concerned that too many of their members have been made extinct or are under the threat of extinction. They believe that directly or indirectly man is to be blamed. The decision is take that in order to preserve their species man must be made extinct. They would in tourn set up their own government with prime ministers, presidents, kings and a supreme ruler to be over these leaders, an emperor. At a meeting of the animals Theldon the donkey reminded the animals that there is a man, The Prince of Shalom, who is the son of King EL Olam that care should be taken not to harm in any way. An alternate option is presented to wait on King El Olam to set up the State of Utopia. This suggestion is taken back to the birds and the fishes. The fishes are willing to accept the suggestion but the birds plan to double cross the fishes and animals. Zhroster the Eagle sided with the fishes and animals and inform the animals and had the fleas and lice betray the birds plans to the animals. Soon there are two groups because some animals agreed with the bird to go ahead and make man extinct while the other group is willing for King El Olam to set up the State of Utopia.

Rating:
Category:
Adventure, Fantasy, Fiction
Title:
Gondell's Quest
Author:
Andy Lang
Description:
Gondell's Quest is an Epic Fantasy Adventure, set in an era before the rise of man.
Gondell Lenzen, an everyday and ordinary Gnome, had never considered himself to be special in any way, yet long forgotten family history would beg to differ.
He is the Keeper. The key to victory in the coming conflict, only he can release the sword of legend as a new darkness descends from the north, threatening to plunge the peoples of the free world into a nightmare of subjugation and misery.
Follow Gondell as he is captured by the forces of evil. His only hope of salvation, a band of misfits from the Guild of Free Peoples. Elf, Ogre, Dwarf and Nymph partner with a Ghul, a desert demon in a valiant rescue attempt.
Gondell's Quest races fron the highest mountains to burning deserts, the frozen north to the high seas.
A tale of friendships and alliances forged, deceptions revealed, great hardships suffered, redemption and doom.
Available now to pre - order for only $0.99 / £0.99 from Amazon. (Publishing date - 15/10/2015)

Rating:
Category:
Fantasy, Fiction, Romance
Title:
The Black Swans
Author:
N.W. Moors
Description:
pTheBlackSwansisaretellingoftheIrishlegendoftheChildrenofLirsetincontemporarywesternMaineThefourmembersofatraditionalIrishbandbringmusicandmagictothesmalltownofAntrimaswellasromanceforalocalgirlButcanshehelpthembreakanancientcursebytheFaeppTaisieMacDonnellhasgrownupinthesmalltownofAntrimMaineandworksatthelocalknittingshopWhensheattendsacraftandagriculturalfairshemeetsthemembersoftheBlackSwansanIrishtraditionalbandSheisespeciallyattractedtoConntheyoungestofthesiblingsinthebandButheishidingaterriblesecretanancientcursehandeddownbytheFaeItisuptoTaisieandherfriendstofindthemagicthatwillbreakthecurseandhelpConnandhissiblingswinfreeforeverppThisisasweetandcharmingcontemporaryretellingofanancientIrishlegendHerewehaveahappyeverafterendingunliketheoriginalstorywherethereisonlysadnessanddeathfortheChildrenofLirp

Rating:
Category:
Action, Fantasy, Fiction
Title:
Era Of Darkness: Volume I: The Apocalypse Begins
Author:
Ian Thompson
Description:
A world split by hatreds and conflicts plunges towards annihilation...
Huge scythe-wielding demons swarm from beyond the Wall of Light, slaying everything in their path. Villages and towns are eradicated. Armies are crushed by dark magic, terrible siege weapons and sheer brutal force.
This is an invasion like no other. Not to conquer. Not to expand territories. Not to make their enemies submit to new beliefs or monarchs. The demons seek to destroy every living thing.
Across Emeran, the nations try desperately to survive and strike back. A huge Human army meets the demons on Deshnere Plain. The Callis defend their forest townships. The Graex see their beautiful city of Mesamir threatened...
Witness the war through the experiences of diverse characters. Two royal sisters, one a warrior, the other a mystic. Soldiers and officers, fighting and dying across the continent. A farmer traumatised by loss. A coward seeking redemption. A revenger with awful bloodlust. Pacifists forced to make a terrible choice. And many more...
An Era Of Darkness consumes the world with ravenous haste.
Hundreds of thousands of demons close in upon the walled city of Tremok and a mammoth siege begins.
Far to the north, a tiny group of fighters embark on a suicidal mission.
Yet it seems no action can stop the relentless hordes. Even the Unseen Gods themselves have been slain...
Extinction is inevitable.

Rating:
Fantasy Package!
6 Fantasy ebooks Click here to see the full list of these ebooks
(total value $22.95)
Buy Now
just for $8.95
$14
off
Mistake found?
Select spelling error with your mouse and press Esc