Christian Books ebooks
Page 7 of 9
Category:
Christian Books
Title:
Daily Bible Study
Author:
J. Neely
Description:
Parables of Christ
Christ employed parables as a means of teaching doctrine.
This ebook covers the study of all of the 35 parables Christ taught.

Ebook series books come from an ongoing Daily Bible Study online. Several books are now becoming available. The first two are Parables of hrist, the second ebook available is Ruth, the third book wich is currently being assembled is Crucifixion - Countdown to a Promise, which covers the final days of Jesus Christ immediately prior to the Cross, His death, miracles, burial, resurrection, and ascension.
THen the ebook of Revelation which study nearly been completed on the live study will be assembed into ebook form.

Rating:
Category:
Christian Books
Title:
The Pursuit of God
Author:
A.W. Tozer
Description:
Here is a masterly study of the inner life by a heart thirsting after God, eager to grasp at least the outskirts of His ways, the abyss of His love for sinners, and the height of His unapproachable majesty.
Bonus to the "Becoming God's Masterpiece"

Ebook Type: PDF
Rating:
Category:
Christian Books, Spirituality
Title:
Spirit-Union Soul Rest
Author:
James A. Fowler
Description:
By spiritual union with the living Lord Jesus, every Christian has the provision to be at 'rest'... In the midst of temptations and the trials of life, Christians can experience the "rest for their souls" (Matt. 11:29) that Jesus promised.
Bonus to the "Becoming God's Masterpiece"

Ebook Type: PDF
Rating:
Category:
Christian Books
Title:
Why Forgive?
Author:
Johann Christoph Arno
Description:
Arnold lets the untidy experiences of ordinary people speak for themselves-people who have earned the right to talk about overcoming hurt, and about the peace of mind they have found in doing so.
Bonus to the "Becoming God's Masterpiece"

Ebook Type: PDF
Rating:
Category:
Christian Books, Philosophy, Religion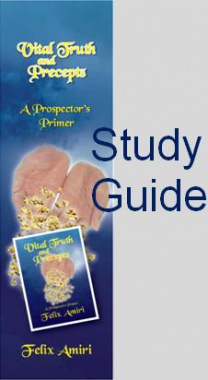 Download this ebook here
Add to Wish List
+$1
Title:
Vital Truth and Precepts Study Guide
Author:
Felix Amiri
Description:
This study guide examines some important considerations of the Christian faith. It provides useful teaching or study content for Sunday school teachers, professors and students in bible colleges and seminaries. The guide is suitable for personal bible study, or in a group or college classroom setting to facilitate discussions. The topics covered include:
- God's Supremacy - God's Sovereignty, God's Tri-unity, God's Creation and the Reality of Evil, God's Omnipresence, God's Benevolence, God's Immutability, Christ's Absolute Perfection
- God's Absoluteness and Implications - Absolute Love, Mercy and Grace, Absolute Truth, Absolute Goodness
- God and Humans - Purpose and Prospects for Creation, Roles of Creation, Future Prospects
- Culpability and Grace - Retribution and Recompense, Guilt and Innocence, Choice and Consequences, Sin and Detriments, Punishment and Justification, Rewards in Heaven

- Salvation - True Gospel and The Purpose of Calvary, Coming to Faith, Saving the Lost, Perfect Salvation, Response and Faith, True Godliness
- Salvation And Freewill - God's Love and Human Freewill, Purpose and Extent of Human Will, Human Will and Consequence
- Salvation Realities - Reason and Responsibilities, Regeneration and Knowledge in Time, Sanctification through Time, Ultimate Glorification, Right to be God's Children
- Prayer - God and Our Prayers, Benefits of Prayer, Biblical Asking, Effectual Fervent
...
Click here to read the full description!

Ebook Type: PDF
Rating:
Category:
Christian Books, Fiction, Thrillers
Title:
Terror's Child
Author:
R.A.parr
Description:
Through the most dramatic circumstances of murder, abduction and terrorism, Terrors Child unfolds a story of two men's conversion to Christ.
From opposite sides and with disparate world views, two men are funnelled by events and afflictions to reconsider what their lives mean, each compelled by their pain toward Jesus Christ. In the process also discovering the truth about themselves, the world, and the God whose purposes are supreme over it.

Ebook Type: PDF
Rating:
Category:
Christian Books, Fiction, Romance
Title:
Rightfully Mine: God's Equal Rights Amendment
Author:
Aggie Villanueva
Description:
"Why should the name of my father be wiped from Israel like footprints in a sandstorm because he bore only daughters?" The promised land-God's precious gift to the Israelites. Precious indeed, but for Rizpah and her sisters the promise seemed empty. Only a male could claim a family's inheritance of land, and since Rizpah and her sisters had no brothers or husband...

Rating:
Category:
Religion, Christian Books, Spirituality
Title:
Spiritual Warfare Manual for Beginners: The Key To Powerful Spiritual Warfare Prayers
Author:
Willie Estrada
Description:
This is a spiritual warfare for beginners, but it also contains vital information for the experienced warrior. This manual was prepared with the guidance of the Holy Spirit; based on Bible studies, and based on more than 15 years dealing with demonic influences and supernatural deliverance. The experience that you will gain from this manual, will be a step forward in your spiritual life. With this knowledge, you will be able to fight all kinds of demonic strongholds, and get delivered from any evil influence for the glory of the Lord. Today you will learn new spiritual warfare strategies, that you've probably never heard of before, such as: Territorial spiritual warfare. This will enable you to fight for your territory because it's in the air that you must fight Satan and his demonic forces. This territorial evil influences affect you in an indirect way, and they destroy your nation, your church, your family, and therefore, your life, so don't underestimate this vital information.

Ebook Type: Kindle
Rating:
Category:
Poetry, Spirituality, Christian Books
Title:
Inspirations from Heaven's Gate
Author:
Lisa C. Miller
Description:
This book may be small but please do not overlook it. This is a book of hope and encouragement for the human spirit.
This a book of poetry and the beauty and simplicity of life.
Writing is a language of the heart.
Through the written word the beauty of life can be shown to the lost and broken souls of humanity. Everyone needs a little dignity and beauty everyday.
If you let this book it will take you on a journey of the soul of which when you return you will be a more complete person. You will understand yourself. You will understand your unique role and what a treasure you are to your life.
Through this book you will develop a greater insight and change toward yourself and others.
This book can help you overcome life's roadblocks to help you become a more joyful person.
This book will help you overcome the shadows of your past so you can look forward to a more joyful future.
Hopefully with the help of this book you may begin to understand your place in this world.

Ebook Type: Kindle
Rating:
Category:
Christian Books, Nonfiction, Spirituality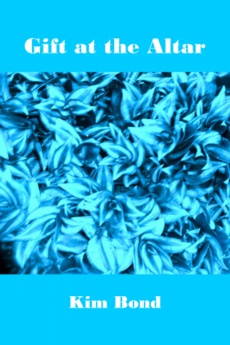 Open ebook.
Add to Wish List
+$1
Title:
Gift at the Altar
Author:
Kim Bond
Description:
Gift at the Altar is a nonfiction book written for people who want to improve their relationship with Christ. This book offers Biblically-based advice to help readers tackle the common challenges of Christian living in a non-spiritual world. It guides readers to deal with issues that relate to themselves like burdens, negative thoughts, and addiction. It encourages humility in our relationships with others—whether it is in our approach to marriage, other denominations, or other religious groups. Finally, this book aids readers to enrich their relationship to God by providing a variety of prayer types, ideas for embarking on new commitments, and tips for receiving physical healing. Topics include corresponding Scripture and suggested prayers. Both new and mature Christians can benefit from the Scripturally-sound advice in this book. Awaken the power of the Holy Spirit inside of you by taking this simple step to a more joyful Christian life. Your loving Father in heaven is waiting for you.

Ebook Type: PDF
Rating:
Christian Books Package!
40 Christian Books ebooks Click here to see the full list of these ebooks
(total value $129.75)
Buy Now
just for $21.95
$107
off
Mistake found?
Select spelling error with your mouse and press Esc