eBook Power Ebook
Category:
E-Marketing
Title:
eBook Power
Author:
Tom Hua
Description:
Finally! The One You've Been Waiting For!
Winner of the e-Book Excellence Award 2003!
That's right. From the best selling author Tom Hua, this is THE EBOOK that is set to have the Internet Rockin' and Rollin'!! e-Book POWER is the pot o' gold written by none other than the Master of info product sales, Tom Hua... not just another rehash by some "wannabe".
Here it is, folks ... Tom spills his guts in vivid detail, and gives you all (well, almost all) of his insider secrets about how to build an info product empire just like his.
This ebook is written based on Tom's Very Own Personal Experience.
Just imagine what You could do if you had the Key that opened the treasure trove of a true Internet Marketing Visionary. Well, here's your chance.
e-Book POWER discusses various methods of driving traffic to your site as well as providing an analysis of just what is required to accomplish the task. And that's just for starters.
Tom describes exactly what he did step-by-step to build his $200,000 epublishing business and reveals how You Too can build your own e-Book POWER Future! In his words, "surf the net and you'll find the seeds of change spreading across it at the speed of a bush fire."
You'll discover about e-books from the guy who has done it:
How to find them
Why e-Books are so powerful
How to create them
How to create income with them after you've sold them
How to sell them
Five unique methods to bring your e-Book to market place
In-depth review of various e-Book compilers
Ten simple steps to creating you own
How to turn your e-Book into a viral marketing machine
How to fire up your e-Book money machine with almost no advertising.
Information in electronic form is being given away free, bought and downloaded at astonishing rates and there's no sign of the demand abating. It's only going to increase. People are constantly searching for information.
It doesn't matter where you live, or what time it is. The Internet is open 24/7 and there are people out there searching for information. The Internet NEVER closes and neither should YOU. Get your e-Book POWER today!
TABLE OF CONTENTS
INTRODUCTION
CHAPTER 1 THE TRAFFIC DILEMMA
VIRAL SYSTEMS
WAYS TO GET TRAFFIC TO YOUR WEB SITES
CHAPTER 2 TODAY'S OPPORTUNITY
CHAPTER 3 THE MAGICAL POWER OF E-BOOKS
OPPORTUNITY
E-BOOKS AND THE ADVANTAGES
E-BOOK - THE VIRTUAL MARKETING MACHINE
THE POWER OF E-BOOKS - MY STORY
CHAPTER 4 DEVELOP YOUR E-BOOK PRODUCT
FIND A WRITER
PURCHASING RESALE RIGHTS
WRITE YOUR OWN
FIND IDEAS AT YOUR LOCAL NEWSAGENT
FIND IDEAS AT YOUR LOCAL BOOKSTORE
HIRE A GHOST-WRITER FOR YOUR RESEARCHED MATERIAL
INTERVIEW EXPERTS
CHAPTER 5 CREATING YOUR OWN E-BOOKS
E-BOOK SOFTWARE
TEN STEPS TO TURN YOUR IDEA INTO E-BOOKS
PDF OR EXE?
CHAPTER 6 PROMOTING YOUR E-BOOK
THE SECRET IS IN THE BACKEND
THE FREE E-BOOK
SHARING THE OPPORTUNITY
E-BOOK RESELLING SYSTEMS
FIRE UP YOUR VIRAL MARKETING MACHINE
SUMMARY -MAKE IT HAPPEN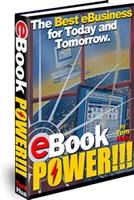 Add to Cart
Add to Wish List
P.S.
You just won't find anything quite like this anywhere else. The Right Stuff... from the Right Guy. Get your eBook POWER Today!
P.S.
You just won't find anything quite like this anywhere else. The Right Stuff... from the Right Guy. Get your eBook POWER Today!
Site owner:
Put the rating form on your site!
Listing wrong or need to be updated?
Modify it.
Mistake found?
Select spelling error with your mouse and press Esc