eBay Pirates Ebook
Category:
E-Marketing
Title:
eBay Pirates
Description:
Your Treasure Map to Untold Fortunes in Online Auctions
Contents:
1 Intro
1.1 What is eBay?
2 How the Pro's operate
3 Appearance is Everything
4 What to buy and sell?
5 Beating other bidders
6 Forget the Post Office
7 Conclusion
8 Resources
9 Free Online Auction Software
1 Intro
How is it so many people are making a killing buying and selling products on eBay? We're not talking about the person who simply wants to get rid of their golf clubs because they're sick of seeing them in the corner; we're talking about the pirates of eBay, those individuals who make a very profitable living selling products on eBay. In this eBook, you will learn the techniques the pro's use and how you can adopt these techniques yourself in no time flat!
To get you started down the right path, take a look at the below tips. We'll delve into more detail on each of these items throughout this ebook.
Try to avoid counter-bidding. This strategy can raise prices unnecessarily. The more demand there is for a product the more the price will go up.
There are literally thousands upon thousands of products being auctioned off at any given time on eBay. The best strategy is to wait until the auction is near its end before bidding and the snipe the item in true pirate fashion! (more on this later)
On eBay, the payment exchange is left up to the buyer and seller. Whenever possible, use a credit card because it protects you from losing your money outright. If for any reason you don't get the item, or it arrives broken or in a condition other than promised, you then have the credit card company on your side.
Start slowly. Begin your eBay adventure by buying a low-priced item. This limits your risk and gives you time to develop your skills.
Take your time browsing through lots of comparable items, to get a sense of what's out there.
Set the maximum price that you will pay for the item. Sometimes during an auction, buyers get caught up in the "competition." If you think of the auction in these terms, you could easily end up overpaying.
Keep track of your eBay purchases, and how much you've spent on them. It's easy to become wrapped up in the eBay game, and it can quickly eat up both time and money.
If you lose out to another bidder, don't take it personally. The fact of the matter is you're not going to win every bid.
Before you bid, look at the seller's rating. Have other buyers had a good experience with this particular seller? Ebay has a great user rating system in place that allows anyone to rate their experience dealing with other bidders.
Be skeptical. Items are sometimes sold on eBay for more than their real value. And although eBay has an internal police force that keeps an eye out for cheaters, scammers do exist.
1.1 What is eBay?
Before we start, let me give you an overview of what eBay is and how it came to be. EBay represents capitalism at its finest. We're talking economics 101 here: supply and demand, buyers and sellers, you get the idea. In essence, eBay sets the stage for bringing buyers and sellers together, on the Internet. eBay opened its doors in 1995. The "e" stands for electronic and the "Bay" is short for the Bay Area of San Francisco.
From its simple beginnings, eBay has grown to become a multi-billion dollar public company. You may be asking yourself how they make money. eBay charges sellers an Insertion fee which is a non-refundable fee for listing items on eBay. They also charge you a Final Value Fee, which is based on the final sale price (or "final value") of your item. This fee is not applied if no sale is made. There are other types of fees depending on how you want to post your products.
Becoming a member of eBay is absolutely FREE. Click here to join eBay! It only takes a few minutes to signup. One note, you must have a valid email address in order to register.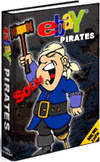 Site owner:
Put the rating form on your site!
Listing wrong or need to be updated?
Modify it.
E-Marketing Package!
338 E-Marketing ebooks Click here to see the full list of these ebooks
(total value $3366.90)
Buy Now
just for $49.95
$3316
off
Silver Package!
Any 100 ebooks from 2000+ titles Click here to see the full list of these ebooks
Buy Now
just for $29.95
Gold Package!
Get full access to 2000+ ebooks Click here to see the full list of these ebooks
Buy Now
just for $49.95
Mistake found?
Select spelling error with your mouse and press Esc