Youth: Its Education, Regimen, and Hygiene Ebook
Youth: Its Education, Regimen, and Hygiene
Category:
Children
,
Parenting
Title:
Youth: Its Education, Regimen, and Hygiene
Description:
PREFACE.
I have often been asked to select and epitomize the practical and especially the pedagogical conclusions of my large volumes on Adolescence, published in 1904, in such form that they may be available at a minimum cost to parents, teachers, reading circles, normal schools, and college classes, by whom even the larger volumes have been often used. This, with the cooeperation of the publishers and with the valuable aid of Superintendent C.N. Kendall of Indianapolis, I have tried to do, following in the main the original text, with only such minor changes and additions as were necessary to bring the topics up to date, and adding a new chapter on moral and religions education. For the scientific justification of my educational conclusions I must, of course, refer to the larger volumes. The last chapter is not in "Adolescence," but is revised from a paper printed elsewhere. I am indebted to Dr. Theodore L. Smith of Clark University for verification of all references, proof-reading, and many minor changes.
G. STANLEY HALL.

CHAPTER I. PRE-ADOLESCENCE
Introduction: Characterization of the age from eight to twelve-The era of recapitulating the stages of primitive human development-Life close to nature-The age also for drill, habituation, memory, work and regermination-Adolescence superposed upon this stage of life, but very distinct from it.
The years from about eight to twelve constitute a unique period of human life. The acute stage of teething is passing, the brain has acquired nearly its adult size and weight, health is almost at its best, activity is greater and more varied than it ever was before or ever will be again, and there is peculiar endurance, vitality, and resistance to fatigue. The child develops a life of its own outside the home circle, and its natural interests are never so independent of adult influence. Perception is very acute, and there is great immunity to exposure, danger, accident, as well as to temptation. Reason, true morality, religion, sympathy, love, and esthetic enjoyment are but very slightly developed.

Everything, in short, suggests that this period may represent in the individual what was once for a very protracted and relatively stationary period an age of maturity in the remote ancestors of our race, when the young of our species, who were perhaps pygmoid, shifted for themselves independently of further parental aid. The qualities developed during pre-adolescence are, in the evolutionary history of the race, far older than hereditary traits of body and mind which develop later and which may be compared to a new and higher story built upon our primal nature. Heredity is so far both more stable and more secure. The elements of personality are few, but are well organised on a simple, effective plan. The momentum of these traits inherited from our indefinitely remote ancestors is great, and they are often clearly distinguishable from those to be added later. Thus the boy is father of the man in a new sense, in that his qualities are indefinitely older and existed, well compacted, untold ages before the more distinctly human attributes were developed. Indeed there are a few faint indications of an earlier age node, at about the age of six, as if amid the instabilities of health we could detect signs that this may have been the age of puberty in remote ages of the past. I have also given reasons that lead me to the conclusion that, despite its dominance, the function of sexual maturity and procreative power is peculiarly mobile up and down the age-line independently of many of the qualities usually so closely associated with it, so that much that sex created in the phylum now precedes it in the individual.

Rousseau would leave prepubescent years to nature and to these primal hereditary impulsions and allow the fundamental traits of savagery their fling till twelve. Biological psychology finds many and cogent reasons to confirm this view if only a proper environment could be provided. The child revels in savagery; and if its tribal, predatory, hunting, fishing, fighting, roving, idle, playing proclivities could be indulged in the country and under conditions that now, alas! seem hopelessly ideal, they could conceivably be so organized and directed as to be far more truly humanistic and liberal than all that the best modern school can provide. Rudimentary organs of the soul, now suppressed, perverted, or delayed, to crop out in menacing forms later, would be developed in their season so that we should be immune to them in maturer years, on the principle of the Aristotelian catharsis for which I have tried to suggest a far broader application than the Stagirite could see in his day.

These inborn and more or less savage instincts can and should be allowed some scope. The deep and strong cravings in the individual for those primitive experiences and occupations in which his ancestors became skilful through the pressure of necessity should not be ignored, but can and should be, at least partially, satisfied in a vicarious way, by tales from literature, history, and tradition which present the crude and primitive virtues of the heroes of the world's childhood. In this way, aided by his vivid visual imagination, the child may enter upon his heritage from the past, live out each stage of life to its fullest and realize in himself all its manifold tendencies. Echoes only of the vaster, richer life of the remote past of the race they must remain, but just these are the murmurings of the only muse that can save from the omnipresent dangers of precocity. Thus we not only rescue from the danger of loss, but utilize for further psychic growth the results of the higher heredity, which are the most precious and potential things on earth. So, too, in our urbanized hothouse life, that tends to ripen everything before its time, we must teach nature, although the very phrase is ominous. But we must not, in so doing, wean still more from, but perpetually incite to visit, field, forest, hill, shore, the water, flowers, animals, the true homes of childhood in this wild, undomesticated stage from which modern conditions have kidnapped and transported him. Ebooks and reading are distasteful, for the very soul and body cry out for a more active, objective life, and to know nature and man at first hand. These two staples, stories and nature, by these informal methods of the home and the environment, constitute fundamental education.
Table Of Contents:
CHAPTER I. PRE-ADOLESCENCE
CHAPTER II. THE MUSCLES AND MOTOR POWERS IN GENERAL
CHAPTER III. INDUSTRIAL EDUCATION
CHAPTER IV. GUIDE TRAINING AND SLOYD
CHAPTER V. GYMNASTICS
CHAPTER VI. PLAY, SPORTS, AND GAMES
CHAPTER VII. FAULTS, LIES, AND CRIMES
CHAPTER VIII. BIOGRAPHIES OF YOUTH
CHAPTER IX. THE GROWTH OF SOCIAL IDEALS
CHAPTER X. INTELLECTUAL EDUCATION AND SCHOOL WORK
CHAPTER XI. THE EDUCATION OF GIRLS
CHAPTER XII. MORAL AND RELIGIOUS TRAINING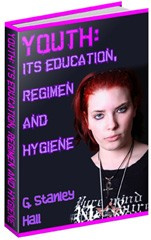 Price: $

3.00
Ebook Type:
PDF
Rating:
Site owner:
Put the rating form on your site!
Listing wrong or need to be updated?
Modify it.
Children Package!
88 Children ebooks Click here to see the full list of these ebooks
(total value $551.85)
Buy Now
just for $29.95
$521
off
Parenting Package!
30 Parenting ebooks Click here to see the full list of these ebooks
(total value $219.25)
Buy Now
just for $25.95
$193
off
Silver Package!
Any 100 ebooks from 2000+ titles Click here to see the full list of these ebooks
Buy Now
just for $29.95
Gold Package!
Get full access to 2000+ ebooks Click here to see the full list of these ebooks
Buy Now
just for $49.95
Mistake found?
Select spelling error with your mouse and press Esc