Your Pet Parrot Ebook
Category:
Animals
Title:
Your Pet Parrot
Author:
Maureen Pace
Description:
Thinking About a Parrot For a Pet? Chances are pretty good that you have seen a parrot on television and fell in love with these intelligent members of the avian family. You may even have friends or family who own a parrot or two.
Regardless of your previous experience it's important to make an intelligent and informed decision about adopting one of these wonderful feathered friends.
If you have other pets and/or children, then you need to be doubly aware of just how challenging an adoption like this can become.
The place to go for informed answers is not to the person you are buying from. There are many reputable dealers out there but for every reputable one there are two frauds.
You need to prepare yourself BEFORE you get to the "buying" stage. What are some of the questions you need to ask a potential seller? Here are just a few:
How wild are these birds?
How to use free research techniques to create customer focus
What is the bird's age?
Beware of money-hungry breeders!
Where did this bird come from?
Why do you want to purchase a parrot? This is not a trick question. Everyone has different needs and desires but when it comes to inviting an exotic creature such as a parrot into your home you had best know your motive.
Other Parrot Points to Ponder
Who will care for your parrot? Do you know what is entailed in the everyday care and feeding of a parrot? What else is there to think about? Let's take a look:
How much does the vet charge?
Is there an experienced bird veterinarian in your area?
Should you buy pet insurance?
What about your other pets?
What kind of cage do you need?
What to feed your parrot.
Hmmm, it looks like there are many more questions than answers, doesn't it? This is true. So how do you go about preparing for the potential purchase of a parrot?
Just like any other journey, you need to find answers to all your questions. Buying a parrot as a pet is an expensive proposition.
It's one you should not take lightly.
We have the exact tool for you to read. "Your Pet Parrot" is just what you need to answer all these questions and many more that you haven't even thought of!
Written by a long-term parrot owner, Maureen Pace shares her hands on experience in simple terms. Her passion for her parrots is evident as she shares her stories and underpins this primer with her candid reflections, especially on the "do's and don'ts."
The chapter on training is most helpful and a definite must-have for anyone considering a parrot purchase. She leads you step-by-step through the primer and helps insure that you have the perfect experience with your parrot.
Grab a copy of "Your Pet Parrot" BEFORE you buy and with Maureen's help you, too, will agree to spread the word that parrots make the perfect pet!
About The Author
Maureen Pace
Maureen Pace and her husband have owned a variety of birds, but now just have two peach-faces which, she says, provide great company.
She intends to write more books since she retired from her marketing job.
She started with this subject because someone told her to write about something she knew and was enthusiastic about. She also wanted to share what she knew about parrots for people like a close friend that told Maureen that, "My parrot makes more work for me than our children ever did!"
Maureen says, "I love my parrots and I'm very grateful to my husband for giving me the first one two years ago."
"I've seen and heard a lot of great advice and some friends that have shared their experiences which has been really helpful, but the best lessons have come from my parrots!"
"For them and all the other parrots that give so many people companionship and help to make their lives lots more interesting, I have tried to make clear the those parts of keeping a parrot that some people might regard as negatives so that my readers have their eyes open when they decide to get their first parrot.
There's also plenty of information that I believe will help people that already have a parrot and may have found it difficult to get answers to some of their questions.
Contents
About the Author, Maureen Pace
Pre-Purchase Check
Travelling with Bird
When You Go Away
Only Use Experienced Pet Sitters
Boarding your Bird
Why do you Want a Parrot?
Don't Buy Living Gifts
Fashionable Friend
Who Gets the Parrot?!
The Costs of Parrot Keeping
Pet Health Insurance
Veterinary Costs
Time
Equipment Costs
Fitting out the Cage
Cover for Your Cage
Accessories
Wire Hazards
Cage Doors
Paint
Make Cleaning Easier
Making Your Home 'Parrot Friendly'
Other People - Family and Friends
Other Pets
Chewing can be Their Undoing!
Dangerous Drapes and Blinds
Convenience Items can Kill
The Food we Love ...
Dangerous Toys
Metal Menace
Vapor
Windows
Water
Wire Ties
Parrot Food: Nourishment and Variety
Seeds
Vegetables for Extra Vitality
Seed Dust and Husks
The Truth about Grit
Packaged Food for Parrots
Wonderful Water
Buy Your Parrot
Where to Buy?
What Age?
Points to Remember:
African Grey
Popular Parrot Varieties
Amazon
Galah
Budgerigar (parakeet)
Lorikeet
Macaws
Major Mitchell or Leadbeater's Cockatoo
White Sulphur Crested Cockatoo
Visiting Your Vet
Your new Parrot Comes Home
Meet the Family
Untamed to Trained
Thanks from Maureen Pace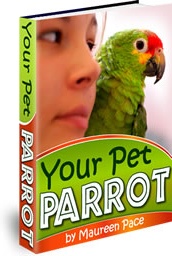 Add to Cart
Add to Wish List
P.S. Please Don't Order this product if you're looking for a fat ebook full of fluff. What you'll get is a mini guide of high quality information that is written by an experienced parrot owner who uses these methods. With these tested tips, you could get a great pet and have years of fun together!
P.S. Please Don't Order this product if you're looking for a fat ebook full of fluff. What you'll get is a mini guide of high quality information that is written by an experienced parrot owner who uses these methods. With these tested tips, you could get a great pet and have years of fun together!
Site owner:
Put the rating form on your site!
Listing wrong or need to be updated?
Modify it.
Mistake found?
Select spelling error with your mouse and press Esc