Worlds Hardest Exercises Ebook
Category:
Fitness
Title:
Worlds Hardest Exercises
Description:
Are You Looking for a Challenge?
What Worlds Hardest Exercises Is NOT:
This is not stupid stuff that takes forever, requires special equipment or that is just a regular exercise done an absurd number of times. Sure I could tell you to run a marathon or do 1000 push ups and it would be hard, but that's not what this is all about.
These are real exercises that you can do (or work up to if you're a big baby) or modify depending on your level of strength or fitness. This is real, but you've probably never done or seen most of this.
This isn't stupid stuff like me telling you to squat 1000 pounds because it's hard. Of course it's hard, but most people will never be able to do that. It's not strongman stuff like lifting cars or bending steel pipes. Most people can't do that either.
Some of the exercises are an entire workout all by themselves. Others are meant to be used as finishers. Some are meant to be mixed into a workout and others are designed to be given out as a punishment.
Most of these exercises are not dangerous, unless you do them wrong, don't have a spotter or you just push yourself beyond your level of fitness.

Who Worlds Hardest Exercises Is For:
CrossFit enthusiasts....because they're going to realize there is a whole new world of even harder stuff out there....and I KNOW you're always up for a challenge.
Maybe you just think you're some kind of bad ass. The point is, anyone who loves a challenge is absolutely going to love this ebook.
Gym rats and fitness enthusiasts will fall in love with all of the new ways to challenge yourself and break through plateaus and staleness.
Strongman competitors and powerlifters....because there are plenty of ways to increase your overall strength and power.
Strength coaches, sport coaches, trainers, drill instructors, etc....because you'll be getting 70 new ways to finish a workout and absolutely crush your athletes/clients.
Bodybuilders....because they get 70 new ways to bring some excitement into stale routines.
MMA fighters, boxers, wrestlers or any combat athletes....because you'll be getting a ton of new ways to beat your brains out in the gym so you can have the incredible levels of conditioning necessary to beat the brains out of your opponent on the mat.
Meatheads (like me)....because every page will be like opening a present. You won't be able to wait to get to the gym to try each and every one of these.
Military personnel, police officers and fire fighters will want to try every single exercise in here.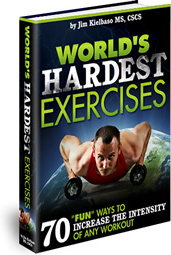 Rating:
Site owner:
Put the rating form on your site!
Listing wrong or need to be updated?
Modify it.
Mistake found?
Select spelling error with your mouse and press Esc