Why Make Yourself Crazy? Ebook
Category:
Mind
,
Philosophy
Title:
Why Make Yourself Crazy?
Author:
Gaynor McTigue
Description:
Here is just a sampling of the wide array of stress issues
you can resolve with these 400 one-of-a-kind strategies,
all immediately accessible with the program's Fast Find
Stress Relief Index:
Whom you should NOT confide in.
Who to talk to for instant stress relief.
Where to escape to nearby when totally frazzled.
When to turn on the music.
When to turn off the music.
When it's best to hire a pro.
When it makes sense to do it yourself.
What to do when someone won't shut up.
What to do when running late to avoid stress.
What NOT to do on your vacation.
Ways to break out of monotonous routines.
Waking up without fear and anxiety.
This makes every dinner a mini vacation.
This hobby is a sure stress buster.
This activity is a debilitating stress fest.
The only way to schedule events to avoid stress.
The danger of being too organized.
Take this perspective...and stress vanishes!
Surefire way to judge people correctly.
Sure cure for the mad morning dash.
Super-efficient way to deal with all those emails.
Stressless investing strategy. (No kidding.)
Stress less by listening to yourself.
Strategies for organizing your home, office, life.
Smart ways to dress for less stress.
Putting more stress-releasing humor in your life.
Physical things that will ease the mental.
Not letting others run, and ruin, your life.
No longer be a slave to peer pressures.
Nature's unfailing tranquilizer.
Most productive, stress-free way to study.
Most conflicts can be avoided. We'll show how.
Messy, stressy closet? No more.
Making big projects small potatoes.
Least stressful times to do things.
Learning how to say "no". With confidence.
Kids' sports without the insanity.
Keeping cool behind the wheel, in any situation.
Instant remedy for a stinging rejection.
How to stop the constant beating up on yourself.
How to stop micro-managing & start delegating.
How to stop being so thin-skinned.
How to steer clear of negative people.
How to overcome an addiction to work.
How to get great sleep nightly, naturally.
Getting people to show up on time. This works.
Getting others off your back. Finally.
Foods that make it worse.
Foods that fight stress.
Ensuring you don't get stood up.
Enjoying life without a deadline mentality.
Eliminating the stress of, yes, euphoria.
Eliminating the corrosive stress of envy.
Eliminating superfluous activities.
Eliminating meaningless deadlines.
Eliminate the fear of looming stressful events.
Do this and never misplace things again.
Curing nerve-wracking writer's block.
Breezing through difficult transitions.
Breaking the unhealthy stress/eating cycle.
Being focused, but not fixated. Big difference.
A must-avoid mistake in legal dealings.
A lasing cure for chronic impatience.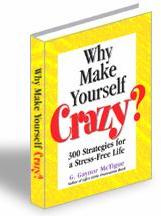 Rating:
Site owner:
Put the rating form on your site!
Listing wrong or need to be updated?
Modify it.
Mistake found?
Select spelling error with your mouse and press Esc