What is Parental Alienation Syndrome (PAS)? Ebook
Category:
Child Custody
Title:
What is Parental Alienation Syndrome (PAS)?
Description:
PAS---sometimes called Parental Alienation (PA)--- is a disorder that arises primarily in the context of child-custody disputes.
Its primary manifestation is the child's campaign of denigration against a parent, a campaign that has no justification.
It results primarily from the programming (brainwashing) of a child by one of the parents, whose goal is the complete vilification of the other parent.
WHAT DOES PAS LOOK LIKE?
When told that the child MUST spend time with the other parent, the alienator typically responds, "There isn't anything I can do about it. She/he just doesn't want to be with you."
The child uses borrowed scenarios, or vividly describes situations that he or she could not have experienced.
The child supports and feels a need to protect the alienating parent.
The child offers weak, absurd, or frivolous reasons for his or her anger.
The child is sure of him or herself and doesn't demonstrate ambivalence, i.e. love and hate for the alienated parent, only hate.
The child exhorts that he or she alone came up with ideas of denigration. The "independent- thinker" phenomenon is where the child asserts that no one told him to do this.
The child does not demonstrate guilt over cruelty towards the alienated parent.
The child denigrates the alienated parent with foul language and severe oppositional behavior.
In severe cases of parent alienation, the child is utterly brain- washed against the alienated parent. The alienating parent can truthfully say that the child doesn't want to spend any time with the other parent.
Animosity is spread to the friends and/or extended family of the alienated parent.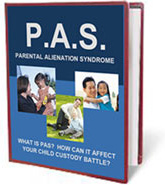 Rating:
Site owner:
Put the rating form on your site!
Listing wrong or need to be updated?
Modify it.
Mistake found?
Select spelling error with your mouse and press Esc