What You Should Know BEFORE You Borrow Money Ebook
What You Should Know BEFORE You Borrow Money
Category:
Business
,
Manuals
,
Nonfiction
Title:
What You Should Know BEFORE You Borrow Money
Author:
Patty Baldwin, Lori Chambers
Description:
Easily Learn How To Understand All The Financial Jargon So You Can Borrow Responsibly!
Hands fisted, knuckles white and angry tears pouring down her cheeks, Carol stormed through her front door and headed straight for the telephone. She tries to compose herself as she dials 911 to report her car as stolen.
The 911 operator takes her information and lets her know that an officer should be there momentarily. When the officer arrives, he takes her statement but also asks if there is any chance the vehicle was repossessed.
Carol jerks her head around at that question and tells the officer that she was 3 days late on her payment to a company that offers vehicle title loans. But, she queries, "surely that couldn't be the problem? It's only 3 days! Isn't there supposed to be a grace period?"
The officer completes the statement and suggests that she contact the company who gave her the loan. After asking her to let the department know if it was indeed repossessed he leaves.
Carol calls the company and gets the bad news! Yes, just 3 days late and her vehicle is repossessed. Yes, she can get it back but in addition to the late payment she will have to pay the towing charge, impound fee and a penalty fee.
This scenario sounds pretty drastic, doesn't it? Well, think again. It happens every single day more times than you would believe!
Carol is not a "bad" person. She did what all of us have probably had to do on occasion. She had an emergency and she required some quick cash. She is young, living on her own for the first time and has yet to establish her credit worthiness.
There is an important lesson to be learned by Carols' experience. Forewarned is forearmed. Had she understood just how important it was to make her payments in a timely manner she would have done so.
Three days may sound pretty drastic, but in this particular case it was in the "fine print."
If she had a copy of "What You Should Know BEFORE You Borrow Money," she would have had a clearer understanding of what this type of lender expects. Had she known, she may have gone elsewhere to borrow.
Payday loans are similar to title loans in that they both charge inflated rates of interest, and they are also ready to pounce with additional charges whenever possible.
"What You Should Know BEFORE You Borrow Money," is designed to help folks who are not knowledgeable about the "ins and outs" of borrowing. Take a look at some of what you will discover:
What type of loan do I need?
When and why borrow money?
What you should know before you shop for a lender.
Before you apply for a mortgage get the facts
How to apply for a loan.
Cleaning up your credit.
If you are already well-versed in all financial matters, this manual is probably not for you. However, if you have no experience in borrowing and are looking for some guidelines then this is definitely just the primer you need.
It's also a great gift for anyone you know who would like to discover the basics of "Borrowing Money 101!"
Table of Contents
Introduction
When and Why Borrow Money
What Type Of Loan Do I Need?
Secured Loans
Mortgage
Are You Ready for a Home Mortgage Loan?
Second Mortgage
Line of Credit
Home Equity
Vehicle Loans
Unsecured Loans
Title Loans
Personal Loans
What Should I Know Before I Shop For A Lender?
Advance Fee Loans
How to protect yourself from advance-fee predators:
Mortgage Loans
Understanding a Second Mortgage
Fixed Rate Mortgage vs. Variable Rate Mortgage
Shorter Terms
Conventional Home Loan
FHA Home Loan
VA Loans
Contract for Deed
How to Qualify for a Home Mortgage Loan
You May Have To Accept a Higher Interest Rate on Your Mortgage Loan
Save a Sizeable Down Payment
Vehicle Loans
Be Sure You Understand the Offer Before Signing On the Line for an Auto Loan
Never Agree To a Pre-Computed Auto Loan
Hold Out For the Best Offer
Interest Rates
Title Loans
Credit Rating
Fair Credit Reporting Act/ FCRA
Don't Let A Divorce Ruin Your Good Credit Rating!
How To Build A Lender-Friendly Credit Report
Important Things to look for in a Lender
Where Should I obtain a Loan?
Commercial Banks
Family or Friends
Finance Companies
The Pitfalls of the % APR Credit Card
Credit Card Companies
Online Credit Card Application: the Easiest Way to a Customer's Heart
Cash It Back with Credit Cards
Borrowing Money For a Business
Private Investors
Leasing Companies
State and Local Government Lending Programs
Partnership
How Do I Apply for a Loan?

Cleaning Up Your Credit
Getting Your Credit Report
Your Credit Report Can Be The Envy Of All Your Neighbors!
Avoiding Credit Repair Scams
Why Your Checking Account Is Vital To Your Credit History
Credit Scores
Three Mistakes That Could Hurt Your Credit Score
Last Words from Patty and Lori
About The Authors
Lori Chambers
Lori Chambers is a young woman who recently moved to New Mexico from Missouri. Becoming an author was on her list of "things to do before I die." Well she has a long way to go before hitting that morbid goal, but she has beat the odds with her first e-book.
After college her circumstance led her to retail and the hospitality industry. Her fingers have always "itched" to write and this is her maiden voyage into that arena.
She is a dedicated "Mom" to Alison, her 10 year old daughter, and looking forward to adding more completed projects to her writing portfolio.
Patty Baldwin
Patty Baldwin has become well-known online as a copywriter, author, web designer and some time graphic artist. She is the author of "About Niches - A 6 Step System." She also co-authored the award winning "Autoresponder Secret Courses" and "Wise Women Win" both of which were co-authored with her friend Teresa King.
Currently she operates several successful online businesses including About Niches, a site where members can receive ongoing sales training. She also does ghost writing for several well known online marketers and administers membership support services for Bryan Winters of Push Button Publishing fame.
You may discover more about her or send an email at: http://www.PattyBaldwin.com
Her experience serves as a testimonial to anyone who chooses to transition from the standard corporate world to working at home.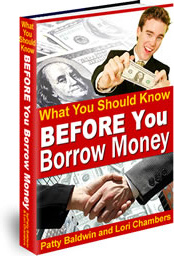 Add to Cart
Add to Wish List
P.S. Please Don't Order this product if you're looking for a fat ebook full of financial jargon. This is a great beginners manual so if you or someone you know fits that profile, grab your copy today!
P.S. Please Don't Order this product if you're looking for a fat ebook full of financial jargon. This is a great beginners manual so if you or someone you know fits that profile, grab your copy today!
Site owner:
Put the rating form on your site!
Listing wrong or need to be updated?
Modify it.
Mistake found?
Select spelling error with your mouse and press Esc