WebHosting Fine Print Ebook
Category:
E-Business
Title:
WebHosting Fine Print
Author:
Manny Jao
Description:
Danger Zone
Learn why your website is at risk of loss and what you need to do to save it from an impending disaster.
Web Hosting customers often ignore the legal fine prints in their web host's Legal Terms and Conditions as posted on the website. This prevalent disregard to these terms often lead to disasters, misunderstings and worse lawsuit between the host and their customers.
This short exclusive report attempts to enlighten why your indifference to these legal fine prints can lead you to the losing side in case of conflicts or claims. It also point out which areas you need to focus when reading online contracts and what you can do to mitigate the risks involved in these contracts.
Don't risk your website even for a moment. Know your rights and your options when dealing with these contractual obligations. A "MUST" read by all webmasters.
Contents
Foreword
Salutation
What is a Fine Print?
Did you really sign it?
Your Web Host's Fine Print
Review of Top Webhosts' TOS & AUPs
Fine Print Detection
Important Notes
Mitigating Risks
Conclusion
Ways to Protect You Against Risks of Loss
Special Announcements
SALUTATION
Dear Webmaster Friend,
Thank you for taking the time to download our special report entitled "Webhosting Fine Prints Danger Zone".
We appreciate that you feel it is important for you to know the dangers that those contractual fine prints pose to you and your online presence.
As more and more people are entering the webhosting business, more and more customers are finding out that webhosting services are getting cheaper and cheaper everyday. It's a good stuff for today's webmasters as well as those future website owners. But this also has brought great risks to the hosting consumers.
While it is true that cheap may not mean that much to the average Joe nowadays, most of these consumers are exposed to what we now call "fine print tolerance syndrome". The repercussion of this is serious.
This behavior happens when, upon scanning a seemingly typical long terms and conditions page (as presented in those long and boring contracts), we just simply ignore the contents, click the "Agree" button and proceed to purchase or enter into an agreement with the other party without even understanding the first page of the document.
It is worthwhile to mention that while this is done most often out of convenience (and sometimes necessity), the consumer's rights is given away without them knowing it. Unaware of their contractual obligations and what recourse each party can avail of in times of dispute, the ignorant party's rights are in danger. Like the danger of losing their precious websites without recourse.
As the title implies, the purpose of this special report is to make you become aware of the dangers of not reading those fine print online (and maybe you can apply it to offline as well). We have to remind everyone of the need to exercise diligence in reading those small letters that can wipe your rights to have a good fight in case of problems. This has happened to us so we know.
And of course, you are about to learn what you can do today that can help you mitigate those risks of tomorrow if not eliminate them totally.
So take a cup of coffee, sit back and enjoy the good read. After you finished reading this, you will never look the same at those boring and time-consuming contractual fine prints again.
Manny R. Jao II
Author and Publisher
Foreword
Over the years, the webhosting business has evolved into a massive worldwide industry. Many people made money early in the race but in the latter days, competition is so fierce that hosting prices are dropping like jaws in awe.
There are no controls and no regulating body that will curb the quick deterioration of revenues and profits to be made by the so called "webhosts" or webhosting companies. New players come in everyday dropping their prices like crazy just to get a piece of the action. It's a webmaster's market nowadays.
The pricing issue is mainly caused by the reduced server and network costs offered by various datacenters competing for server sales. With more supply than there is demand, it creates highly competitive business landscape to the resellers. Competitors go by price wars and jacked up webhosting features.
This chronic pricing problem has pushed profit margins to its all time low prompting many webhosts to look closely at their costs. While the chaotic pricing is beyond the webhost's control, their costs and expenses are theirs to manage.
In recognizing the need to streamline their costs (in order to make some money), these webhosts now have to pass on certain limitations and responsibilities to their customers. One good example of these is making sure that they only allow certain activities on their server and network (IRC, newsgroups, email blasting, live chats, download sites and other server-intensive activities.)
Another example is to disallow particular website types from using their servers and their network. These include Mp3 sites, adult sites, spam sites, forums and may other types of sites known to eat up a lot of shared resources. They do this to make sure that their cheap services will not be subject to abuse which may affect even their other existing customers to leave them for poor service.
These limitations are normally embedded in the legal fine prints. If the innocent webmaster violates them, he is posing a grave threat unintentionally to his website's existence. The problem is that these lines of text in the contracts are normally ignored or are not taken seriously by these webmasters until problems surfaced. Been like that before until I encountered a huge problem.
And when these problems arise, that's the only time we go back to the terms and conditions of our purchase and to our surprise, we may find out that we have just agreed to something we should have not done so in the first place. And worst of all, these terms has changed that you no longer enjoy the rights and privileges you know you have before.
Then when all these happened, that is the only time you know you are in danger of losing a fight. Only then you realize that you might be in trouble.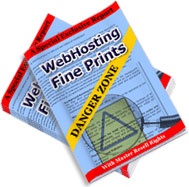 Site owner:
Put the rating form on your site!
Listing wrong or need to be updated?
Modify it.
E-Business Package!
455 E-Business ebooks Click here to see the full list of these ebooks
(total value $4723.45)
Buy Now
just for $49.95
$4673
off
Silver Package!
Any 100 ebooks from 2000+ titles Click here to see the full list of these ebooks
Buy Now
just for $29.95
Gold Package!
Get full access to 2000+ ebooks Click here to see the full list of these ebooks
Buy Now
just for $49.95
Mistake found?
Select spelling error with your mouse and press Esc