Ultimate Collection Of Seafood Recipes Ebook
Ultimate Collection Of Seafood Recipes
Category:
Cooking
,
Food
Title:
Ultimate Collection Of Seafood Recipes
Description:
Do You Want To Start Living A Healthier Lifestyle Today?

Seafood is an important part of a healthy diet, so much so that the USDA has recommended that everyone should make seafood a major part of there diet.

Seafood is high in protein, yet low in fat and contains Omega 3, which has been shown to help prevent heart disease. Just look at the populations of countries whose major diet is seafood and you will see that they are much healthier.

Most people don't make seafood a major part of there diets because they believe seafood is boring or they don't like the taste. This is because they have only tried one or maybe two seafood dishes. But, seafood doesn't have to be boring or not taste good, it's all in the preparation. You can have healthy seafood dishes that taste good with the Ultimate Collection Of Seafood Recipes.

And with over 1571 seafood recipes in all, you are sure to find some that will delight your taste buds and make you a healthier person.

Recipe Contents:

30-Mm: Tuna Burgers
'Grilled" Glazed Tuna Steaks
7 Minute Boiled Crawfish
Accra (Saltfish Cakes)
Abalone Stuffed With Crabmeat
Aceitunas Alinadas (Olives In Oil)
Ackee - Codfish
Aceitunas Rellenas - Stuffed Olives
Acrats De Morue (Catfish Fritters)
African Fish Curry Powder
Adobong Isda (Fish In Tangy Sauce)
African Malayan Curry Powder (For Meat & Fish
Akotonshi (Stuffed Crabs)
Agnolotti Alla Fraccaro (Crab Ravioli)
Al's Maryland Crab Soup
Alaska Salmon & Avocado Pasta Salad
Al's Seafood Bisque
Alaska Salmon A La Rainier
Alaska Salmon Salad Sandwich
Alaska Salmon Chowder
Alaska Seafood Pizza
Alaskan Fish Bake
Alaska Seafood Tarts
Albacore Or Yellowfin Tuna
All-American Salmon Saute W/Mushroom Sauce
Alfredos Barbecue Fish Marinade
All-American Tuna-Salad Sandwiches
Alligator Sausage & Crawfish Casserole
All-In-One Tuna Casserole
Allison's Salmon Loaf
Anchovy-Grilled Salmon Steaks
Almond Tuna & Rice
Angel Hair Pasta With Sea Scallops
Ann's Seafood Chowder (Halifax Version)
Ann's Seafood Chowder
Another Tuna Casserole
Apple Tuna Pasta Casserole
Antoine's Oysters Rockerfeller
Apricot-Glazed Fish
Arthur Treacher Style Fish
Art's Mock Crabmeat Casserole
Arthur Treacher's Fish Batter
Artichoke Bottoms With Bay Scallops
Artichoke & Oyster Souffle
Artichoke Oyster Soup
Asian Marinade (For Fish)
Artichokes With Spicy Crab
Asian Salmon Burgers
Asparagus & Crab Meat Soup (Mang Tay Nau Cua)
Asian-Style Salmon Stir-Fry
Asparagus & Crab Strata
Asparagus And Crabmeat Salad
Asparagus & Crabmeat Salad
Asparagus Crab Soup (Sup Mang Tay Cua)
Asparagus-Stuffed Flounder
Asparagus With Oyster Sauce
Aussie: Heron Island Fish With Vinaigrette
Australian Grilled Fish
Aussie: Kingfisher Pavlova
Avocado & Crab Enchiladas
Avocado Filled With Crabmeat
Avocado Crabmeat Salad
Avocado Pear With Crab Pear Peach & Primr
Avocado With Crab
Avocado Stuffed With Smoked Fish (West Africa
Avocado With Smoked Fish
Bacalaitos (Salt Codfish Fritters)
Baby Shark Fry
Bacalao A La Viszcaina (Basque Style Codfish)
Bacon & Smoked Oysters
Bacon & Oysters
Bacon And Smoked Oysters
Badhapu Malu (Fried Fish)
Bacon-Broiled Scallops
Bahama Fried Fish *
Baja Seafood Stew
Bailey's Bouillabaisse (Fish Stew)
Baked Almond Catfish
Baked Bay Scallops
Baked Artichoke & Crab Spread
Baked Bluefish
Baked Catfish & Pecans
Baked Breaded Bluefish With Mock Tartar Sauce
Baked Catfish A'la Meuni'ere
Baked Catfish Fillets With Horseradish Sauce
Baked Catfish Creole
Baked Catfish Supreme
Baked Clams
Baked Citrus Swordfish
Baked Clams Casino
Baked Clams With Tasso Gratinee With Saffron
Baked Clams With Black Bean Sauce
Baked Codfish With Spinach & Cheese Sauce
Baked Crab Potatoes
Baked Cqthi Salmon (Welsh)
Baked Crab Quesadillas
Baked Crab Pepper & Spinach Frittata
Baked Crabmeat & Avocado
Baked Dilled Salmon On Rice
Baked Fillet Of Catfish Creole
Baked Eggs With Crabmeat
Baked Fish
Baked Fish Chowder
Baked Fish Cake
Baked Fish Steaks (Nz)
Baked Fish With Orange-Chili Marinade
Baked Fish With Almond Stuffing
Baked Fish With Spices
Baked Fish With Tomato-Orange Confit
Baked Fish With Sweet & Sour Onions W/Cousc
Baked Fish With Vegetables
Baked Flounder With Sauce
Baked Flounder Barataria
Baked Flounder With Scallop Stuffing
Baked Fresh Salmon
Baked Flounder(English)
Baked Fresh Salmon Steak
Baked Gefilte Fish
Baked Fresh Tuna
Baked Oysters
Baked Salmon
Baked Rockfish With Ginger-Lime Sauce
Baked Salmon In Foil
Baked Salmon Provencale
Baked Salmon Packets
Baked Salmon Rolls
Baked Salmon Supper
Baked Salmon Steaks
Baked Salmon With Caper Sauce
Baked Scallops
Baked Salmon With Herb Sauce
Baked Scallops Aux Herbes
Baked Sea Scallops
Baked Sea Bass With Black-Olive Sauce
Baked Smoked Salmon & Feta Cheese En Croute
Baked Stuffed Catfish
Baked Speckled Trout In Herbs
Baked Stuffed Clams (Pat Stockett)
Baked Stuffed Fish 2
Baked Stuffed Fish
Baked Stuffed Flounder
Baked Trout With Fennel
Baked Stuffed Lake Trout, Salmon, Or Walleyed Pike
Baked Trout With Sea Food
Baked Tuna & Noodles
Baked Trout With Yoghurt & Herbs
Baked Tuna Chow Mein Casserole
Baked Tuna Steaks
Baked Tuna Pie
Baked Tuna Stuffed Potatoes
Baked Whole Fish
Baked Vegetable & Seafood Won Tons
Banana Fish
Bar-B-Q: Smoke-Grilled Salmon
Banquet Baked Fish
Barbecue Crab Sandwich
Barbecue Salmon Steaks With Green Ginger Sauce
Barbecue Fish Sauce
Barbecued Catfish
Barbecued Fish
Barbecued Corn & Hard Shelled Crabs
Barbecued Fish Margarita
Barbecued Rainbow Trout
Barbecued Oysters With Shiitakes
Barbecued Salmon With Basil
Barbecued Scallops Hoisin
Barbecued Salmon With Field Greens
Barbecued Skewers Of Fish - Seekh Ki Machali
Barbecued Swordfish With Black Olive-Cucumber
Barbecued Speckled Trout
Barbequed Fish
Basic Fish Chowder
Basic Best Salmon Loaf
Basic Fish Mousse
Basil's Crab Cakes Louisiana-Style
Basic Fish Stock - *p Cooking Class
Basque Style Steamed Clams (Almejas Guisadas)
Basted Duck With Oyster Dressing
Bass With Avocado Sauce
Bay Scallops With Lemon & Dill
Beacon Hill Clam Dip
Bbq Crab Sandwich
Bean Curd With Oyster Sauce
Bill Clinton's Tuna Salad Sandwich
Bier Fisch (German Beer Fish)
Biscuit Topped Seafood Gumbo Pie
Black Bean & Salmon Appetizer
Bisque De Cribiches (Freshwater Crayfish Bisq
Black Pepper Angel Hair With Smoked Salmon
Blackened Catfish
Black-Eyed Pea-Crab Salad With Ruby Grapefrui
Blackened Fish
Blender Hollandaise Sauce For Trout
Blackened Redfish
Blue Crab Cakes With Cayenne Mayonnaise
Blue Trout Luchow
Blue Fish With Oranges & Oregano Flowers In
Bluegill Dip
Boiled Crawfish
Boiled Crabs
Boned Oysters
Braised Fish -England, 15th Century
Boston Clam Chowder
Braised Pork And Fresh Oysters In Clay Pot
Brigitte's Shrimp Or Tuna Mousse
Brattens Famous Clam Chowder
Brigitte's Tuna Burgers
Brittany Mixed Fish Soup
Brithyll A Chig Moch (Trout & Bacon)
Broccoli" Crab & Cheddar Quiche
Broiled Bluefish Sauce
Broiled Bay Scallops
Broiled Catfish Steaks
Broiled Flamed Trout Koala
Broiled Fish With Deviled Cheese
Broiled Flounder
Broiled Fresh Tuna With Salsa
Broiled Flounder Fillets
Broiled Monkfish In Gingered Soy Sauce
Broiled Or Grilled Fish W/ Black-Bean Salsa
Broiled Open-Faced Crab Sandwiches
Broiled Oriental Swordfish
Broiled Rockfish
Broiled Rainbow Trout
Broiled Salmon Fillets With Fennel Sauce
Broiled Salmon Teriyaki
Broiled Salmon Steak With French Dressing
Broiled Salmon With Lime & Cilantro
Broiled Scallops & Bacon Hors D'oeuvres
Broiled Salmon With Spicy Sauce Verde
Broiled Scallops W/Lemon
Broiled Sesame Trout
Broiled Seafood Canapes
Broiled Shrimp & Scallops (Scampie E Cape San
Broiled Striped Bass
Broiled Spicy Shark
Broiled Swordfish & Cucumber Sauce
Broiled Swordfish Steaks
Broiled Swordfish Mirabeau
Broiled Trout With Raisins
Broken Fish Trap Soup
Broiled Tuna
Brook Trout Meuniere
Butterfish With Lemongrass
Brook Trout Sauteed With Mushrooms
Buttermilk Fried Shark
Cajun Catfish
Cajun Blackened Spice Mix & Blackened Fish
Cajun Catfish Courtbouillon
Cajun Catfish Remoulade
Cajun Catfish Gumbo
Cajun Catfish With Spicy Strawberry Sauce
Cajun Crawfish Casserole
Cajun Crabmeat Mold
Cajun Crawfish Jambalaya
Cajun Oyster Pie
Cajun Fish Fillets
Cajun Oysters
Cajun Soft-Shell Crabs On Buns
Cajun Shrimp & Oyster Gumbo
Cajun Style Crabbie Mushrooms
Calvert's Pecan Flounder
California-Style Salmon
Camp Tuna & Rice
Canh Chua Dau Ca (Sour Fish Head Soup)
Cang Cua Boc Tom (Shrimp On Crab Legs)
Canned Tuna Casserole
Cape Beaujolais's Fine Fish Marinade
Cantonese Fish Filling (Dim Sum Filling)
Cape Cod Clam & Corn Fritters
Caribean Fish Fillet
Caribbean Fish Chowder
Carlos & Charlie's Tuna Dip
Carrot Bundle Fish
Carmelized Sea Scallops In Truffle Sauce
Casserole Apicius With Meat Or Fish
Catfish & Crawfish Mold
Casserole Of Catfish Jean Lafitte
Catfish & Shrimp Stew
Catfish Baked With Cheese
Catfish And Crawfish Mold
Catfish Barrios
Catfish Cakes
Catfish Bienville
Catfish Caribbean
Catfish Chowder
Catfish Chili
Catfish Creole
Catfish En Papillote
Catfish Curry With Tomato & Cilantro
Catfish Florentine With New Orleans Style
Catfish In Beer
Catfish Frangelico
Catfish In Oyster Andouille Butter
Catfish In Red Curry Sauce
Catfish In Picante Sauce
Catfish Maitre'd
Catfish Mulate's Crawfish Etouffee
Catfish Mexican Style
Catfish Orleans With Creole Sauce
Catfish Pecan Meuniere
Catfish Parmesan
Catfish Stew
Catfish With Oregon Hazelnuts
Catfish With Dijon Sauce
Catfish With Spicy Orange Sauce
Cathe's Crawfish Etouffe
Cathe's Clam Chowder
Cathe's Crawfish Quiche
Ceviche (Scallops)
Cathy's Fish & Rice
Charbroiled Swordfish With Citrus Salsa
Chard-Wrapped Salmon & Duxelles
Charcoal Grilled Salmon With Spicy Black Beans
Charlene Prickett's Crab Salad With Yogurt Dr
Cheer Up A Crab
Checkerboard Square Clam Crunch
Cheese & Crabmeat Casserole
Cheese-Broiled Catfish
Cheese & Salmon Bagel Ww
Cheesy Broiled Flounder
Cheesy Garden Tuna-Filled Crepes (Microwave R
Cheesy Fisherman's Grill
Cheesy Salmon Supper
Chesapeake Oyster Bisque
Chesapeake Bay Crab Cakes
Chesapeake Restaurant Crab Cakes
Chicken & Oyster Casserole
Chex Mix Oyster Crackers
Chicken Sausage Oyster Gumbo
Chicken Wings In Oyster Sauce
Chicken Stuffed With Crab
Chile Tuna Sea Shells
Chili Crab Puff: Ladies Lunch
Chilean Sea Bass With Garlic
Chili Fish Sauce
Chili-Orange Fish Fillets With Banana
Chili Seared Salmon With Sweet Pepper Salsa
Chilled Pappa Al Pomodoro With Crab Meat Cros
Chinese Crab & Corn Soup
Chilled Trout In Dill Sauce
Chinese Crab Rice
Chinese Pasta Salad With Shellfish
Chinese Oyster Stew
Chinese Steamed Cracked Crabs
Chinese Style Sea Scallops
Chinese Style Mushroom Filled With Salmon Fil
Chinese Tuna Steaks On The Grill
Chinese: Won Ton In Oyster Sauce (Ho Yau Gon
Chinese: Crab Meat Lion's Head - Shanghai
Chippewa Trout
Christmas Crab Quesadillas
Chop Suey With Tuna
Christmas Oyster Soup
Cipate Au Salmon (Layered Salmon Pie)
Chuck's Clam Chowder
Citrus Grilled Jumbo Scallops
Citrus Scallops
Citrus Sauce For Fish
Citrus Shrimp & Scallops
Clam & Corn Chowder
Citrus Trout Delight
Clam & Olive Dip
Clam & Shrimp Chowder
Clam & Potato Casserole
Clam And Olive Dip
Clam Bisque
Clam Balls
Clam Casserole
Clam Chowder
Clam Casserole 2
Clam Chowder #1
Clam Chowder - New England Home Style
Clam Chowder #2
Clam Chowder 3
Clam Chowder, Manhattan Style
Clam Chowder For Canning
Clam Chowder" Maine Style
Clam Dip #1
Clam Dip
Clam Dip #2
Clam Linquine
Clam Dip #3
Clam Puffs
Clam Stuffed Mushroom Caps
Clam Savory
Clam-Stuffed Fish Fillets
Clams (Whole Or Minced)
Clamato Red Scorpion
Clams Casino
Clams Oregatana Basilico
Clams In Black Bean Sauce
Clams Posilipo
Clams With Spicy Butter
Clams Sailor Style
Classic Fried Catfish
Cocktail Crab Dip
Clear Fish Soup
Coconut Fish Roe Sambal (Sambal Kelapa Dengan
Cod Fish Cakes
Coconut Rockfish
Codfish Balls
Codfish With Couscous - BsnxOla
Codfish Vegetable Casserole
Cold Clam Dip
Cold Glazed Salmon
Cold Crabmeat Nacho
Cold Redfish Mold
Cold Trout In Orange Marinade
Cold Trout In Aspic
Confetti Crab Salad
Cooked Clams
Confetti Macaroni & Tuna Salad
Coquilles St. Jacques Au Gingembre (Scallops
Corn & Crab Chowder
Coriander Fish (Bharia Machli)
Corn And Crab Chowder
Cornmeal-Crusted Trout With Hazelnut Butter
Cornmeal-Coated Catfish
Counterfeit Tuna Salad
Courtbouillon Of Redfish
Country Salmon Pie
Crab & Asparagus Quiche
Crab & Avocado Cocktail
Crab & Asparagus Soup
Crab & Avocado Fritters
Crab & Cheese Salad
Crab & Brie Soup
Crab & Cheese Stuffed Bread
Crab & Corn Cakes
Crab & Clam Dip
Crab & Corn Chowder
Crab & Cream Cheese Hors D'oeuvres
Crab & Corn Soup
Crab & Cucumber Rolls
Crab & Rice Salad
Crab & Green Onion Pie
Crab & Shrimp Au Gratin
Crab & Three Cheese Strata
Crab & Shrimp Seasoning
Crab And Asparagus Soup (Queensland)
Crab And Corn Cakes
Crab And Avocado Cocktail
Crab Artichoke Heart & Pasta Casserole
Crab Balls (Mrs. Kitching's Smith Island Cook
Crab Avocado Melt
Crab Benedict
Crab Broccoli Casserole
Crab Bisque
Crab Burgers
Crab Cakes #2
Crab Cakes
Crab Cakes Maryland
Crab Cakes With Cilantro Butter
Crab Cakes With Basil Mayonnaise
Crab Cakes With Pasilla Chili Aioli
Crab Calzone
Crab Cakes With Sweet Peppers & Capers
Crab Casserole
Crab Cheesecake
Crab Casserole In A Clay Pot
Crab Cioppino Ala Guardino
Crab Combination Soup
Crab Claw Marinade
Crab Combination Soup #1
Crab Crepes En Casserole
Crab Crepes
Crab Custard With Lemon Butter Sauce
Crab Diablo
Crab Delights Stir Fry
Crab Dip #1
Crab Enchiladas With Chipotle Cream Sauce
Crab Dip #2
Crab Filled Cream Cheese Pastry
Crab Fib Appetizers
Crab Filling
Crab Fondue (Absolutely Marvelous)
Crab Fried Rice With Nam Prik Sauce
Crab Fried Rice - Khao Pad P00 *
Crab Fritters
Crab Gumbo
Crab Gratin
Crab Imperial
Crab Lorenzo
Crab In Ginger Sauce
Crab Meat & Mushrooms In Wine Sauce
Crab Meat Bacon Rolls
Crab Meat Alma
Crab Meat Lion's Head
Crab Meat Salad
Crab Meat Roll Sushi
Crab Melt Sandwich
Crab Muffins
Crab Mousse
Crab Newberg
Crab Pecan Delight
Crab On Crackers
Crab Pilau (Braised Rice W/ Crab & Coconut Mi
Crab Rangoon #1
Crab Quiche
Crab Rangoon #2
Crab Rice
Crab Rangoon #3
Crab Roll Hors D'oeuvres
Crab Salad Croissants W/Peaches And Pecans
Crab Salad
Crab Salad Sandwiches
Crab Salsa
Crab Salad W/2 Dressings
Crab Souffle
Crab Souffle With Green Peppers
Crab Souffle Roll
Crab Soup With Sherry
Crab Stew
Crab Spring Rolls - Cooking Light
Crab Stuffed Chicken Breasts
Crab Stuffed Jalapenos
Crab Stuffed Idaho Potatoes
Crab Stuffed Mushrooms
Crab Stuffed Prawns With Tomato Butter
Crab Stuffed Mushrooms # 2
Crab Stuffing
Crab Tetrazzini
Crab Tarts
Crab Tomato Bisque
Crab Vegetable Dip
Crab Tomato Sandwiches
Crab Victoria
Crab Won Tons With Blackberry Szechuan Sauce
Crab With Snow Peas
Crab-A-Leekie Crepes
Crab-Apple Butter
Crab-And-Pink Grapefruit Salad
Crab-Apple Hot Pepper Jelly
Crab-Melt Canapes
Crab-Apple Jelly
Crab-Potato Salad
Crab-Stuffed Chicken
Crab-Stuffed Bread Cubes
Crab-Stuffed Crepes
Crab-Stuffed Tomatoes
Crab-Stuffed Sole
Crab-Topped Shrimp
Crabby Mushrooms
Crabapple Pickles
Crabby Potatoes
Crabcakes 2
Crabcakes
Crabmeat Appetizer
Crabmeat Custard
Crabmeat Au Gratin
Crabmeat Dip
Crabmeat Goodies
Crabmeat Fajitas
Crabmeat Mousse
Crabmeat Quiche
Crabmeat Patties
Crabmeat Ravigote
Crabmeat Yvonne
Crabmeat Supreme
Crabmeat-Artichoke Casserole
Crabs Carribbean-Style
Crabmeat-Stuffed Pork Loin
Crabs With Ginger & Green Onions
Crab" Chili"' Cheese
Crab Artichoke Heart & Pasta Casserole
Crappie Timbales
Crawfish & Egg Salad
Crawfish & Corn Soup
Crawfish & Spicy Cheese Tart
Crawfish Bisque
Crawfish Aubergine
Crawfish Bread
Crawfish Cornbread
Crawfish Chili
Crawfish Etouffee
Crawfish File Gumbo
Crawfish Etouffee 2
Crawfish Jambalaya
Crawfish Of Shrimp Etouffee
Crawfish Mashed Potatoes
Crawfish Or Shrimp Cocktail
Crawfish Risotto
Crawfish Pie
Crawfish Stuffed Manicotti
Crawfish Vol-Au-Vent
Crawfish Stuffing
Crawfish Wontons
Crawfish-Stuffed Beef Fillet
Crawfish Yvonne
Crayfish & Poached Quail Eggs Salad & Truffle
Crayfish Etouffee
Crayfish & Poached Quail Eggs Salad & Truffle Vinaigrette
Crayfish Tails A La Carlton
Cream Of Crab Soup
Cream Of Clam & Leek Soup
Cream Of Oyster Stew
Creamed Lobster & Clams
Creamed Flounder Tarragon
Creamed Oysters
Creamed Scallops In Wine Sauce (Coquilies St.
Creamed Salmon In Rice Ring
Creamed Tuna
Creamy Clam Sauce & Pasta
Creamy Artichoke & Oyster Soup
Creamy Crab & Red Pepper Sauce
Creamy Crab Soup
Creamy Crab Fondue
Creamy Crab-And-Artichoke Dip
Creamy Seafood Pasta Salad
Creamy Salmon Soup
Creamy Smoked Salmon & Dill Tart
Creamy Tomato Bisque With Lump Crabmeat & B
Creamy Smoked Salmon And Dill Tart
Creamy Trout Mousse
Creole Baked Fish
Creamy Vegetables With Tuna
Creole Crab
Creole Fish
Creole Crab & Rice
Creole Fish Soup
Creole Seafood Gumbo
Creole Redfish Courtbouillon
Creole Seafood Seasoning
Crepes With Tuna Sauce
Crepes With Salmon Filling
Crisp Atlantic Salmon On Lentils With Morocca
Crispy Baked Fish & Herbs
Crisp Scallops With Horseradish Lime Sauce
Crispy Meat & Seafood Roll
Crispy Salmon Potato Pancakes
Crispy Pecan Fish Fillet
Crispy Scallops With Soy Dipping Sauce
Crunchy Fish Fillets
Crockpot Crab Soup
Crunchy Hot Crab Bites
Crunchy Potato Chip Tuna Salad
Crunchy Oven-Fried Fish
Crunchy Tuna Salad
Crustless Seafood Quiche
Crustless Crab Qiuche
Cucumber Rounds With Smoked Salmon Mousse
Curried Oysters With Banana Salsa
Cured Salmon & Grouper Roulade W/ Mache Let
Curried Salmon Steaks
Curried Scallops In Cream Sauce
Curried Salmon With Poppadoms
Curried Snow Crab Claws
Curried Tuna Salad
Curried Tuna Melts
Cuttlefish With Spinach
Dallo ( Cuttle Fish Curry)
Cuttyhunk Paprika Scallops
Dartmouth Crab & Lobster Salad
Deep-Fried Catfish
David Hagedorn's Sea Scallops
Deep-Fried Catfish Fillets
Deep-Fried Crab Balls With Vinegar Dip
Deep-Fried Crab Balls W/Jicama-Pepper Panache
Deep-Fried Trout
Delmarva Crab Cakes
Deli Seafood Sandwich
Deluxe Salmon Spread
Deviled Clams
Denjang Jiege Keh (Spiced Crab Soup)
Deviled Codfish Patties
Deviled Crab Croquettes
Deviled Crab
Deviled Crab Quiche
Deviled Oysters II
Deviled Oysters I
Deviled Rock Lobster Or Crab
Devilled Crab In Cucumber Cups.
Deviled Smelt
Devilled Crab In Tomato.
Diakon & Tuna Salad
Devilled Crabs
Dijon Baked Salmon With Mousse Topping
Dilled Salmon Salad
Dill Sauce With Scallops Over Angel Hair Past
Dilled Salmon Steaks For Two
Dobi's Linguini & White Clam Sauce
Dilly Crabmeat Spread
Drago's Char-Broiled Oysters
Dried Fish Belly Soup - Kapaw Pla *
Dressed Crab
Dried Kingfish
Drunken Fish
Drunken Crab Bisque
Drunken Tuna Dip
Duke's Clam Chowder
Duck Webs In Oyster Sauce
Dulse Fried Oyster Mushrooms
Dungeness Crab Lasagna
Dungeness Crab Dijonnaise
East: Calcutta Curried Fish With Crisp Vegeta
Easy Clam Sauce With Low-Calorie Version
Eastern Shore Crab Cakes
Easy Crab Imperial
Easy Fish Marinade
Easy Fish Casserole
Easy Mini-Salmon Burgers
Easy Salmon Chowder
Easy Poached Fish
Easy Seafood Stew
Eddy's Oyster Loaves
Ecrevisse (Crawfish) Strudel With Two Sauces
Egg & Smoked Haddock Pate.
Eggs Benedict With Salmon
Eggplant Stuffed With Oysters
Eileen's Salmon Steaks
Elegant Crabmeat Balls
Elegant Baked Fish
Elegant Seafood Casserole
Ellen's Seafood Chowder
Elegant Southern Seafood Cake
Emerald Seafood Salad
Erdine's Fish Pie
Erby's Steamed Crawfish
Escalloped Salmon
Eula Mae's Cajun Seafood Gumbo
Etienne's Soft-Shell Crab With Red Chili Beur
Famous Crab Dip
Fast & Fit Clam Chowder
Fancy Fish
Fast With Five: Almond Trout
Fettuccine With Scallops & Peas
Faux Smoked Salmon
Fettuccine With Shellfish, Tomatoes And Olives
Filet Of Beef & Oysters
Fiery Catfish Fingers
Fillet Of Catfish Bayou Lafourche
Fillet Of Fish A L'orange
Fillet Of Catfish In Wine
Fillet Of Fish Amandine
Fillet Of Fish Provencale
Fillet Of Fish Florentine
Filleted Trout With Macadamia Nuts And Fried Capers
Fillets Of Flounder In Lemon Parsley Butter
Fillets Of Bluefish General Patton
Firecracker Grilled Alaskan Salmon
Fish & Brewis
Fish
Fish & Cheese Chowder
Fish & Mushrooms
Fish & Leek Chowder
Fish & Potato Platter
Fish & Tomato Zucchini Saffron Coulis
Fish & Stoffle
Fish 'n Chips 'n Peas
Fish A La Lyle
Fish 'n Flakes
Fish And Potato Platter
Fish Baked In Coconut Chutney
Fish Aspic
Fish Baked In Sour Cream
Fish Broth (Brodo Di Pesce)
Fish Baked Broiled Or Barbecued In Foil
Fish Broth With Oysters & Saffron
Fish Cakes #1
Fish Brown Sauce
Fish Cakes #2
Fish Casserole
Fish Caribbean With Herbed Wine Sauce
Fish Chowder I
Fish Citrus Salad
Fish Chowder II
Fish Clams & Corn Chowder
Fish Creole
Fish Courtbouillon
Fish Curry
Fish Devine
Fish Cutlets With Curry Sauce
Fish Dish
Fish Fantastic & Fast
Fish En Escabeche
Fish Filets With Winter Salad
Fish Fillets Au Gratin
Fish Fillets
Fish Fillets Au Gratin #2
Fish Fillets In Zucchinni Cream
Fish Fillets In Garlic Butter
Fish Fillets With Asian Vegetables
Fish From Tipitapa (Pescado A La Tipitapa)
Fish Fillets With Tomatoes Capers & Olives
Fish Fumet
Fish House Barbecue
Fish Gourmet
Fish House Punch
Fish In Aspic
Fish In Adobo Sauce
Fish In Cilantro Sauce
Fish In Foil
Fish In Fiery Lemon-Coriander Sauce
Fish In Horseradish Sauce
Fish In Mandarine & Parsley Sauce
Fish In Hot Fanny Sauce
Fish In Moroccan Charmoula Sauce
Fish In Pineapple-Lime Sauce
Fish In Orange Juice
Fish In Sweet & Sour Sauce Wih Coconut-Rice
Fish In Wine Casserole
Fish In Tomato-Wine Sauce
Fish Kabobs
Fish Marinade
Fish Lemongrass
Fish Marinated In Herbed Olive Oil
Fish Nuggetts
Fish Mustard Curry
Fish On A Stick
Fish Pie
Fish Piccata
Fish Piquant - Psari Savore
Fish Saute In Coconut Milk
Fish Saute (Sudado)
Fish Slices Peking Style
Fish Soup
Fish Souffle
Fish Soup With Fennel
Fish Stew
Fish Steamed In Napa Cabbage - *p Cooking CIa
Fish Stew With Herbs
Fish Straight From The River - Oz
Fish Stock
Fish Stuffed Peppers With Orzo
Fish Tacos
Fish Taco Brochettes
Fish Tacos In-A-Hurry
Fish With Capersauce
Fish Timbales With Curry Sauce
Fish With Garlic Salsa
Fish With Summer Vegetables
Fish With Rice Wine
Fish With Tomato & Caper Sauce
Fish-Chowder
Fish With Vegetable Sauce
Fish-Stuffed Bean Curd
Fisherman Chowder
Fish: Shrimp Creole
Fisherman's Bouillabaisse
Fisherman's Catch
Fisherman's Brewis
Fisherman's Cioppino
Fisherman's Soup
Fisherman's Pie
Fisherman's Stew
Fishrolls With Peppers
Fishfilet On Cabbage Salad
Fishy Fries
Fiskepudding Eller Fiskefarse (Fish Pudding 0
Fish" Clams & Corn Chowder
Fiskesalat Med Pepperrotsaus (Fish Salad W/Ho
Florida Fish Stew
Flaky Salmon Surprise
Flounder Or Sole Fillets
Flounder Au Gratin
Flounder A La Nouvelle Orleans
Flounder Florentine
Flounder In Parchment
Flounder In Lemon-Dill Sauce
Flounder In Sweet-Sour Sauce
Flounder With Scallions
Flounder Meuniere For 4
Flounder With Vegetables & Gingered Sauce
Foil Baked Fish With Mexican Mint Marigold
Fluffy Tuna Pate
Foil Envelope Fish
Fragrant Fish
Foiled Fish On The Grill
Frank's Place Crawfish Etouffe
French Quarter Catfish
Fred's Fish Sauce M&M
French Toasted Tuna Sandwiches
Fresh Corn Seafood Chowder
Fresh & Smoked Salmon Pate
Fresh Halibut Baked With Smoked Salmon
Fresh Salmon With Tricolored Peppercorn Sauce
Fresh Salmon Pate
Fresh Trout Florentine
Fresh Tuna Salad
Fresh Tuna (Marmita-Kua)
Fresh Tuna Souvlaki
Fried Barbeque Crabs
Fresh-Tuna Salad Nicoise
Fried Catfish
Fried Crab Cakes
Fried Catfish With Zippy Cornmeal Crust & R
Fried Crawfish Tails
Fried Fish Balls
Fried Fish
Fried Fish Fillets
Fried Fish With Beer Batter
Fried Fish In Spicy Sauce
Fried Fish With Garlic Sauce
Fried Fish With Whole Garlic
Fried Fish With Puerto Rican Sauce (Mojo Isle
Fried Garfish
Fried Lake Trout
Fried Horseradish Breaded Fish With Mashed P0
Fried Oyster Hot Pot
Fried Oysters Wrapped In Bacon
Fried Oysters With Chili Corn Sauce-Brennan's
Fried Smelt
Fried Soft-Shell Crab 2
Fried Soft-Shell Crab
Fried Sun-Dried Fish
Fruited Fish
Fried-Fish Fillets With Sherry Vinegar & Herbs
Fruity Seafood
G.'s Easy Fish Marinade
Fusilli Bucati With Soft Shell Crabs
Gaeng Paa Pla Dook (Jungle Curry With Catfish
Garlic Braised Tuna Steaks
Garden Tuna Salad Pockets
Garlic Clam Dip
Garlic Shrimp & Scallops
Garlic Clams
Garlicky Clam Dip
Gefilte Fish 1
Gary's Clam Dip
Gefilte Fish 2
Gemfish In Chermoula Marinade
Gefilte Fish With Beet Preserves
Georgia Crab Soup
Giffilte Fish
Georgia Pecan Fish-Rec.foods
Gifilte Fish From A Jar
Ginger Fish Rolls
Gilled Salmon
Ginger Salmon Steaks
Ginger-Glazed Salmon Steak On Basil Mashed P0
Ginger Sauce For Steamed Crab
Ginger-Lime Swordfish Steaks **
Glazed Grilled Trout
Gingered Flounder In Parchment
Glazed Salmon
Glen's Fish Sauce
Glazed Sea Bass W/Black Sesame Seeds
Goanese Curried Fish
Golden Fried Catfish
Golden Crab Puff
Golden Haddock Pie
Gorton's New England Clam Chowder
Good Habit Tuna Melt
Gower Oyster Soup
Grand Central Oyster Stew
Gramma Bahrt's Salmon Piroghi
Grand Hotel Pasta & Fish
Gratineed Oysters With Diced Apples In A Calvados Sabayon
Grandma's Salmon Patties
Gravlax (Salmon Marinated In Dill)
Great Tuna Casserole
Great Northern Mock Tuna Salad
Greek Fish Baked In Grapevine Leaves
Green Chile & Oyster Chowder
Greek Kataifi Fish
Gridd led Trout With Herbs
Grilled Beet & Smoked Trout Salad With Chives
Grill Poached Salmon
Grilled Bluefish Wrapped In Mammoth Basil Lea
Grilled Crabmeat Flautas
Grilled Catfish Salad
Grilled Curry-Apricot Shrimp & Scallops
Grilled Fish In Banana Leaf
Grilled Fish
Grilled Fish In Foil
Grilled Fish Tacos With Green Salsa
Grilled Fish Tacos
Grilled Fish W/Pineapple-Cilantro Sauce
Grilled Hawaiian Fish In Basil-Coconut Curry Sauce
Grilled Gingered Swordfish
Grilled Hawaiian Fish With Papaya Relish
Grilled Marinated Seafood
Grilled Marinaded Kingfish
Grilled Meli Melo Of Seafood With Soy Beurre
Grilled Oriental Fish Steaks
Grilled Mussels With Hot Fish Sauce
Grilled Rainbow Trout With Apricot Salsa
Grilled Rainbow Trout With Caponata Relish
Grilled Rainbow Trout With Asian Flavors
Grilled Rockfish With Garlic & Basil
Grilled Rudderfish With Maltese Sauce
Grilled Rosemary Swordfish
Grilled Salmon
Grilled Salmon & Marinade
Grilled Salmon & Cheddar Sandwiches
Grilled Salmon Fillets In Lettuce With Mustar
Grilled Salmon Steaks In Sauce
Grilled Salmon Sandwich
Grilled Salmon W/ Roasted White Corn Salsa &
Grilled Salmon With Lemon & Thyme
Grilled Salmon With Honey Mustard Glaze
Grilled Salmon With Potato & Watercress Salad
Grilled Scallops & Kale With A Fresh Beet S
Grilled Salmon With Surf Sauce
Grilled Scallops( Welsh)
Grilled Seafood Kabobs
Grilled Seafood Flautas
Grilled Shark
Grilled Shark Teriyaki
Grilled Shark Mexicana
Grilled Shark To Die For
Grilled Soft Shell Crabs With Braised Scallions
Grilled Shark With Barbecue Sauce
Grilled Spiced Fish
Grilled Swordfish Steaks
Grilled Swordfish On Herbed Couscous W/Vegeta
Grilled Swordfish With Barbecue Sauce
Grilled Swordfish With Orange Onion & Toma
Grilled Swordfish With Citrus Salsa
Grilled Swordfish With Sundried Tomato Sauce
Grilled Teriyaki Swordfish
Grilled Swordfish With Tomato Olive Vinaigret
Grilled Trout
Grilled Trout With Two Sauces
Grilled Trout With Olive Butter
Grilled Tuna & Cheese Sandwiches
Grilled Tuna Fish With Avocado & Tomato Salsa
Grilled Tuna Cheddar & Onion Sandwiches
Grilled Tuna Salad With Wasabi Dressing
Grilled Tuna With Olive-Rosemary Butter
Grilled Tuna Steaks
Grilled Tuna With Spiced Butter
Grilled Wasabi-Crusted Tuna
Grilled Tuna With Teriyaki Fruit Sauce
Grilled Whole Salmon Fillet
Gulf-Style Creole Fish
Gulai Daun Singkong Tumbuk (Grilled Fish With
Haddock & Sweetcorn Chowder
Haddock Dug lere
Haddock Chowder
Hamaguri Sakami (Sake Seasoned Clams)
Hamburg-Style Fish Salad
Hamaguri Shigure-Ni (Sweet Cooked Clams)
Hamburger Fischsalat (Hamburg-Style Fish Salad)
Hawaiian Crab Cakes
Hawaiian Broiled Fish
Hawaiian Fish Cooking Basics
He-Man's Tuna Noodle Casserole
Hawaiian Fish With Thai Banana Salsa
Healthy Choice Crab Dip
Hearty Tuna Noodle Casserole
Healthy Scallops Penne Rigate
Hemingway's Trout
Herbed Fish Fillets
Henderson Boiled Crawfish
Herbed Salmon In Foil
Herbs & Trout
Herbed Trout With Sour Cream
Herby Fish Cakes
High Country Fried Trout - Oz
Hickory Smoked Salmon
Ho Yau Gon Lo Won Ton (Won Ton In Oyster Sauc
Holiday Seafood Bisque
Holiday Baked Oysters
Holiday Tuna Tree
Home Recipes: Hearty Tuna Casserole
Home On The Range Tuna Salad
Home Recipes: Maritime Crab Dip
Homemade Crab Apple Pectin
Home-Smoked Salmon
Honey Broiled Sea Scallops
Honey-Mustard Broiled Rockfish
Honey Fried Trout
Hot & Sour Fish Soup
Hot Artichoke Crab Dip
Hot & Sour Seafood Soup
Hot Artichoke Seafood Salad
Hot Clam Tarts
Hot Clam Dip
Hot Crab & Shrimp Casserole
Hot Crab Dip #1
Hot Crab Bake
Hot Crab Dip #2
Hot Crab Fondue
Hot Crab Dip #3
Hot Crab Meat Canapes
Hot Crab With Vegetables
Hot Crab Spread
Hot Crabmeat Appetizer
Hot Grilled Trout
Hot Crabmeat Spread
Hot Salmon Puffs
Hot Tuna Pasta Salad
Hot Spiced Crab Soup
Humboldt Tuna Marinade
Hunter's Clam Chowder
Hunan Style Salmon Chili
Hurry Tuna, Please
Ikan Asam Padeh (Fish In Sour Sauce)
Idaho Trout
Ikan Masak Asam (Fish & Green Bean Curry)
Imperial Sesame Fish
Imitation Crab-Pasta Salad
Impossible Caesar & Crab Pie
Impossible Tuna & Cheddar Pie
Impossible Seafood Pie
Impossible Tuna Pie
In The Spirit Seafood Strata
Impossible Tuna-Tomato Pie
Indian Broiled Fish With Many Spices
Indian Fish Kebabs
Indian Curry Paste For Seafood
Indonesian Curried Crab
Irresistible Smoked Salmon Bites
Inihaw Na Bangus (Grilled Milkfish)
Italian Baked Fish
Italian Oyster Corn Chowder
Italian Fish Soup
Italian Style Fish & Vegetables
Italian Trout
Italian Style Fish And Vegetables
Italian Tuna Salad With Olives & Sun-Dried
J'ande's Salmon En Papillote
Italian: Risotto With Crabmeat & Basil
Jackfish Lodge: Crispy-Fried Pickerel
Jackfish Lodge: Three Sister Soup
Jackfish Lodge: Saskatoon Turnover Pie
Jade Scallops
Jar Yue Har Guen (Deep-Fried Fish & Prawn R
James Barber's Pan Roasted Salmon W/Sweet Pep
Jeffrey's Rasta Redfish Marinade
Jumbo Lump Crabcakes Cucumber Carrot Salad A
Jumbo Lump Crab Salad With Citrus Ginger And
Jungle Curry With Catfish - Gaeng Paa Pla Doo
Justin Wilson's Boiled Crawfish
Justin Wilson's Fish Marinade & Basting Sa
Justin Wilson's Crawfish Or Shrimp Cocktail
Justin's Tuna Salad
Justin Wilson's Tuna Salad
Kennet Fried Trout
L.j's Juicy Bbq Salmon.
L.j's Curried Clam Soup
Larry King's Swordfish With Salsa
Laverbread & Crab Souffles With Cockle Sauce
Latticed Tuna
Layered Salmon Pie
Leek Arugula & Clam Sauce Over Spaghettini
Lazy Salmon Cakes
Legal's Inaugral Fish Chowder
Lemon Baked Fish
Legendary Lemon-Thyme Fish Steaks
Lemon Catfish
Lemon Lime Salmon
Lemon Grass Seafood Combination - Pad P0 Taek
Lemon Tuna Pasta
Linguine Tuna Salad
Lemon-Basil Swordfish
Little Parcels Of Trout
Lomi Lomi Salmon Spread
Lomi Lomi Salmon
Londontown Terrace Crab Pie
Maine Fish Chowder
Low-Fat Crab Chowder
Mako Shark Steak Au Poivre
Marides Marinates (Marinated Smelts)
Manhattan Clam Chowder
Marinated Salmon Danish Style
Maryland Style Crab Cakes
Marinated Shark Steaks
Microwave Salmon Ring
Mild Fish Pickle
Microwave Seafood Paella
Mixed Seafood Grill In Corn Husks
Monkfish Kebob With Vegetables
Mock Fish Buddhist
Moroccan Fish
Nero Wolfe's Finnan Haddie (Smoked Haddock)
Mushroom Clam Chowder
New Jersey Clam Chowder
Non-Crab Rolls
New Orleans Crab Canape
Northfork Crab Meat
Oriental Fish Fillets
Open-Faced Crab Sandwich
Oriental Shark Steak
Oriental-Style Sea Scallops
Oriental Steamed Fish
Orleans Grilled Fish
Outer Banks Clam Chowder
Ostiones En Escabeche (Soused Oysters)
Oven Baked Crab Cakes From The Sea Grill Rest
Oven Broiled Fish
Oven Barbequed Salmon
Oven Fried Ocean Whitefish Parmesan
Oven Poached Salmon
Oven Fried White Fish
Oven Salmon Cakes
Oven-Baked Battered Scallops
Oven Steamed Flounder Cantonese Style
Oven-Baked Crab Cakes - The Sea Grill
Oven-Steamed Flounder With Cantonese Flavors
Oven-Fried Catfish
Overton's Seafood Gumbo
Oyster & Spinach Soup
Oyster & Brie Soup
Oyster & Sweetbread
Oyster Chowder
Oyster Casserole
Oyster Corn Chowder
Oyster Jam balaya
Oyster Fritters Cajun-Style
Oyster Loaf
Oyster Pan Roast
Oyster Mussel Milkbath
Oyster Pate
Oyster Pie
Oyster Patties
Oyster Pie Picayune
Oyster Poulette
Oyster Po'boy
Oyster Rarebit
Oyster Soup
Oyster Rockefeller Casserole
Oyster Soup With Fresh & Smoked Oysters
Oyster St. Laurent
Oyster Spaghetti
Oyster Stew
Oyster Stew With Vegetables
Oyster Stew (Prodigy)
Oyster-Mushroom Chowder
Oysters & Caviar
Oysters & Artichoke Casserole
Oysters & Mushroom Dip
Oysters And Artichoke Casserole
Oysters A La Newburg
Oysters Annapolis
Oysters Bienville
Oysters Baked With Garlic Pine Nut Butter
Oysters Bingo (Fried Oysters)
Oysters In Blankets
Oysters En Brochette
Oysters In Champagne Sauce
Oysters In Patty Shells
Oysters In Mango Remoulade
Oysters Lafitte
Oysters Mosca
Oysters Mock-A-Feller
Oysters Moskowitz
Oysters Philadelphia
Oysters On The Half Shell With Red Wine Vineg
Oysters Poached In White Wine
Oysters Rockefeller 1
Oysters Randall
Oysters Rockefeller 2
Oysters Rockerfeller
Oysters Rockefeller Galatoire
Oysters Thomas
Pacific Clam & Corn Chowder
Oysters With Roasted Garlic
Pacific Salmon Loaf
Paella (Spanish Chicken, Seafood Casserole)
Pad Phed Pladuk (Hot & Spicy Catfish).
Paksiw Na Isda (Fish In Vinegar Sauce)
Pan Fried Brown Trout
Pan Fried Black Bass With Maitre D'hotel Sauce
Pan Fried Trout
Pan-Fried Bass
Pan Seared Peppered Swordfish With Red Onion
Pan-Fried Brook Trout
Pan-Fried Catfish
Pan-Fried Brook Trout With Bacon
Pan-Fried Catfish Fillets
Pan-Fried Fish Parmesana
Pan-Fried Catfish With Pepper & Lemon
Pan-Fried Scallops
Pan-Fried Trout Meuniere
Pan-Fried Small Trout With Mushroom Sauce
Pan-Fried Trout With Sage & Almonds
Pane Basso (Tuscan Country Bread)
Pan-Seared Salmon W/ Roasted Cumin-Coriander
Panfried Lake Trout Fillets In Tempura Batter
Panned Oysters
Panned Fried Fish With Pecan Topping
Papaya & Crabmeat Supreme
Parker House Fish Chowder" Boston"' 1873
Parker House Crab Cakes
Parmesan Baked Fish
Parmesan-Crusted Soft-Shell Crab Sandwiches
Parmesan Fish Saute
Partan Bree (Crab Soup)
Party Nibbles: Grilled Salmon Ribbons
Party Crab Special
Pasta Primavera With Scallops
Patout's Boiled Crawfish
Pasta With Catfish And Artichokes
Patout's Hot Crab Dip
Pecan Catfish & Sweet Potato Chips
Peasant Style Fish
Peg Jenning's Whiskey-Flavored Crab Soup
Penne Ala Vodka & Smoked Salmon
Peixe Oporto (Baked Fish With Port Wine Sauce)
Penne In Tomato Sauce With Crabmeat
Penne With Smothered Scallops"' Tomato"' Basil
Penne Pasta With Tuna
Pepper's Tuna Casserole
Peppered Seafood Sausage
Peppered Hawaiian Fish With Asian Slaw
Peppery Coconut Baked Fish With Chutney Sauce
Pescado En Mojo De Ajo (Fish In Garlic Sauce)
Pernod Fish
Pescado En Tikin Xik (Broiled Fish Seasoned With Achiote)
Pesce Spada In Salmoriglio (Swordfish In Oliv
Pescado Frio Con Guacamole (Cold Fish With Av
Pesto Salmon & Sea Scallops With Lemon/Garl
Pickled Fish
Pesto Salmon With Pan-Roasted Potatoes
Piquant Salmon Rolls
Poached Salmon With Lobster Butter
Poached Salmon
Poached Trout In Cream(English)
Polynesian Tuna
Poaching Stock For Fish & Chicken.
Portugal: Fish Stew (Caldeirada De Peixe)
Portuguese Fisherman's Stew
Portuguese Clam Stew With Garlic Croutons
Pot Au Feu Of Salmon
Potato & Salmon Bisque
Pot-Roasted Salmon With Olives & Preserved Le
Prairie Oyster
Quick Clam Chowder
Quebec Poached Salmon
Quick Crab Cakes
Quick Fish Aspic (About 1 Quart)
Quick Crawfish Jambalaya
Quick Fish Chowder
Rainbow Jelly Fish
Quickie Salmon-Potato Casserole
Rainbow Trout Provencale
Rainbow Trout With Green Onion - Ginger Mayon
Rainbow Trout Teriyaki
Rainbow Trout With Grilled Vegetable Salsa
Rainbow Trout With Lemon Capers" & Brown Bu
Rainbow Trout With Herb Stuffing
Rainbow Trout With Orange Vinaigrette
Rasputin's Codfish Soup
Rainbow Trout With Roasted Garlic Mayonnaise
Raw Fish Salad
Red Sockeye Salmon Special
Red Pepper Swordfish
Reduced-Fat Crab Rangoon
Risotto With Crabmeat & Basil
Rice With Crab
Risted Laks Med Kremsaus (Fried Trout In Sour
Roasted Marinated Crab
Roast Ginger & Green Onion Crab In The Shell
Roasted Trout With Bacon
Rockfish In Parchment With Lemon & Herbs
Rock & Roll Clams
Rockpool Coffin Bay Scallops With Braised Cap
Rollitos De Jaiba - Crab Rolls
Rolled Oysters
Rotini & Crab
Rubio's Fish Tacos
Rotini With Tuna & Tomato
Rudderfish Poached In Marsala
Russian Pickled Whitefish
Run Down (Salt Catfish & Tomatoes)
Salmon Ala Tandy Pro
Salmon Baked With Brazilian Rub
Salmon And Red Pepper Mousse
Salmon Balls
Salmon Buried In Potatoes
Salmon Burgers
Salmon Cheese Ball
Salmon Dip
Salmon Coulibiac
Salmon For Supper
Salmon In Red Wine With Apricots
Salmon In Dill Sauce
Salmon Log - Tom Adams
Salmon Mousse With Watercress Sauce
Salmon Mousse With Sour Cream Dill Sauce
Salmon Pate #1
Salmon Patties
Salmon Pate #2
Salmon Rolls
Salmon Salad
Salmon Rollups
Salmon Soup
Salmon Spread Supreme
Salmon Spinach Pie
Salmon Steak With Cloud Ears And Noodles
Salmon Steaks In Herb Blankets
Salmon Steaks
Salmon Steaks With Cucumber Dill Sauce
Salmon Steaks With Wine Sauce
Salmon Steaks With Raspberry Mirepoix
Salmon Tartar With Avocado Vinaigrette
Salmon W/ Cabbage, Chestnuts & Bacon
Salmon Tortilla Appetizers
Salmon With 2 Purees
Salmon With Cabbage Chestnuts And Bacon
Salmon With Asparagus Sauce
Salmon With Fines Herbes Stuffing
Salmon With Yogurt
Salmon With Leek Foudue
Salmon-Asparagus Manicotti
San Antonio Seafood Cocktail
Salmon-Spinach Loaf
Sauted Salmon Steaks
Sauteed Scallops With Feta
Sauteed Scallops On Red Pepper Sauce
Sauteed Soft-Shelled Crab
Scalloped Oysters
Savoury Salmon Bread Cases
Scalloped Salmon Or Trout
Scallops And Mussels, Vinaigrette
Scallops & Mussels, Vinaigrette
Scallops En Papillote
Scallops Florentine
Scallops Fenton
Scallops Provencal
Scallops With Garlic, Ginger And Chives
Scallops Saute
Scallops With Mushrooms In Shells
Scandinavian Fish Salad
Scallops Zinfandel
Scotch Scallops
Sea Bass In Cilantro
Sea Bass Greek Style
Seafood & Asparagus Stir-Fry
Seafood Baked In A Package
Seafood Appetizer
Seafood Chilaquiles Casserole
Seafood Creole
Seafood Chowder
Seafood Glace'
Seafood Lasagna
Seafood Gumbo
Seafood Pasta Salad
Seafood Pozole
Seafood Pita
Seafood Rice Salad New Orleans
Seafood Soup
Seafood Sausage
Seafood Spread
Seafood Wellington (Chef Axel's Original Recipe)
Seafood Stuffed Flounder
Seared Scallops With Cucumber-Pepper Relish
Sep-Dinner: Smoked Salmon Tartare
Sen Ellender Oyster Jambalaya
Sesame Fish
Sesame Jellyfish
Sesame Fried Trout
Sesame Salmon Steaks
Shanghai Fish Soup
Sesame Sea Scallops
Shark Amandine
Shark Hors D'oeuvres
Shark Fingers
Shark Kebabs
Shark Steaks (Tiburon Encuritido Frito)
Shark Marsellaise
Shark Stew
Shark's Fin With Bamboo Fungus
Shark Teriyaki Sorta
Sharky's Mustard Sauce
Shellfish Crepes
She Crab Soup
Shellfish Gazpacho
Shellfish Skewers With Equatorial Glazing And
Shellfish Shell Marinara
Shellfish Stew Alla Tarantina
Shrimp & Crab Spaghetti
Shells With Tuna"' Broccoli" & Red Onion
Shrimp & Fish Cakes (Tod Mon) With Cucumber
Shrimp And Fish Cakes (Tod Mon) With Cucumber Condiment
Shrimp & Scallops In Wine Sauce
Shrimp Crab Rolls
Shrimp On Crab Legs (Cang Cua Boc Tom)
Shrimp In Clam Sauce
Shrimp Or Crabmeat Canapes
Shrimp Or Scallops Provencal
Shrimp Or Oysters Brochette
Shrimp-And-Crab Gumbo
Simple Salmon Fillets
Silverfish Fritters
Simple Scallops Supreme
Smoked Catfish Terrine
Smallmouth A La Spednik Sauteed Bass Meunier
Smoked Fish Spread
Smoked Salmon Bites With Lemon Balm On Pumpernickel
Smoked Salmon And Dill
Smoked Salmon Canapes
Smoked Salmon Spread
Smoked Salmon Rolls With Fresh Salmon Caviar
Smoked Trout Tartlets
Smoked Tuna Pate
Smoked Trout With Watercress Sauce
Smoky Salmon
Soft Shell Crabs With Scallions
So Easy Fish
Sour Cream Stuffing For Fish
Soused Oysters - Ostiones En Escabeche
Soured Cream Clam Dip
Spanish Style Codfish
Spetsioteko Psari (Baked Fish Greek Style)
Speedy Crabmeat Imperial
Spring Trout And Fiddlehead
Steamed Fish With Ginger And Onions
Steamed Fish And Spinach
Steamed Fresh Crab In Curry Sauce
Steamed Oysters With Black Beans
Steamed Mussels With Creamy Fish Filling
Steamed Salmon Sauce
Steamed Stuffed Clams
Steamed Salmon With Black Bean Sauce
Steamed Whole Fish
Stir Fried Oysters With Garlic And Green Onio
Steamy Smoked Oyster Dip
Stir Fried Scallops And Apples
Stuffed Crabs
Stir-Fried Scallops In A Basket
Stuffed Fish Fillets
Succulent Salmon (C) 1992 George Gilder
Stuffed Sea Bass
Swiss Crabwiches
Swordfish Kebabs
Swiss Salmon Omelet
Tampa's Own Fish Chowder*
Tex-Mex Tuna Salad
Teno Salmon
Thai Noodles With Seafood
The Perfect Tuna Casserole
Thai Salmon Parcels
Tomato-Fish Cossack Stew
Tourtiere A La Ouananiche (Lac St-Jean Salmon Pie)
Tomato-Seafood Stew
Trout
Trout Appetit With Remoulade Sauce
Trout And Vegetables In Foil
Trout Baked In Wine (Irish)
Trout In Wine
Trout Crepes
Trout Marguery
Trout Served Cold In Aspic
Trout Sauteed In Butter
Trout Stuffed Japanese Style
Trout With Horseradish Sauce
Trout With Cream And Honey Sauce (Irish)
Trout With Roasted Pecans A La Commander's Palace
Tuna Almondine
Truite Au Bleu (Blue Trout)
Tuna And Avocado Salad
Tuna Broccoli Casserole
Tuna Apple Salad
Tuna Casserole
Tuna Fish Curry
Tuna Croquettes With Dill Sauce
Tuna In A Shell
Tuna Pate
Tuna Mounds With Curry Mushroom Sauce
Tuna Pitas With Yogurt & Mustard
Tuna Shrimp Delight
Tuna Sashimi With Orange Glaze
Tuna Steaks
Tuna Toasties
Tuna Steaks Glazed With Ginger, Lime, And Soy
Tuna-Casserole Supreme
Ukha (Clear Salmon Soup)
Turmeric Oyster Crackers
Ukrainian Meat & Fish Stew
Vieiras A La Gallega - Scallops In Mustard-Olive Sauce
Vegetable Fish Filets
Vongole Ripiene (Baked Stuffed Littleneck Clams)
Whitefish Baked W/ Fiddlehead Ferns
White Clam Sauce
Whole Salmon With Dill Sauce
Zuppa Di Vongole (Clam Soup)
Wined Fish Chunks In Broth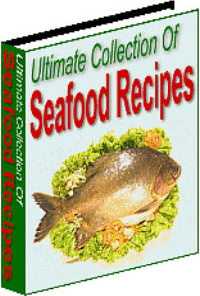 Price: $

7.00
Ebook Type:
PDF
Rating:
5

after

1

votes)
Reviewed by

The AH Basic Company

on 2018-11-04
My Rate
5
I will give 5stars to this book"Ultimate Collection of Seafood Recipes"as it has various sea food recipes such as7 Minute Boiled Crawfish.

Reviewed by

The AH Basic Company

on 2018-11-04
My Rate
5
I will give 5stars to this book"Ultimate Collection of Seafood Recipes"as it has various sea food recipes such as7 Minute Boiled Crawfish.

Site owner:
Put the rating form on your site!
Listing wrong or need to be updated?
Modify it.
Cooking Package!
114 Cooking ebooks Click here to see the full list of these ebooks
(total value $710.95)
Buy Now
just for $30.95
$680
off
Food Package!
41 Food ebooks Click here to see the full list of these ebooks
(total value $262.85)
Buy Now
just for $28.95
$233
off
Silver Package!
Any 100 ebooks from 2000+ titles Click here to see the full list of these ebooks
Buy Now
just for $29.95
Gold Package!
Get full access to 2000+ ebooks Click here to see the full list of these ebooks
Buy Now
just for $49.95
Mistake found?
Select spelling error with your mouse and press Esc