Tropical Freshwater Fish Aquariums Ebook
Tropical Freshwater Fish Aquariums
Category:
Fish and Fishing
Title:
Tropical Freshwater Fish Aquariums
Description:
Get Immediate Answers to All Your Freshwater Aquarium Problems, Generate Brilliant Design Ideas on Demand ... And Unleash the Full Power of Your Aquatic Creativity!
This is Definitely Not About Your Grandma's Fish Bowl!

Have you ever wished you could wave a magic wand and transform the goldfish bowl you had as a child into an aquatic wonderland?

Or, maybe your last vacation included a visit to Sea Word and you delighted in the squeals of laughter from your kids and promised them their own miniature version right in your own home.


Welcome,

Whatever your reasons for being here it's a sure bet that you are looking for the opportunity to create a vision of "Finding Nemo" habitat right in your own home. A noble idea surely, but if you are caught in a time warp you need to understand that when it comes to creating an aquarium, as the saying goes, "they've come a long way baby!"

First things first. You do realize that you gotta' have a plan, right? You know, kind of like plan your work and work your plan? Before you run off to the pet store and start scooping up fish in a net you need to learn a little bit more about "fish keeping."

"Fish keeping?" Yep, that's right, "fish keeping." Or, in a more eloquent description, "keeper of fish." Did you know that "fish keeping" is actually dated as far back as medieval times? Well it's true. But don't worry, you don't have to build your aquarium as large as a moat.

If any of this is striking a chord within, you need some help before you embark on your "fish keeping" adventure and we highly recommend you acquire a copy of Your Guide to Tropical Freshwater Fish Aquariums. It's definitely just what the doctor ordered for "fish keeping 101."

First things first. Here's a little sample of what you'll find inside of the 100+ fishy pages:
Planning Your Aquarium - what size do you require, is there any design you find more favorable, where you should place it and do you need an aquarium stand?
Basic Fish Anatomy - learn to distinguish between the different types by their body configuration.
Furnishing your aquarium - first the basics, light, heat, filter
Water quality is very important - learn how to "keep it clean."
Then comes the fun stuff - how to select gravel, plants and other interior design elements and accessories.
Adding the fish - learn all about the most popular tropical freshwater fish - how many you should buy considering the tank size, should you have more than one species and how and where to buy your fish.
Do you want to add non-fish species like snails, shrimp or crab?
Selecting aquatic plants for your aquarium and how to care for them to insure longevity.
Feeding your fish - what to feed and when.
How to use antibiotics to control disease.
Be on the alert for disease - what to watch for and how to treat them.
Are medicated foods the answer?
Try your hand at breeding!
Cleaning your freshwater fish aquarium.
Does it look like a lot of work? Make it a family project. When you're having fun, there is no such thing as work!

Seriously, before you undertake this new hobby, you need all the help you can get and having your own copy of Your Guide to Tropical Freshwater Fish Aquariums is just what you need to lay out your plans accordingly.

Jam-packed with useful information it is truly a top-rated guide to everything you need to know to launch that new hobby.

You are probably anxious to go out and grab the first aquarium you see and blindly pick out some pretty fish but that is the worse thing you could do at this stage! Get some help and plan your project from start to finish and you are assured of having a beautiful aesthetic addition to you home.

Get your copy now and happy fishing!
About the Author
David Illes
David Illes set up his first aquarium when someone suggested that watching the colorful, lively fish might help him to unwind and relax.
As the number and variety of his fish grew, friends became interested and began asking him questions or even wanted him to help them set up their own tanks.
Now, David has compiled this book based on his own experience and the questions from those people who he has helped introduce to the fascinating hobby of freshwater tropical fish aquariums.
He said, "I'm not an expert, just a hobbyist that has got a lot of enjoyment from my fish."
"I hope that readers will find all the information they need about the types of fish and how to care for them in my book."
Contents
1. An Overview
2. What is Fish keeping?
Types of Fish keeping
Origins of Fish keeping
3. Basic Fish Anatomy

Head
Body Shape
Fins
Gills
Body Color
Swim Bladder
Lateral Line
4. Water Chemistry and Quality
Changing Water Hardness to Suit Fish
Water Hardness
Water pH
Nitrogen Cycle
Maintaining the pH Content in Your Aquarium
5. The Biological Cycle or Nitrogen Cycle
6. Aquarium Furnishings
7. Aquarium Accessories
Thermometer
Lights
Air Pump
Filtering
Heater
Sundry Equipment
Decorative Items
Testing Kits
8. Aquarium Stand
Metal stand
Wooden stand
Placing the Stand
9. Planning Your Aquarium
Size of Aquarium Tank
Basic Steps
Location of Aquarium Tank:
Aquarium Stand
Shape and Material of Your Aquarium Tank
Filter
Aquarium Heater
Aquarium Lighting
Species Compatibility
10. Selecting the Aquarium Tank
Shape of the Aquarium
Cost
Material to Make the Aquarium
Choosing a Stand
11. Site Selection for Your Aquarium
12. How to Set Up the Aquarium
Adding the Gravel
Preparing the Tank
Adding water
Adding the Fish
Testing
Cycling the Tank
13. Adding the Water
14. Preparing Your Aquarium for Fish
15. Adding the Fish
16. Popular Tropical Freshwater Fish

Pleco
Catfish
Upside-Down Catfish Synodontis nigriventris
Giant Gourami
Anabantids or Labyrinth Fishes
Cichlids
Firemouth Cichlid
American Cichlids
Angel fish
Lake Malawi Cichlids
Discus Fish
Lake Tanganyika Cichlids
Characins
African Non-Lake Cichlids
Live-bearers
Mollies
Guppies
Platies
Killifishes
Swordtails
Cyprinids
Loaches
17. Selecting Your Tropical Freshwater Fish
Community or Species Tank
Tank Capacity
Educate Yourself
Selecting Your Fish
Purchasing Fish
18. Buying Your Fish
19. Selection of Plants for Your Aquarium
Tips when Planting Aquatic Plants
20. Care of Live Aquarium Plants
Substrate
Photosynthesis
Lighting
Nutrients
Water
Fertilizing
Plants to Avoid
Carbon dioxide
21. Non-Fish Species
Apple Snails
Invertebrates
Ramshorn Snails
Mystery Snails
Malaysian or Trumpet snails
Blue Marron
Red-clawed Crab
Penguin Shrimp
Vertebrates
African Clawed Frog
African Water Frog
22. Feeding Your Tropical Freshwater Fish
Dry Foods for Different Fish
Food for Different Fish
Living Food for Fish
Other Foods
Vegetables
Food for Fry
Feeding While You are on Vacation

23. Being Prepared for Disease
Creating a Hospital Tank
Checking the Cause of Illness
24. Signs of Fish Disease
Problems Caused by the Aquatic Habitat
Signs of Sickness in Fish
Changes in the Oxygen Level
Changes in Temperature
Changes in pH Levels
Improper Diet
Poisons
Other Problems
25. Diagnosing Fish Disease
Physical Examination of the Fish
Collecting Information for Diagnosis
Conducting Tests on the Environment
Examining Fish out of the Water
Checking the Equipment
Taking Samples
26. Why, When and How Fish Get Parasites
Natural Defense against Parasites
Types of Parasites
Detecting a Parasite Infection
Infections due to Ectoparasites
27. Fish Disease Control - Methods of Treatment
Hospital Tank
Treatment Methods
Heat Therapy
Baths
Over the Counter Medications
28. Using Antibiotics to Control Fish Disease
29. Medicated Foods to Combat Disease
30. Malachite Green and Formalin as an Anti-Parasite Treatment
31. Using Salt to Prevent and Treat Freshwater Fish Disease
Treatment of Fish Disease
32. Be Careful While Treating Fish Disease
Precautions While Treating Fish Disease
33. Aquarium Maintenance
34. Cleaning Your Freshwater Fish Aquarium
35. Breeding Techniques for Tropical Freshwater Fish
Choosing a Pair
Classify the Gender
Classification of Fish Based on Method of Reproduction
Prepare Fish for Spawning
Five Types of Egg bearers
Creating the Spawning Tank
Taking Care of the Fry
36. Food for the Offspring
37. Vacations and Your Freshwater Tropical Aquarium Fish
38. Aquarium Frequently Asked Questions
What water is best for an aquarium tank?
How many fish can an aquarium tank hold?
How often is it necessary to clean my aquarium?
How to detect pregnancy in fish?
How do I remove white deposits on aquarium tank and filters?
How to protect young Fish?
Is it necessary to have an aquarium heater and thermometer?
How often should I feed fish?
39. Freshwater Fish Aquarium Glossary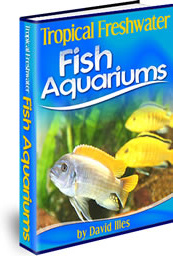 Add to Cart
Add to Wish List
P.S. Something's fishy! See what it is at Your Manual to Tropical Freshwater Fish Aquariums!
P.S. Something's fishy! See what it is at Your Manual to Tropical Freshwater Fish Aquariums!
Price: $

17.00
Ebook Type:
PDF
Rating:
Site owner:
Put the rating form on your site!
Listing wrong or need to be updated?
Modify it.
Mistake found?
Select spelling error with your mouse and press Esc