Transforming Your Baseball Field Ebook
Transforming Your Baseball Field
Category:
Sports
Title:
Transforming Your Baseball Field
Description:
Master Baseball Field Maintenance with my New ebook - Transforming Your Baseball Field into a Winning Field within 8 weeks - Guaranteed!
Now with my new 132 page baseball field maintenance ebook, you can quickly master the amazingly powerful techniques that took me seven years to develop and refine for use in Little League, High School, and College.
In its pages, you'll discover:
Understand how and when to use your drag and then how you can get the most out of it. Page 43.
An overlooked technique to use if you want to get your field to the next level. Page 8.
Discover the biggest mistake made when aerating and how you can avoid it. Page 21.
Discover the one thing that is the biggest obstacle to your field improvement projects. Page 10.
Learn the correct sand or clay mix to use that will get you good bounces and firm footing. Page 41.
Discovery the biggest mistake you could make when you need field maintenance advice. Page 94.
Four questions you should ask your players before you change your infield dirt mix. Page 39.
Five questions you need to ask about your field before ordering more baseball dirt. Page 77.
Understand why adding more crushed red brick mix to your infield may backfire and undermine your best of intentions. Page 36.
Discover how I cut my baseball field maintenance time by more than 50%. Page 95.
Discover the fertilizer that helps grass grow thick and green without making it grow too fast. Page 75.
Learn how to tell what your baseball mix is made of and how to improve the mixture. Page 38.
Pros do this to their infield dirt at least once a week. Your field will benefit from this too even it you only do it once. Page 66.
Discover the "Big Three" in the best top dressing mix for your baseball field turf. Page 26.
The secret to knowing how long to wait before your sod is finally ready for you to play on it. Page 86.
The #1 mistake that will absolutely force your pitcher to quit. Page 45.
Learn exactly how one field manager uses an ordinary rental tool to instantly remove lip buildup at the grass edge. Page 63.
Discover the most common mistakes made with your infield layout. Page 48.
What never to do - if you have any hope of giving your players good footing in the batter box. Page 49.
Trying hard isn't good enough. Find out why you need to master this as well. Page 92.
Why you should avoid using decomposed granite if at all possible. Page 78.
Whether you like it or not, this will affect your ability to enjoy every other aspect of the game. Page 6.
Master the technique the pros use to give your turf a perfectly straight edge. Page 62.
Discover why you need to use a plastic fan rake instead of a metal fan rake when raking your grass edge. Page 43.
How to fix the gaps if your sod pieces shrink and leave gaps. Page 87.
Master this in the fall and you won't make the same mistake in the spring. Page 14.
How the art of the quick fix is something you need to have in your hip pocket when needed. Page 100.
The single most important thing you can do to improve your ball field. Page 11.
Want sample work day plans and checklists? Then simply follow these examples. Page 112.
Learn the simple change that easily could have prevented lip buildup at your grass edge. Page 42.
Unbelievable, but true! Why you should run a steam roller over your infield turf. But one thing you must do afterwards. Page 65.
Learn how to avoid the biggest problem most people make when watering their grass. Page 32.
Knowledge of this potential problem will enable you to keep your steam roller from freezing up and coming to complete stop in the middle of rolling your infield dirt. Page 68.
Discover the secret of how to level your turf subsurface for a perfectly smooth infield. Page 30.
Don't use your tamp this way ... not unless you absolutely don't want your players to have good footing. Page 48
Discover how to build a table top on your mound for your pitchers. They'll thank you for this. Page 47.
Find out secret to getting the most out of what you put into baseball field maintenance. Page 54.
The most important skill you'll ever learn in sports field care. Page 132.
Discover how the infield mix for a softball field differs from that of a baseball field. Page 35.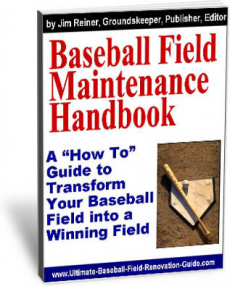 Rating:
Site owner:
Put the rating form on your site!
Listing wrong or need to be updated?
Modify it.
Mistake found?
Select spelling error with your mouse and press Esc