Top Telesales Techniques Ebook
Category:
Business
Title:
Top Telesales Techniques
Author:
Jenny Cartwright
Description:
How to Make a Fortune Selling By Phone!
One of the biggest mistakes you can make in your business life is thinking you never have to telemarket.
HUGE mistake....
Because truth be told you telemarket every single day of your life and don't even know it! Every conversation you have is an example of marketing and someone always wins!
The secret is to make certain that you are the one winning.
If you're not satisfied with the income you make pay close attention to the rest of this message
It's quite possible that you believe that you already know everything there is to know about telesales. However, you will discover some crucial twists and turns that will make your existing expertise even more powerful.
Take the time needed to really absorb and understand the strategies revealed within "Top Telesales Techniques". Because it will be a powerful, and worthy investment in yourself and your business.
Put these strategies to use and you will see incredible results.
"Top Telesales Techniques" is available to download now in pdf format.
And when you do, you'll discover the exact way you can take control of the conversation when speaking to a "gatekeeper." You will learn simple, but powerful methods that you can put to use over and over.
Never again be left holding the phone receiver wondering what just happened!
There is so much to learn in this powerful report and because it contains no fluff you will read it quickly and put the tactics to work immediately!
It doesn't matter what you are selling nor how much experience you have "Top Telesales Techniques" will help you sell more in less time and ultimately with less effort.
We're both busy and time is money so here is a partial list of what is included in "Top Telesales Techniques:"
How to Quickly Establish Rapport
Getting Through the Gatekeeper
Handling Voicemail - how to leave a message
Let the Listener See Your Smile
The Importance of Your Voice
How to Open that Dreaded Cold Call
Examples of Opening Scripts
Common Mistakes that Telemarketers Make
How to Question Effectively
Handling Objections
Developing Your Listening Skills
How to Handle Procrastinators
Asking for the Order
Closing the Sale
Dealing With Call Reluctance
And much, much more...every page of this incredible report is packed with nuggets of valuable information.
If you're not getting the kind of results you'd like and you seriously want to get more, put these powerful strategies to use.
But don't just take our word for it. Read what these well-known marketing geniuses have to say about our author, Jenny Cartright:
"Jenny shows you how to use your telephone as a superb business tool to get all the appointments and sales you can handle"
BRIAN TRACY
Author of "The Psychology of Selling"

"There are so many great tactics and strategies here that you'll find yourself using this book as a daily reference for your personal success in telephone sales for years to come"
TOM HOPKINS
World-renowned Sales Trainer & Author of "How to Master the Art of Selling"
Those endorsements from two of the top marketers in the world should convince you that this is the best buy you'll make all year! Don't waste another minute. Grab your copy now!
Contents
About the Author
Introduction
Pre-call Planning
Getting Through the Gatekeeper
When this does not work!
Building Rapport Quickly
When they ask what it's about?
Handling Voicemail
The Correct Way to Leave a Voicemail Message
How Not to Leave a Voicemail
More Things to Consider About Voicemail
The Importance of Your Tone of Voice
Emphasize certain words
Smile
Watch your speed
Voice Exercises
Stand up
How to Open a Cold Call
Starting a Cold Call with an Interest-grabbing Statement
Mistakes that Telemarketers Make
Ideas for Creating Good Interest-grabbing Openers
Creating Good Interest-grabbing Opening Statements
Examples of Good Interest-grabbing Openers
Interest-grabbing Openings for Inactive Customers
Interest-grabbing Openings for Active Customers
How to Make an Appointment
The Art of Questioning on a Cold Call
Mistakes Telemarketers Make!
Guidelines for Effective Questioning
Listening Skills
Visual
Auditory
Kinesthetic
Words to Avoid in a Sales Conversation
Never use the word "BUT" to counter an objection
Avoid Negative Language
Change "Why" questions to "How" questions
Avoid closing conversations with "Not a problem" or "No worries"
Start using the words "for You" in your presentations
Avoid "Sorry to keep you" and "Are you still there?"
How to Handle Every Objection
Dealing with the Price of Your Product or Service
More Ways to Deal with the Money Issue
How to Deal with People that Avoid Making a Decision to Buy
Closing the Sale
How to Ask for the Order
How to Do the Follow-up Call
How to Ask for Referrals
Mistakes People Make
What stops you from asking for a referral?
The "Asking for Referrals" Script
More Referral Tips
Important Points to Remember:
How to Overcome Call Reluctance
What to Do when Call Reluctance Strikes
Why Does this Happen?
Making Some Quick Sales From Your Own Database
Call Your "A" Customers First
Call Your "B" Customers Second
Call Your "C" Customers Third
About The Author
Jenny Cartwright
Jenny Cartwright, Australia's award winning telemarketer and trainer, tested and proved the ideas in this book with sixteen years of research work and telephone selling experience before sharing them with you.
Following a successful career in face-to-face selling as Sales and Marketing Manager of Telford Hotels and then International Sales Manager for Centralian Hotels, Jenny changed direction to telephone selling.
From 1991 to 1997, Jenny successfully promoted Tom Hopkins and Anthony Robbins on four of their visits to Australia through direct mail and telemarketing campaigns. She also promoted Zig Ziglar, Sales Congress 91,92,93,94,95,96 and 97, James Rohn, Denis Waitley, Harvey Mackay, Michael Gerber and Jay Abraham!
Since 1995, Jenny conducted in-house customised sales, telesales and customer
service training for companies and individuals around Australia. Some companies
she has helped are Australian Casualty and Life, Macquarie Corporate Telecommunications, People Telecom, Tourism Tasmania, Prudential Corporation, Phillips Components, The Real Estate Institute, The Valuer General's Department, APS Chemicals, MSA, National Investment Institute, Hexal Pharmaceuticals, ID Warehouse, Delaney Kelly Golding, Acorn Australia, APS Chemicals, R.M. Smith &Son, Phytomedecine, Chandler Macleod, Australian Associated Press and ING Life.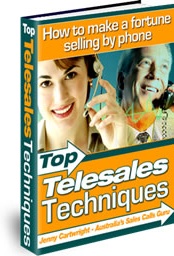 Add to Cart
Add to Wish List
P.S. Please don't rush through reading your copy of "Top Telesales Techniques." There is so much there, that we want to make certain you get the best possible benefit and not miss out on any of the pearls of wisdom! Grab your copy now while it's fresh in your mind!
P.S. Please don't rush through reading your copy of "Top Telesales Techniques." There is so much there, that we want to make certain you get the best possible benefit and not miss out on any of the pearls of wisdom! Grab your copy now while it's fresh in your mind!
Site owner:
Put the rating form on your site!
Listing wrong or need to be updated?
Modify it.
Mistake found?
Select spelling error with your mouse and press Esc