Top Secret Famous Recipes Ebook
Top Secret Famous Recipes
Category:
Cooking
Title:
Top Secret Famous Recipes
Description:
659 pages
Samples:
Clergy's (Church's) Fried Chicken
Yield: 6 Servings
COATING MIX ====================
1 T sugar
1 1/2 c self-rising flour
1/2 c cornstarch
4 t seasoned salt
2 t paprika
1/2 t baking soda
1/2 c biscuit mix
1 pk italian dressing mix
1 pk onion soup mix
FRIED CHICKEN ==================
2 eggs
1/4 c cold water
1 c oil
2 1/2 lb chicken parts
Combine all ingredients. Mix to blend. Store tightly covered at room temperature.
To use mix: Beat eggs with cold water. Dip cut-up chicken in egg mixture and then into dry coating mix, then back into egg and back into mix. Heat oil in a heavy skillet. Brown chicken skin side down for 4 -6 minutes on medium-high heat. Turn and brown other side. Transfer to an oiled or Pammed 9x12x2 baking pan. Cover pan in foil sealing on 3 sides. Bake at 350 degrees for about 45-50 minutes. Remove foil. Bake another 5 minutes to crisp coating.
"Good As Gold" Chicken. (Like Kfc And Boston's)
Yield: 4 Servings
1/4 c oil
1 T honey
1 T lime juice
1/4 t paprika
1 seasoned salt (to taste)
4 chicken breast halves
Mix ingredients (except chicken) in a saucepan and warm just to melt honey. Arrange chicken breast-side-up in a square baking dish or pan and bake uncovered at 400 degrees about 35 - 40 minutes, basting pieces without turning them, 3 or 4 times during baking. Immediately upon removing from oven, seal baking dish or pan tightly in foil and let stand 15 to 20 minutes before serving.
Table of Contents
"Good As Gold" Chicken. (Like Kfc And Boston's)
"Clergy's (Church's) Fried Chicken
"Loudly's" Seasoned Salt
Cherry Slurpee
B's Restaurant Tomato Soup
Bread
A & W Root Beer
Drop Biscuits
A1-Sauce
Almond Joy Candy Bars
All-Purpose Ground Meat Mix
Almost Coco's Sour Cream Dressing
Almost Kentucky Fried Chicken
Almost Impossible Basic Baking Mix
Almost Marie Callendar's Potato Cheese Soup
Applebee's Baked French Onion Soup
Almost Marie Callender's Corn Bread (Wright)
Applebee's Bananaberry Freeze
Applebee's Low-Fat Asian Chicken Salad
Applebee's Blonde Brownies
Applebee's Low-Fat Blackened Chicken Salad
Applebee's Quesadillas
Applebee's Oriental Chicken Salad
Applebee's Tequila Lime Chicken
Arby's Horsey Sauce
Arby's Bronco Berry Sauce
Arby's Jamocha Shake
Arizona Green Tea With Ginseng And Honey
Arby's Sauce
Arthur Treacher's Fish Batter
Aunt Pajama's Pancake Mix
Aunt Jemima Maple Syrup
Auntie Anne's Pretzels
Bailey's Original Irish Cream
Baby Ruth Candy Bar (Nestle)
Bake And Baste Chicken
Baskin Robbins B.R. Blast
Baked Beans Like Boston Chicken
Baskin Robbins Ice Cream Cake
Belgian Fries
Bbq Sauce Like Kenny Rogers
Ben & Jerry's Fresh Georgia Peach Ice Cream
Benihana Ginger Salad Dressing
Ben & Jerry's Heath Bar Ice Cream
Benihana Ginger Sauce
Benihana Hibachi Steak
Benihana Hibachi Chicken And Hibachi Steak
Benihana Japanese Fried Rice
Benihana Salad Dressing
Benihana Magic Mustard Sauce
Bennigan's Broccoli Bites
Bennigan's Onion Soup
Bennigan's Buffalo Chicken Sandwich
Bennigan's Potato Soup
Better Cooker Cake Mix
Berry's Brownies
Big "Match" Sauce
Big Boy's Blue Cheese Dressing
Big "Match" Special Sauce
Big Boy's Chicken Gravy
Big Bucket In The Sky Chicken (K F C) - Gloria Pitzer
Big Boy's Tomato And Spice Dressing
Big Bucket In The Sky!
Big Mack Sauce
Big Buy Double Decker Hamburger
Big Match Attach
Big-Mac Sauce
Big Mouth Sandwich
Bill's Carrot Souffle From Chasen's
Biscuit Mix (All Purpose Baking Mix)
Bis-Quick-As-A-Wink
Bisquick
Bisquick Mix Ii
Bisquick Mix
Black-Eyed Pea's Baked Squash
Bob "Oven's " Colonial Dressing
Black-Eyed Pea's Broccoli-Cheese Soup
Borden Cracker Jack
Boston Chicken & Kfc Rotisserie Style Chicken
Borden's Sweetened Condensed Milk
Boston Chicken & Kfc Rotisserie Whole Chicken
Boston Chicken Creamed Spinach
Boston Chicken Baked Beans
Boston Chicken Dill Potato Wedges
Boston Chicken Saucer Sized Chocolate Chip Co
Boston Chicken Marinade/Basting Sauce
Boston Chicken Squash
Boston Chicken's Cucumber Salad
Boston Chicken Style Chicken
Boston Market Meatloaf
Breakfast Castle Casserole
Bran Muffins (Mcdonald's)
Brickquick
Buffalo Chicken Pizza Recipe
Broccoli Cheese Soup (Mcdonald's)
Buffalo Wing Pizz
Burger King Big King
Bullseye Bbq Sauce
Burger King Biscuit Breakfast Sandwich
Burger King Croissan'wich Breakfast Sandwich
Burger King Bk Broiler
Burger King Whopper
Cafe Cappuccino Mix
Cadbury Creme Egg
Cafe Cappuccino--International Coffees
California Pizza Kitchen Dakota Smashed Pea & Barley Soup
Cafe Vienna--International Coffees
Carl's Jr. Bacon Swiss Crispy Chicken Sandwich
Carl's Jr. Crispy Chicken Sandwich
Carl's Jr. Chicken Club
Carol Lombards' Barbecued Spareribs
Chasen's Restaurant Carrot Souffle
Castle Loaf Supreme
Chaya Brasserie Corn Chowder
Chevys Fresh Sals
Chef Paul Prudhomme's Poultry Magic
Chevys Garlic Mashed Potatoes
Chi Chi's Mild Sals
Chevys Mesquite-Grilled Bbq Chicken Quesadill
Chi-Chi's Mexican "Fried" Ice Cream
Chi-Chi's® Baked Chicken Chimichangas
Chi-Chi's Sweet Spanish Corn Cake
Chick-Fil-A Chicken Sandwich
Chicken Like The Colonel's(Mix)
Chicken Like The Colonel's
Chicken Taquito Ideas
Chili's Boneless Buffalo Wings
Chili Like Frisch's
Chili's Calypso Cooler
Chili's Chocolate Chip Paradise Pie
Chili's Chicken Enchilada Soup
Chili's Grilled Caribbean Salad
Chili's Margarita Presidente
Chili's Lettuce Wraps
Chili's Nacho Burger
Chili's Southwestern Eggrolls
Chili's Peanut Buttercup Cheesecake
Chili's Southwestern Vegetable Soup
Chili's Honey Mustard Dressing
Chili's Twisted Lemonade Twist
Chili's Sals
Chocolate Cream-Filled Cookie Sandwich
Chocolate Almond Coffee-Grounds
Church's Fried Chicken
Cinnabon Cinnamon Rolls
Cinnabon Cinnabonstix
Cinnabon Cinnamon Rolls Clone
Cinnabon Mochalatta Icescape
Cinnabon Mochalatta Chill
Cinnabon Orange Icescape
Cinnabon Strawberry Lemonade
Cinnabon Strawberry Icescape
Cinnabon's Cinnamon Rolls
Cinnabons - Cinnamon Buns From Heaven
Cinnabon's For The Bread Machine
Cinnamon-Graham Crackers
Clam Chowder (Red Lobster)
Claim Jumper® Fire-Roasted Artichoke
Clone Of Cinnabon Cinnamon Rolls
Coleslaw/Famous Favorites
Close To Kfc Original Recipe
Condensed Milk
Kfc Fried Chicken
Constant Comment Te
Kraft Catalina Dressing
Corn Cob Maple Syrup
Corn Bread From Mix
Cornbread From Homemade Cornbread Mix
Cracker Barrel Fried Apples
Cracker Barrel Biscuits
Cracker Barrel Hash Brown Casserole
Cracker Jack
Cracker Barrel's Hashbrown Sidedish
Crazy Bread
Daniel Boone Tavern Spoon Bread
Crazy Chicken
Dave's Rich & Meaty Chili From Wendy's
Dent Knee's Cheese Soup
Denny's Cheese Soup
Dent-Knees Chicken Fried Steak
Dive! Brick Oven Mushroom And Turkey Cheese Sub
Di Saronno Amaretto
Dive! S'mores
Doubletree Hotel Chocolate Chip Cookies
Dolly Madison Zingers (Devil's Food)
Drake's Devil Dogs
Durkee's Famous Sauce ()
Dried Cornmeal Sourdough Starter, No Yeast
Eager Brand Sweetened Condensed Milk
El Pollo Loco (Pollo Asada)
Easy Cheesecake (Red Lobster)
El Pollo Loco Chicken
El Torito's Sweet Corn Cake
El Pollo Loco Flame-Broiled Chicken
Elephant Stew
Entenmann's Fat-Free Chocolate Cupcakes
Entenmann's Apple Crumb Cake
Entenmann's Fat-Free Oatmeal Raisin Coookies
Entenmann's Pound Cake
Entenmann's Fat-Free Oatmeal Raisin Cookies
Fake Almond Roc
Fake Ben & Jerry's Heath Bar Crunch Ice Cream
Fake Aunt Jemima Maple Syrup
Fake Borden Cracker Jack
Fake Carl's Jr. Famous Star
Fake Burger King Whopper
Fake Chick-Fil-A-Chicken Sandwich
Fake Hardee's French Fries
Fake Dairy Queen Blizzard
Fake Kahlua Coffee Liqueur
Fake Kentucky Fried Chicken Gravy
Fake Kentucky Fried Chicken
Fake Orange Julius
Fake Reese's Peanut Butter Cups
Fake Orange Julius #2
Fake Reeses Pieces
Fake Yoo-Hoo Chocolate Drink
Fake Wendy's Frosty
Famous Amos Chocolate Chip Cookies
Fatburger
Famous Amos Chocolate Chip Cookies #2
Fiddle Faddle And Screaming Yellow Zonkers
Five Spice Powder Substitute
Fireside Coffee Mix--Flavored Coffee Creamer
Flavored Coffee
French Fries
French Dip Gravy
French's Classic Yellow Mustard
Getty Center Mexican Black Bean Burgers (Lf)
Getty Center Mexican Black Bean Burgers
Girl Scout Cookies Shortbread
Gloreos
Girl Scout Cookies Thin Mints
Glorio Cookies
Golden Corrall Rolls
Glorio Cookies (Oreo Cookies) - Gloria Pitzer
Good Reasons Italian Dressing
Good Seasons Italian Salad Dressing Mix
Good Reasons Italian Dressing Mix
Grace & David's 25th Sauce
Grandma Hoffman's Tomatoe Catsup
Graham Cracker Crust Made W/Homemade Crust Mix
Grandma's Oatmeal Raisin Big Cookies
Great American Cookies Snickerdoodles
Grandma's Peanut Butter Big Cookies
Great American Cookies White Chunk Macadami
Hamburgers At Home
Green Goddess Dressing
Hard Rock Cafe Bar-B-Que Beans
Hard Rock Cafe Grilled Vegetable Sandwich
Hard Rock Cafe Cole Slaw
Hard Rock Cafe Homemade Chicken Noodle Soup
Hard Rock Cafe Pig Sandwich
Hard Rock Cafe Orange Freeze
Hard Rock Cafe Tupelo Style Chicken
Hardee's French Fries
Hardee's 1/4 Pound Hamburger
Hardly's Charcoal Broiled Burgers
Hashbrowns Like The Waffle House
Harley Davidson Cafe Harley Hog Sandwich
Heath Bar Candy
Heinz 57 Steak Sauce
Heinz 57 Sauce
Heinz Ketchup
Hershey Payday Candy Bar
Herbal Astringent For Oily Skin
Hickory Bbq Sauce
History Of Chili, With Original Recipe
Hidden Valley Ranch Dressing Mix/Dressing
Homemade Baking Mix
Homemade Buttermilk Pancake & Waffle Mix
Homemade Breadmaker Mix
Homemade Chocolate Syrup Mix
Homemade Hot Roll Mix
Homemade Cornbread Mix
Homemade Low-Calorie Salad Dressing Mix
Homemade Muffin Mix
Homemade Mexican Meat Mix
Homemade Oriental Stir Fry Mix
Homemade Shake 'n Fake
Homemade Quick Mix
Homemade Sweet Quick-Bread Mix
Honey And Almond Scrub
Honey & Mustard Nugget Sauce
Honeybaked® Ham Glaze
Hopeless Fudge Frosting
Hooter's Pasta Salad
Hopeless Twinkles (Hostess Twinkies)
Hostess Twinkie Creme Filling
Hopkins House Tomato Rubaiat
Hot Dog On A Stick Hot Dog
Houlihan's Houli Fruit Fizz
Hot Dog On A Stick Muscle Beach Lemonade
Houston's Canadian Cheese Soup
Howard Johnson Spicy Mustard
How To Make Real Belgian Fries!
Howard Johnson's Boston Brown Bread
I.H.O.P. Country Griddle Cakes
Hudson's Chocolate Dessert
I.H.O.P. Pumpkin Pancakes
In-N-Out Double-Double
Ihop Pancakes Cheese Blintz
I H O P Harvest Grain 'n Nut Pancake
Irish Coffee Mix--Flavored Coffee Creamer
International House Of Pancakes Pancakes
Islands China Coast Salad Dressing
Italian Seasoned Coating Mix (And Cooking Method)
Italian Herb Seasoning
Jack Daniel's Honey Mustard
Jack-In-The-Box Taco
Jack In The Box Oreo Cookie Shake
Jacquin's Peppermint Schnapps Liqueur
K.C. Masterpiece Original Barbecue Sauce
Junkfood Cookbook Kfc
Keebler Pecan Sandies
Kellogg's Cocoa Rice Krispies Treats
Keen-Tucky Coleslaw
Kellogg's Peanut Butter Chocolate Rice Krispies Treats
Kenny Rogers Roasters Corn Muffins
Kenny Roger's B-B-Q Sauce
Kentucky Biscuits
Kentucky Fried Chicken Cole Slaw Dressing
Kentucky Fried Chicken
Kentucky Kernels - S.
Kfc Bbq Baked Beans
Express News - Karen H
Kfc Big Bucket In The Sky Chicken
Kfc Buttermilk Biscuits
Kfc Biscuits
Kfc Cole Slaw
Kfc Cole Slaw (Fat Free)
Kfc Cole Slaw #2
Kfc Coleslaw
Kfc Fried Chicken
Kfc Extra Tasty Crispy Chicken
Kfc Honey Bbq Wings
Kfc Macaroni/Potato Salad
Kfc Macaroni & Cheese
Kfc Original Recipe Fried Chicken
Kfc Potato Salad
Kfc Original Recipe Fried Chicken # 2
Kfc Style Coleslaw
Kraft Deluxe Original Macaroni & Cheese Dinner
Koo Koo Roo Santa Fe Past
Kraft Shake'n Bake (Original)
Lawry's Mexican Lasagne
Kraft Thousand Island Dressing
Lawry's Seasoned Salt
Legal's New England Clam Chowder
Lawry's Taco Spices & Seasonings
Little Caesar's Crazy Bread
Little Debbie Oatmeal Creme Pies
Little Caesar's Crazy Sauce
Lone John Sliver
Lone Star Steakhouse Chili
Lone Star Steakhouse Baked Sweet Potato
Lone Star Steakhouse Lettuce Wedge Salad
Long John Silver's Tartar Sauce
Long John Silver's Batter Dipped Fish
M&M/Mars 3 Musketeers
Macaroni Salad ()
M&M/Mars Snickers Bar
Margarita Pie1
Marie Callendar's Honey Butter
Marie Callendar's Cake Like Corn Bread
Marinade (Steak & Ale)
Mcdonald's Apple Mcmuffins
Mars Almond Bar
Mcdonald's Apple Muffins
Mcdonald's Big Mac Sauce
Mcdonald's Arch Deluxe
Mcdonald's Big Mac Sauce ("Special Sauce")
Mcdonald's Biscuit
Mcdonald's Bigxtra!
Mcdonald's Biscuits
Mcdonald's Broccoli Cheese Soup
Mcdonald's Bran Muffins
Mcdonald's Egg Burrito
Mcdonald's French Fries
Mcdonald's Filet-O-Fish
Mcdonald's Ham And Egg Breakfast Bagel Sandwich
Mcdonald's Hot Mustard Sauce
Mcdonald's Hot Apple & Cherry Pies
Mcdonald's Hot Mustard Sauce For Nuggets
Mcdonald's Oriental Dressing
Mcdonald's Lobster Sandwich
Mcdonald's Peppercorn Dressing
Mcdonald's Shakes
Mcdonald's Quarter Pounder (With Cheese)
Mcdonald's Shamrock Shake
Mcdonald's Steak & Egg Breakfast Bagel Sandwich
Mcdonald's Spanish Omelet Breakfast Bagel Sandwich
Mcdonald's Sweet & Sour Dipping Sauce
Mcdonald's Yogurt Parfait
Mcdonald's Sweet And Sour Sauce For Nuggets
Mcfabulous Special Sauce
Meaty Chili From Wendy's
Mchamburger Cookies
Mexican Seasonings Mix
Mint Chocolate Mousse Cake
Mimi's Cafe French Market Onion Soup
Mr & Mrs T Rich & Spicy Bloody Mary Mix
Mrs. Dash Salt Free Seasoning Blend
Mr. & Mrs. T Sweet & Sour Mix
Mrs. Fields Carrot Cake
Nabisco Cheese Nips
Mrs. Fields Chocolate Chip Cookies
Nabisco Chips Ahoy!
Nabisco Nutter Butter
Nabisco Nilla Wafers
Nabisco Old Fashioned Ginger Snaps
Nabisco Oreo Cookie
Nabisco Oreo (Wafers)
Nabisco Snackwell's Banana Snack Bars
Nestle 100 Grand Bar - Microwave
Nestlays 100 Grand Bar
Nestle's Toll House Cookies
Oatmeal Citrus Scrubbing Grains
Newman's Own Creamy Caesar Dressing
Old Bay Seasoning
Old Spaghetti Factory Original Clam Sauce
Old Fashioned Hamburgers
Old Spaghetti Factory's Creamy Pesto Salad Dressing
Olive Garden Alfredo Fettucine
Olive Garden 5-Cheese Lasagn
Olive Garden Apple Praline Cheesecake
Olive Garden Chicken
Olive Garden Capellini Primaver
Olive Garden Eggplant Parmigian
Olive Garden Hot Artichoke And Spinach Dip
Olive Garden Florentine Lasagn
Olive Garden House Dressing
Olive Garden Mostaccioli Quatro Formaggio
Olive Garden House Dressing (Updated)
Olive Garden Pasta E Fagioli
Olive Garden Pasta Fajoli Soup
Olive Garden Pasta Fagioli
Olive Garden Ravioletti In Mushroom/Walnut Cream
Olive Garden Salad Dressing
Olive Garden Salad (Rggw25a)
Olive Garden San Marco
Olive Garden Seafood Pasta Chowder
Olive Garden San Remo
Olive Garden Shrimp Scampi Sauce
Olive Garden Spaghetti Sauce
Olive Garden Spaghetti Carbonar
Olive Garden Spinach/Artichoke Dip
Olive Garden Tomato/Basil Crostini
Olive Garden Tiramisu Dessert
Olive Garden Toscana Soup
Onion Blossom Dips
Ollie Burgers
Onion Ring Loaf (Ala Tony Roma's)
Orange Julius
Orange Brutus (Orange Julius)
Orange Julius 1
Original Tommy's World Famous Hamburgers
Original Recipe Kentucky Fried Chicken
Outback Bloomin' Onion
Outback Steakhouse Alice Springs Chicken
Outback Bread
Outback Steakhouse Aussie Fries
Outback Steakhouse Caesar Salad Dressing
Outback Steakhouse Bleu Cheese Dressing
Outback Steakhouse Cinnamon Oblivion
Outback Steakhouse Coral Reef 'rit
Outback Steakhouse Coconut Shrimp
Outback Steakhouse Grilled Shrimp On The Barbie
Outback Steakhouse Kookaburra Wings
Outback Steakhouse Honey Wheat Bushman Bread
Outback Steakhouse Ranch Salad Dressing
Outback Steakhouse Sydney's Sinful Sundae
Outback Steakhouse Steak Seasoning
Outback Steakhouse The Wallaby Darned
P. F. Chang's Chicken In Soothing Lettuce Wraps
Oven Fried Kentucky Chicken
Pace Picante Sauce (Medium)
Pancakes From International House Of Pancakes
Pal's Sauceburger
Panda Express Mandarin Chicken
Papa John's Pizza Cheese Dipping Sauce
Panda Express Orange Flavored Chicken
Papa John's Pizza Pizza Dipping Sauce
Pate De Chateau Blanc
Pappa's Italian Anchovy Garlic Spread
Pepperidge Farm Chesapeake/Sausalito Cookies
Peter Paul Mounds And Almond Joy
Pepperidge Farm Ginger Man Cookies
Pillsbury Crescent Rolls
Pizza Chain Style Dough Mix
Pizza Bread Appetizers
Pizza Hat Crust
Pizza Hut Crust
Pizza Hat Sauce And Toppings
Pizza Rolls
Planet Hollywood Pot Stickers
Planet Hollywood Cool Running
Planet Hollywood The Terminator
Platt's "Red, White & Blue Potato Salad"
Planet Hollywood's Cap'n Crunch Chicken
Ponderosa's Steak Sauce
Popeye's Dirty Rice
Poormans Shake N Bake
Popeye's Famous Fried Chicken
Popeye's Red Beans And Rice
Popeye's Fried Chicken
Pork Chop Sauce Like The Outback
Poultry Seasoning Mix
Potato Chip Cookies 2
Progresso Italian Style Bread Crumbs
Quacker Jacks - Gloria Pitzer
Prudhomme's Cajun Seasoning Mix
Quaint Seas Dinner Rolls
Rally's Seasoning Mix
Quick Chili W/Homemade Chili Seasoning Mix
Ranch Style Dressing Mix W/Variations
Recess Peanut Butter Cups
Really Easy Red Beans And Rice
Recess Peanut Butter Cups (Reeses) - Gloria Pitzer
Red Lobster Bacon Wrapped Stuffed Shrimp
Recess Peanut Butter Cups (Reeses) - Gloria P
Red Lobster Bbb Sauce
Red Lobster Cheddar Bay Biscuits
Red Lobster Bbq Sauce
Red Lobster Cheddar Bay Crab Bake
Red Lobster Cheese Biscuits Clone 1
Red Lobster Cheese Biscuits
Red Lobster Cheese Biscuits Clone 2
Red Lobster Cheese Biscuits Version With Mays
Red Lobster Cheese Biscuits Version 2
Red Lobster Clam Chowder
Red Lobster Easy Cheesecake
Red Lobster Creamy Caesar Dressing
Red Lobster Inspired Garlic Cheese Biscuits
Red Lobster Tartar Sauce
Red Lobster Sweet And Sour Sauce
Red Lobster's Cheddar Biscuit Recipe
Reese's Peanut Butter Cups
Red Robin Seasoning
Rehabbed Cheese Coney
Rib Shack Bar-B-Q Sauce
Rehabbed Cincinnati Chili
Rib Shack Barbecue Sauce
Roadhouse Grill Baby Back Ribs
Rich Brownie Mix
Roadhouse Grill Roadhouse Cheese Wraps
Sabretts Onions In Sauce (For Hot Dogs)
Rock Candy For Kids
Sailorman's Fried Chicken
Sander's Hot Fudge
Salt-Spice
Sara Lee Original Cream Cheesecake
Sara Lee's Carrot Square Cake
Sara Lee'e Pound Cake
Schilling Salad Supreme Seasoning
Schlotzsky's Sandwich Rolls
Schlotsky's Rolls
Scottish Butter Cookies
Seasoned Long Grain & Wild Rice Mix (Uncle Be
Seasoned Fries Like Hardee's And Rally's
See's Butterscotch Lollipop - Todd Wilbur
Seven Seas Free Viva Italian Fat-Free Dressing
Self Rising Flour
Sheila's Backyard Bbq Sauce
Shook And Cook Coating Mix (And Cooking Methods)
Shoney's Tomato Florentine Soup
Sloppy Joes W/Homemade Sloppy Joe Seasoning Mix
Snapple Iced Tea (Lemon Flavor)
Snapple Iced Te
Sonic Cherry Limeade
Sour Cream Chocolate Frosting
Sonic Ocean Water
Spaghetti Sauce (Olive Garden)
Spells Berry Crescent Dinner Rolls
Spanakopet
Spicy Hot Dog Mustard
Starbucks Frappuccino (Frozen)
Starbucks Frappuccino
Steak & Ale Hawaiian Chicken
Steak Sauce
Steak & Ale Marinade
Stouffer's Corn Soufflé
Stove Fur's White French Salad Dressing
Stove Fur's Honey French Dressing
Sunshine Lemon Coolers
Swiss Miss Fat-Free Tapioca Pudding
Sweetened Condensed Milk
Sylvia's Orange Julius
T.G.I. Friday's Flings
T.G.I. Friday's Broccoli Cheese Soup
T.G.I. Friday's French Onion Soup
Taco 5 Alarm Sauce
T.G.I. Friday's Jack Daniels Grill Glaze
Taco Bell Burrito Supreme
Taco Bell Enchirito
Taco Bell Chicken Fajita! Seasoning Mix
Taco Bell Fire Border Sauce
Taco Bell Meat Seasoning
Taco Bell Hot Taco Sauce
Taco Bell Mexican Pizz
Taco Bell Taco
Taco Bell Sauce
Taco Bell Taco! Seasoning Mix
Taco Shells
Taco Bell's Cinnamon Twists (Angel Wings)
Taco Take-Out Filling
Tastykake Butterscotch Krimpets
Tastycake Peanut Butter Kandy Kakes
Tastykake Chocolate Cupcakes
The Real Neiman Marcus Chocolate Chip Cookie
The Machine Shed's Baked Potato Soup
The Soup Nazi's Crab Bisque
The Soup Nazi's Indian Mulligatawny Soup
The Soup Nazi's Cream Of Sweet Potato Soup
The Soup Nazi's Mexican Chicken Chili
Three Ingredient Muffin Bread
Thin Mints
Tomato Soup 4 B's
Tony Roma's Blue Ridge Smokies Sauce
Tony Roma's Baked Potato Soup
Tony Roma's Ribs Clone
Top Secret Mcdonald's Mcd.L.T.
Top Secret Ihop Pancakes
Top Secret Mrs. Fields Chocolate Chip Cookies
Trader Joe's Heroic Baklav
Top Secret Mrs. Fields Peanut Butter Dream Bars
Trader Vic's Mauna Kea Chicken
Two Ingredient Biscuit Bread
Turtle Cookies
Uncle Ben's Seasoned Long Grain & Wild Rice M
Waffle House Waffles
V-8 For Canning
Weight Watchers Smart Ones Banana Muffins
Wendy's Chili
Wendy's Chicken Caesar Fresh Stuffed Pit
Wendy's Chili Seasoning
Wendy's Frosty
Wendy's Classic Greek Fresh Stuffed Pit
Wendy's Spicy Chicken Fillet Sandwich
White Cheddar Dipping Sauce
White Castle Vidalia Dip
Whitehouse Chicken Coleslaw
Yonah Schimmel Low-Fat New York City Knish
Wienerschnitzel Chili Sauce
Yoo Hoo
Yoo-Hoo Mix-Ups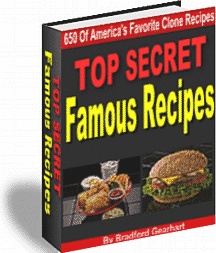 Site owner:
Put the rating form on your site!
Listing wrong or need to be updated?
Modify it.
Cooking Package!
114 Cooking ebooks Click here to see the full list of these ebooks
(total value $710.95)
Buy Now
just for $30.95
$680
off
Silver Package!
Any 100 ebooks from 2000+ titles Click here to see the full list of these ebooks
Buy Now
just for $29.95
Gold Package!
Get full access to 2000+ ebooks Click here to see the full list of these ebooks
Buy Now
just for $49.95
Mistake found?
Select spelling error with your mouse and press Esc