The Weekend Gardener Ebook
Category:
Garden
Title:
The Weekend Gardener
Author:
Victor K. Pryles
Description:
The Busy Persons Guide To A Beautiful Backyard Garden
Brand New
Step-by-Step Manual Reveals How You Can Have A Beautiful Garden That Almost Takes Care of Itself!

". . .and believe it or not you can do
it in just a few hours on the weekend!"
The Lost Weekend
Meet Fred. He used to spend every daylight hour on Saturday and Sunday doing back breaking work in his garden. Dirty, disheveled and perspiring he was not a happy camper.
By the time Monday rolled around, Fred would drag his aching back and muscles off to his job and prepare to do the same thing all over again when the next weekend arrived. Sound familiar?
The really sad part about his story, is that even after putting in all that hard work, his yard really didn't look all that great!
You see Fred isn't any different than most property owners. Just like you, he wanted to have a garden that would bring pleasure and satisfaction. The only problem is time. . .the lack of it!
A Better Weekend
What if you could have it all? A beautiful, restful garden that beckons to be enjoyed. And, what if you could do it in just a few hours every weekend? Impossible? Not at all!
The Weekend Gardener truly is the busy persons manual to a beautiful backyard garden. You can have it all! Jam-packed with 155 pages you'll learn everything you need to know, such as:
Grass versus ground cover
Taming the lawn beast
The proper grass selection
Have the perfect flower garden
Easy care plants for weekenders
How about those roses!
Keep 'em moving crop rotation
Delicious fruits and vegetables
Natural landscapes
Vegetable roommates
Vertical gardening
Meadow gardening
Everlasting perennial crops
The Weekend Gardener teaches you all of this and more! Each chapter contains a "quick tip" for easy reference.
PLUS A PRICELESS BONUS!
"The Weekenders Year Long Calendar of Activities", takes all the guesswork out of what to do in your garden and when to do it.
Grab your copy of The Weekend Gardener and learn how to have your very own lovely garden. A place where the landscape sparkles with refreshment and the beauty of nature.
Table of Contents
Please See This First
Introduction
Chapter 1: The Weekend Garden
Weekend Gardening Goals
A Better Weekend Gardening Experience
Making Your Choices
Slow But Sure Does It!
Looking For Easy Solutions
Chapter 2: Easy Lawns
Sloping Lawns
A New Vision Of Lawn Care
What About Lawn in Shade?
Mass Planting Ground Covers
Let's Line up Our Lawn
My Big Three Suggestions!
Handling Unruly Ground Covers
Oh! The Tangled Webs Of Deceitful Ground Cover!
Mowing And Lawn Care Freedom
Shaded Grass
Grass Choices
Helping Grass In The Shade
A Mowing Strip To The Rescue!
Grass Vs. Tree Trunks & Roots
Conclusion: Easy Lawns!
Chapter 3: Fast Flowers
Flowers: A Short Course
The Perfect Weekend Flower Garden
Three Cheers For Annuals!
Those Bang-Up Biennials!
Easy Care Annuals
Keep 'Em Comin' Perennials
Roses, Oh! Roses
Bang Up Bulbs!
The Season Long Bloom
Taking The Outside Inside
Color In The Flower Garden
Enjoy the Loveliness Of Your Care Free Flower Garden
Chapter 4: Delicious Weekend Vegetable Gardens
Step One- The Soil
Intensive Gardening
Yearly Chores
Designing Your Bed
Making The Bed
How To Select Vegetables
Weekend Vertical Gardening
Harvesting Vegetable Plants
Spacing Crops For Weekenders
Keep 'Em Moving Crop Rotation
Vegetable Roommates
Coming Back For Seconds And Thirds And
Those Everlasting Perennial Crops
Chapter 5: Fruits Made Easier
How To Care For Blueberries- The Basics
Blueberries: The Friendliest Of All
Planting And Feeding Blueberries
Scrumptious Strawberries
Pruning Blueberries
Whoa! Strawberry Stampede!
Big Show Brambles!
Strawberry Planting & Feeding
Which Brambles?
Brambles Basic Care
A Trellis and A Bramble
Is your Bramble Sick?
Caring For Currants and Gooseberries
Currants and Gooseberries
A Fruity Conclusion
Chapter 6: Natural Landscapes
Native Or Natural?
A Few Basic Principles
Your Woodland Garden - A Shaded Paradise
Shaded Areas
Check The Soil pH And Other Considerations
Choosing Your Site
Let's Get Some Woodland Plants
Let's Spark Up The Soil
A Word Of Caution
Ferns Are Lovely Here
Let's Place Our Plants Now
House Keeping Is A Breeze!
What About Seed Mixes?
An Introduction To Meadow Gardening
Weeds And Your Meadow
Chapter 7: Easy Care Plants for Weekenders
Weekender Small, Medium & Tall Deciduous Tree Recommendations
Weekender Groundcover Recommendations
Weekender Evergreen Tree Recommendations
Weekender Evergreen Shrub Recommendations
Weekender Deciduous Shrub Recommendations
Weekender Annuals Recommendations
Weekender Bulb Recommendations
Weekender Perennial Recommendations
Chapter 8: Matching The Tool and Task In Your Weekend Garden
Dig In and Plant With These Tools
Don't Take Your Tools For Granted
Power Tillers
Weekend Pruning Tools
Weekend Weeding & Cultivating Tools
Weekenders Raking And Blowing Tools
Weekenders Edging Tools
Weekenders Leaf Eating And Brush Chomping Tools
Weekenders Lawn Mowing Tools
Weekenders Wheelbarrows, Carts, And Garden Cloths
Weekenders Garden Hoses And Attachment Tools
Weekenders Mulch
Weekenders Compost
Appendix A: Weekender's Year Long Calendar Of Activities
Appendix B: USDA Plant Hardiness Zone Map
Appendix C: Weekend Gardeners' Resources
Afterword
About the Author
Other Ebooks By The Author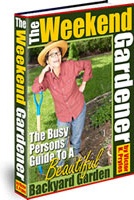 Site owner:
Put the rating form on your site!
Listing wrong or need to be updated?
Modify it.
Mistake found?
Select spelling error with your mouse and press Esc