The Ultimate Guide to Dog Health! Ebook
The Ultimate Guide to Dog Health!
Category:
Dogs
Title:
The Ultimate Guide to Dog Health!
Description:
Wouldn't You Rather Learn How to Deal with Minor Dog Health Problems BEFORE they Become Major Ones?
Have You Ever Been Faced With an ILL and DISTRESSED Pet and Simply NOT KNOWN WHAT YOU CAN DO to Help?
Isn't it Time You Put an END to the Anxiety of Dog Care and Avoided Needless Vet Bills with an Essential Home Guide to Dog Health?
With this Information as Your Own Essential Reference You'll Learn...
Why so many of the problems in senior dogs that are dismissed as part of the normal aging process are in fact treatable disorders - you'll be surprised that in most cases dogs don't need to ACT old just because they GET old!!!
How to pick up on the warning signs by becoming a proficient reader of DOG BODY LANGUAGE - you'll not only pick up potential problems early on, you'll also be amazed at how many "conversations" you've been missing!!!
When a cough is just a cough and when it's cause for concern.
How to thoroughly and accurately determine causes of LAMENESS and LIMPING, whether you're dealing with an old-timer or an energetic pup...
How to deal with COMMON stomach problems that can cause vomiting, diarrhea, or simply put your dog off eating - find out why you don't need to panic if there's blood in your dog's feces, but you DO need to act!
How to identify the SUBTLE CHANGES in your dog's behavior, as well as basic physical changes that can indicate that your DOG IS NOT WELL.
How much of dog health is really about SIMPLE MAINTENANCE rather than major treatment after the fact.
The ONE thing a happy and healthy dog can't do without - and how much of it is too much.
How to stay on top of worming issues, and what to do when worming pills seem to cause more harm than good...
TOP TEN TIPS for fast, easy, and effective grooming - believe me, it's about much more than cosmetics when it comes to the health of your dog's skin and coat!!!
What the TIP-to-TIP Dog Examination is, exactly how to do it, and why you can't do without it.
What's REALLY in your dog's food, and why even a slight change in diet can have drastic benefits for your dog's longevity and overall wellbeing.
The absolute BEST WAY to keep your dog from licking open wounds and making them worse - the way that they actually PREFER.
The ebook includes over 50 detailed Diagrams, Images, and Illustrations, all in full color.
You'll Also Get Answer to Nagging Questions...
The TWO things that are TOXIC for dogs but many owners give to their pets unwittingly - with the best intentions.
When is a broken nail just a broken nail, and when does it need that surgery?
What's the best way to care for a dog with liver trouble or diabetes??
The RIGHT WAY to remove a tick.
The difference between vomiting and regurgitation, and which one is NO BIG DEAL for dogs.
How can SPAYING or NEUTERING your dog solve a host of other problems (in addition to the obvious one)?
When is the BEST TIME to have my dog fixed, and why might it be different for male and female dogs?
What's the difference between HIP DYSPLASIA and ARTHRITIS, and what can you DO ABOUT IT? (184-85)
The elusive truth about brushing a dog's teeth...
What are "dew claws," and what do the experts say about getting them removed?
Which PRODUCTS will help in maintaining your dog's health and wellbeing, and will ones will be a waste of money?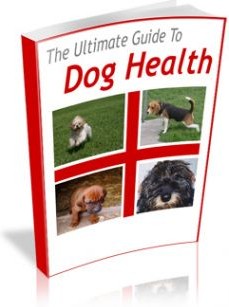 Rating:
Site owner:
Put the rating form on your site!
Listing wrong or need to be updated?
Modify it.
Mistake found?
Select spelling error with your mouse and press Esc