The Smoothie Diet Health And Weight Loss Program Ebook
Category:
Weight Loss
Title:
The Smoothie Diet Health And Weight Loss Program
Description:
Over 120 pages containing everything I know about weight loss, nutrition, and smoothie making. You'll learn how to be healthy and how to make healthy food choices. Includes over 40 smoothie recipes and my proven 5-week health and weight loss program.
Here is just some of what you'll learn:
The 4 main culprits behind the obesity pandemic. (The great news is, your genetics are NOT to blame, and you can turn things around starting today!)
My unhappy prediction: Why you will become obese in the next 15 years if you don't do something about it right now!
Why the Standard American Diet is TRULY sad, and what you can do to quickly lose weight. (Even if you are not from the US you can benefit from this…)
3 reasons most traditional diets don't work, including Atkins, South Beach, Jenny Craig, Acai Berries, and hCG. (Hint: All of these diets actually SLOW DOWN your metabolism!)
The 4 hidden poisons in processed and packaged foods.
3 mouth-watering fats that will help you LOSE weight. (It's hard to imagine, I know, but there's really only one type of fatty food that you should always avoid.)
11 reasons my smoothie diets work better than most traditional diets.
4 'fat-free' labels that are completely deceptive. (Yes, you have been eating fattening food all along, here's how to spot the fakes)
A secret weapon for weight loss that will keep fattening foods out of your diet, and ensure that you don't slip back into overeating.
My top choices for cheap, portable and easy-to-clean blenders.
The 4 building blocks of a perfect FILLING fat burning smoothie. (You will find them as filling Thanksgiving dinner and as delicious as a milkshake!)
5 ways to buy fat-burning fruits and vegetables on a shoe-string budget.
Step-by-step, how to prepare a smoothie that is perfectly balanced with the right macro and micro nutrients to melt the pounds off.
Sneaky storage tricks to keep your fruits and vegetables fresh and delicious, and get the maximum fat-burning benefit from them.
How to store your smoothies to keeps the nutrients, enzymes and oxidants alive for extended periods so you can plan ahead without sacrificing any weight loss results.
A meal plan blueprint for each week, Monday through Sunday. I've taken all of the guesswork out of the equation so all you have to do is follow my lead, and watch the pounds melt off your body.
Your exact 5 week Smoothie Diet program. You will be astonished when you see how easy this program will be to follow.
Your cheat day: Follow my steps exactly and you can get away with eating ANYTHING you want and still lose weight.
Introducing the metabolic boosters: 3 natural foods that are already in your cupboard that skyrocket your metabolism.
How to hack your snacks: How I personally keep my snacks delicious and healthy. (And I have them several times a day!)
Unleashing the healing power of smoothies: Add these inexpensive "superfoods" and your doctor will be shocked by your improved bill of health.
Are you a picky eater? Here are 12 different ways to improve the taste of any shake.
Exactly what to do if you haven't lost any weight after the first week. (This will be impossible if you're following correctly, but I'll show you how to probe your habits like a metal detector to find the problem food.)
How to know if your smoothies are causing a "toxin purge". This is a fantastic thing. Once your body is cleansed of all its toxins, you will drop massive amounts of bodyfat.
How to find insanely cheap superfoods that accelerate your weight loss.
A perfect replacement for coffee that provides a great "caffeine fix" and still allows you to lose weight.
How to follow the Smoothie Diet with your spouse or partner.
How to get rid of annoying sugar cravings that make you fat.
The long term benefits of the Smoothie Diet program. Why you can look forward to better skin and you will be able to fight an entire host of deadly diseases with this diet.
Simple advice to prevent ANY future weight gain. Follow this simple rule and you will always be able to pick yourself up after you fall–––or avoid falling altogether!
And much, much more!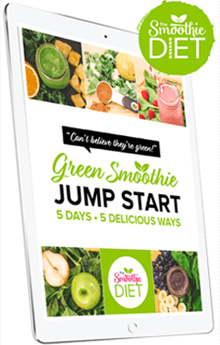 Rating:
Site owner:
Put the rating form on your site!
Listing wrong or need to be updated?
Modify it.
Mistake found?
Select spelling error with your mouse and press Esc