The Paruresis Treatment System Ebook
The Paruresis Treatment System
Category:
Health
Title:
The Paruresis Treatment System
Author:
Rich Presta, Dr. Cheryl Lane
Description:
What would your life be like WITHOUT paruresis?
Ending the struggle that comes with the constant anxiety in the pit of your stomach?
The freedom to go wherever you want to without being concerned about where you'll go to the bathroom?
Not having to worry about how far you are from home or a "safe" bathroom?
Throwing out your limitations that steal your enjoyment of life?
Not having to hide your fear from people or be embarrassed?
Having the chance to finally focus on work, school, or your family instead of your anxiety about using a public bathroom?
Never again suffering with a full bladder because you know that no matter how hard you try it will be IMPOSSIBLE to go.
Not having to wait until the bathroom is empty, or finding one with privacy barriers or stalls, or making any other sort of accommodation just to do what everyone else seems to do so easily?
Ending the obsessing, anxiety, and even panic attacks that go hand in hand with paruresis. Being able to just breathe out a sigh of relief that it's over…
Being terrified to think that if you don't get help soon you're going to have to live your whole life with your fear and all the misery that comes with it?
As you're about to find out, your suffering is needless, serves no purpose, and most importantly, can be overcome.
Do the research and I think you'll agree that there is no better, more trusted, and complete program for overcoming your paruresis anywhere.

Here's just a few of the things you'll learn in the Paruresis Treatment System…
Why you can't seem to stop worrying about the next time you'll need to go to the bathroom and how to use your personality traits that CAUSE the negative thought cycle to END it. You'll turn the tables on your paruresis and let your body and mind relax so it can do what it's supposed to.
The simple 4-step technique that I think you'll find can bring your anxiety in a public bathroom to a grinding halt. You'll learn it in about 15 minutes and can have the power to control your response for a lifetime.
What's actually happening to your body when you get anxious and why it's a good thing. When you truly understand your fear and view it from this new perspective, you can stop feeling the need to be fearful of those feelings anymore. People without paruresis do this automatically, but you can learn it too.
We're going to work together to figure out what you're REALLY anxious of, and it's usually not as simple as "going pee".
How to stop doing the things that are making your paruresis worse – you're probably not even aware of what you're doing wrong!
How to kick the irrational, anxious, scary thoughts out of your head and quiet your mind.
When to NEVER try and face your fear.
The five patterns of faulty thinking you HAVE TO AVOID to overcome your paruresis.
How to design your personalized plan for conquering your paruresis.
The simple and straightforward exercise that can help to retrain your brain to think about using a public bathroom differently, so you never need to feel the anxiety again that makes urinating so difficult.
What to do if your friends or family aren't supportive or understanding about your condition.
And a ton more!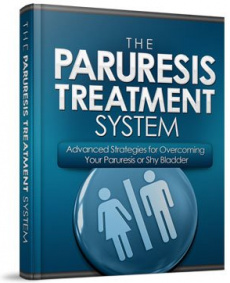 Rating:
Site owner:
Put the rating form on your site!
Listing wrong or need to be updated?
Modify it.
Mistake found?
Select spelling error with your mouse and press Esc