The New Four Magic Moves To Winning Golf Ebook
The New Four Magic Moves To Winning Golf
Category:
Golf
Title:
The New Four Magic Moves To Winning Golf
Author:
Andy Anderson
Description:
"Discover The Four Secret Magic Moves PGA Pros Don't Want You to Know & How To Use Them To Halve Your Handicap - Plus Add At Least 27 Yards!"
Inside You'll learn...
How to perfect he short pitch from thirty yards down, the green-side trap shot, the chip from the fringe, and the putt.
How to dramatically cut 7-12 strokes off your handicap using 4 simple moves - starting today
How to naturally hit the perfect inside-out swing - as if you were born with it - imagine seeing your ball still rising whilst your opponent's is dropping!
How to use the natural torque in your pivot to blow right through the ball with power just like Rory McIlroy!
How to prevent any disastrous "power leaks" - And unload on the ball like an atomic explosion!
How To Stay Out Of Your Own Way, So You Can Allow Your Swing To Follow The Scientific Principles Of "Conservation of Angular Momentum" - preventing any disasterous "power leaks".
Amaze Your Buddies By Adding An Extra 35 Yards To Your Drive - and more importantly WITHOUT spending loads on the latest "hyped up" driver from your pro shop!
Discover The Four Simple Moves Only 1% Of Golfers Are Aware Of For Less Than The Price Of A PGA Pro Lesson! - Immediately gain confidence from knowing the many years of frustration are over
How To Unload on the Ball like an Atomic Explosion When You Drive - and with the pinpoint finesse of an artist when you need accuracy on chips and pitches.
Pinpoint With Absolute Certainty The Faults Cripling Your Golf Game - Without Wasting Your Time On The Practice Range - Say goodbye to the dreaded slice and hook forever!
Learn How To Hit The Perfect Inside-Out Swing Naturally - As If You Were Born With It - You'll never look back once you see your ball still rising whilst your opponent's is dropping!
Learn What Timeless Well-Meant Advice Has Cruelly Wrecked Your Swing Since The Day You First Picked Up A Club - The time has come to expose the poor tuition too many golfers like yourself have paid good money for!
Discover The ONE Golf Technique That Over The Generations Has Caused A Staggering Amount Of Carnage For Millions of Golfers and how to completely ignore it!
Develop The Ability To Spot Mistakes In Your Swing Before You Reach The First Tee - Having this skill will save you more than 5 strokes per round.
Learn How To Swing The Club On The Correct Path Each And Every Time Some people still think that the club head follows only a single path going up and coming down!
Become The Most Feared Golf Opponent At Your Club As You Uncover The Secrets Of Timing And Rhythm…
Discover How To Think Your Way Around A Golf Course - No more "Dumb" Shot Choices. Guaranteed. Period.
Discover An Instant Improvement in The Accuracy Of Your Shots ONCE you realise that one of the most plausible principles golf teachers have ever come up with is infact one of the most dangerous and misleading.
Finally Play Golf Without Fear Or Apprehension - Once YOU Discover The Four Vital Moves To Your Golf Swing - This easy to follow "step by step system" will allow you to finally ignore the impossible and ill-founded advice that has been given in one form or another for about as long as there has been any literature on golf.
And Best of All.. See Your Handicap Go Into FreeFall With No Means Of Stopping It! - Whilst your friends are left in bewilderment at your weekly successes on the golf course...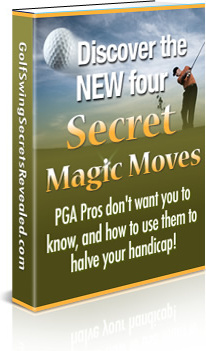 Rating:
Site owner:
Put the rating form on your site!
Listing wrong or need to be updated?
Modify it.
Mistake found?
Select spelling error with your mouse and press Esc