The Louisa May Alcott Collection Ebook
The Louisa May Alcott Collection
Category:
Children
,
Classic
Title:
The Louisa May Alcott Collection
Author:
Louisa May Alcott
Description:
An Old-fashioned Girl
AS a preface is the only place where an author can with propriety explain a purpose or apologize for shortcomings, I venture to avail myself of the privilege to make a statement for the benefit of my readers.
As the first part of "An Old-Fashioned Girl" was written in 1869, the demand for a sequel, in beseeching little letters that made refusal impossible, rendered it necessary to carry my heroine boldly forward some six or seven years into the future. The domestic nature of the story makes this audacious proceeding possible; while the lively fancies of my young readers will supply all deficiencies, and overlook all discrepancies.
This explanation will, I trust, relieve those well-regulated minds, who cannot conceive of such literary lawlessness, from the bewilderment which they suffered when the same experiment was tried in a former ebook.
The "Old-Fashioned Girl" is not intended as a perfect model, but as a possible improvement upon [Page] the Girl of the Period, who seems sorrowfully ignorant or ashamed of the good old fashions which make woman truly beautiful and honored, and, through her, render home what it should be,-a happy place, where parents and children, brothers and sisters, discover to love and know and help one another.
If the history of Polly's girlish experiences suggests a hint or insinuates a lesson, I shall feel that, in spite of many obstacles, I have not entirely neglected my duty toward the little men and women, for whom it is an honor and a pleasure to write, since in them I have always found my kindest patrons, gentlest critics, warmest friends.
LL. M. A.
FLOWER FABLES.

THE summer moon shone brightly down upon the sleeping earth, while far away from mortal eyes danced the Fairy folk. Fire-flies hung in bright clusters on the dewy leaves, that waved in the cool night-wind; and the flowers stood gazing, in very wonder, at the little Elves, who lay among the fern-leaves, swung in the vine-boughs, sailed on the lake in lily cups, or danced on the mossy ground, to the music of the hare-bells, who rung out their merriest peal in honor of the night.

Under the shade of a wild rose sat the Queen and her little Maids of Honor, beside the silvery mushroom where the feast was spread.

"Now, my friends," said she, "to wile away the time till the bright moon goes down, let us each tell a tale, or relate what we have done or learned this day. I will begin with you, Sunny Lock," added she, turning to a lovely little Elf, who lay among the fragrant leaves of a primrose.

With a gay smile, "Sunny Lock" began her story.

"As I was painting the bright petals of a blue bell, it told me this tale."
Jack and Jill
To the schoolmates of ELLSWORTH DEVENS,
Whose lovely character will not soon be forgotten,
This Village Story is affectionately inscribed by their friend,
L.M.A.
1880
Little Men: Life at Plumfield With Jo's Boys
TO
FREDDY AND JOHNNY,
THE LITTLE MEN
TO WHOM SHE OWES SOME OF THE BEST AND HAPPIEST
HOURS OF HER LIFE,
THIS EBOOK IS GRATEFULLY DEDICATED
BY THEIR LOVING
"AUNT WEEDY"
Little Women
I.1 Playing Pilgrims
"Christmas won't be Christmas without any presents," grumbled Jo, lying on the rug.
"It's so dreadful to be poor!" sighed Meg, looking down at her old dress.
"I don't think it's fair for some girls to have plenty of pretty things, and other girls nothing at all," added little Amy, with an injured sniff.
"We've got Father and Mother, and each other," said Beth contentedly from her corner.
The four young faces on which the firelight shone brightened at the cheerful words, but darkened again as Jo said sadly, "We haven't got Father, and shall not have him for a long time." She didn't say "perhaps never," but each silently added it, thinking of Father far away, where the fighting was.
Rose in Bloom
A Sequel to "Eight Cousins"
Preface
As authors may be supposed to know better than anyone else what they intended to do when writing a ebook, I beg leave to say that there is no moral to this story. Rose is not designed for a model girl, and the Sequel was simply written in fulfillment of a promise, hoping to afford some amusement, and perhaps here and there a helpful hint, to other roses getting ready to bloom.
L. M. Alcott
September 1876
OR buy individual Louisa May Alcott e-books:
An Old-fashioned Girl
Flower Fables
Jack and Jill
Little Men
Little Women
Rose in Bloom
"The Louisa May Alcott Collection" is delivered in PDF format and is viewable on any computer. All you need is Adobe Reader which is available free and already on most computers.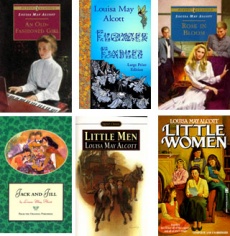 Site owner:
Put the rating form on your site!
Listing wrong or need to be updated?
Modify it.
Children Package!
88 Children ebooks Click here to see the full list of these ebooks
(total value $551.85)
Buy Now
just for $29.95
$521
off
Classic Package!
164 Classic ebooks Click here to see the full list of these ebooks
(total value $549.40)
Buy Now
just for $35.95
$513
off
Silver Package!
Any 100 ebooks from 2000+ titles Click here to see the full list of these ebooks
Buy Now
just for $29.95
Gold Package!
Get full access to 2000+ ebooks Click here to see the full list of these ebooks
Buy Now
just for $49.95
Mistake found?
Select spelling error with your mouse and press Esc