The Harmony Earth 30 Day Energy Diet Ebook
The Harmony Earth 30 Day Energy Diet
Category:
Diet
,
Weight Loss
Title:
The Harmony Earth 30 Day Energy Diet
Author:
Christopher Westra
Description:
Ten Simple Secrets to Harmonize Your Body with the Earth and Increase Your Energy and Vibration in 30 Days!
Here are just some of the mind-expanding secrets this ebook has for you
Specific ways to get wild foods into your diet, even if you live in the city!
How you can change habits easily and suspend your usual patterns of thinking.
The benefits to society that will occur when people start growing loved food, preparing loved food, and eating loved food!
How to double your eating time and double the pleasure and enjoyment you get from your food.
The Art of Conscious Eating, and how to chew your food so you really taste it!
The truth about wild foods, and why your ancestors couldn't have eaten a starchy diet.
How to be patient and allowing with yourself as you make eating changes.
How to ensure your success by increasing your skills of intuition and awareness.
Six specific places to look for new foods, and how to have fun introducing new foods into your diet.
How to visualize the health you want in a way that activates your subconscious mind to create your health for you!
The importance of proper food preparation, and how doing it right will increase the vibration and energy of the meal.
How to use the 5/5/5 rule in your diet to save time, money, and energy.
How to rate foods on a continuum (scale) of quality, rather than thinking in terms of good or bad foods.
The secret of eating "loved foods" and why the food industry is incapable of manufacturing healthy foods.
Practical exercises that will help you holographically synchronize your brain hemispheres for increased wholeness and expanded awareness.
How to easily find much better foods than your local supermarket fare.
The #1 mistake most people make when starting a new diet, and how to do the exact opposite for success!
The three major ways to find quality local foods for your family.
The psychological truth that will help you put this diet into practice in a flexible way. Hint - It's what you do most of the time that counts!
How to look for and find loving and generous people as our food providers. Five specific criteria to use.
How to notice and enjoy flavors and textures in foods that you haven't experienced in years.
How to keep yourself physically satisfied by eating the foods your body needs right now.
The diets and eating practices of the healthiest people on earth!
The six staple foods used predominately in hunger relief efforts, and what they all have in common.
How to set up the eating environment so that you can fully absorb the consciousness of your food and gain full nutrition.
How to tell, using specific guidelines, how you are doing in the area of intuitively sensing your body's needs.
The one question to ask regarding genetically modified plants.
The single most important factor that will raise your conscious vibration and energy level.
The specific questions to ask yourself about your foods to ensure that you are getting quality food!
How you can retrain your mind one meal at a time, and eat to live, not live to eat!
How to use respect, love, and intuition in all social eating situations.
The #1 way to identify foods your ancestors couldn't have eaten, by playing the planet game.
Specific ways to educate yourself about food quality. Become aware and informed.
How to systematically and intuitively sense how different foods react and work with your body, and how to use what you learn in the Harmony Earth Diet.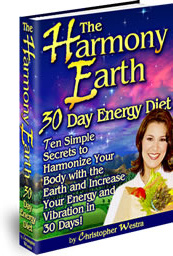 Rating:
Site owner:
Put the rating form on your site!
Listing wrong or need to be updated?
Modify it.
Mistake found?
Select spelling error with your mouse and press Esc