The Half Day Diet Ebook
Category:
Diet
,
Weight Loss
Title:
The Half Day Diet
Author:
Nate Miyaki
Description:
Discover How To Crush Your "Carb Loop" Cravings, Trick Your Body Into Thinking It Is On a Low Carb Diet When It Is NOT, And Lose All The Weight You Want Without Going Hungry, Giving Up Your Favorite Foods, or Even Exercising…

"This Ingenious New Food Strategy Burns A Little Body Fat All Day Long While You Are Only 'Dieting' HALF a Day"
Let's recap what you're about to experience using this "half day" System…
You'll experience all the benefits of a 24-hour low carb diet without being low carb.
You will enjoy eating yummy carbs every day in order to burn more fat.
Whether you are a man or a woman, you will optimize your fat-burning hormones.
You will sleep better. Carbs at night trigger serotonin release which makes you feel good and lets you sleep like a baby…
You will lose more weight and trim more inches from your waist than other folks who are eating the same amount of carbs and calories!
You'll enjoy the freedom of eating delicious foods every evening with your family or your friends. (instead of watching jealously as they eat "normal" food while you submit yourself to another portion of boring "diet" food)
You will escape your "Carb-Loop" cravings and enjoyably lose all the weight you want without the hunger, brain fog, or low energy suffered by most "dieters"…
Imagine eating a rewarding meal around the family dinner table every night, and knowing that you'll sleep like a baby and wake up the next morning in a perfect fat burning state…

All because you allowed yourself to enjoy a delicious and satisfying carb-rich evening meal…

Recap Of What We've Learned:
The mistake you must avoid is limiting your carbs and calories at night. Nighttime dieting causes cravings, binges and even decreased metabolism.
The fastest way to lose all the weight you desire is to trick your body into thinking it's on a low carb diet when it is not.
The solution is a "half day" style of dieting that matches how our ancestors naturally evolved to eat and that your body still needs.
The results have been proven in my coaching practice over the past 15 years… and now YOU can have the "Handbook" version of the exact system I had the good fortune to stumble upon.
When you make this wise decision, you will…
Enjoy yummy carbs while losing a bit of belly fat EVERY day.
See noticeable weight loss in the mirror within the first few days.
Trick your body into burning fat as if it is on a low carb diet when it is not.
Enjoy a decadent "cheat meal" with friends or family at least once a week.
Watch the scale weight really start dropping after only 7 days.
FEEL like you are having a cheat meal every night, while actually using it to burn fat faster!
Enjoy all the benefits of a 24-hour low carb diet while only "dieting" HALF the day.
Experience the freedom of a lighter, healthier, energetic body.
And that's just a small taste of what's coming your way…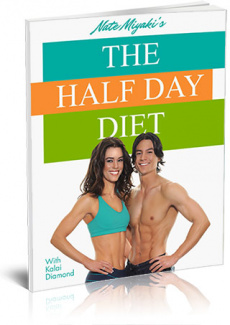 Ebook Type: PDFAudio Included,
Rating:
Site owner:
Put the rating form on your site!
Listing wrong or need to be updated?
Modify it.
Mistake found?
Select spelling error with your mouse and press Esc