The Complete Guide to Building Your Own Web Site Ebook
Category:
Internet
Title:
The Complete Guide to Building Your Own Web Site
Author:
Quentin Brown
Description:
My Web Site
Forward
Building your own web site is probably one of the most rewarding and satisfying projects you can undertake. This ebook is organized for ease of navigation through the side bar. If you require any help with the tutorials please feel free to contact the staff of MSIncome making sure to quote your receipt number. We offer six months of free consulting from date of purchase.
The Side Bar
You will find that the contents are broken up into a number of sections. The first section is a fully interactive workshop for those wanting to discover how to put a web site together. The workshop will introduce you to all the general skills and tools and have your site available to view in a very short time. Because the web is a very fluid medium your web page will grow and change as you discover more.
Advanced Information
We have included a number of articles and tutorials on the more advanved functions of web pages which will help you become more proficient. These include more on graphics, how to put music on the web, ecommerce and more.
We have set up a forum for questions and the oportunity to share and ask questions of other web masters. The password for the forum is "fun"
Beginners
If your a beginner or would like to revise your skills then you can click here to start the workshop and follow a step by step training program that will take you through each of the different areas to set up your own web site. You will have your first pages loaded onto the web and ready for visitors in a very short time. The secret here is have a go and try all sorts of different things. If you make a mistake simply click the undo button. Mistakes are a stepping stone to becoming a better web page designer.
.
Navigation
We have tried to keep it as simple as possible. The side bar will take you through each page in the ebook. The Workshop will progress through each stage with a link to the next lesson at the bottom of each page. Many of the Internet links will require you to be online and will start your prefered browser. We have enabled the right mouse click function. This will allow you to open any of the links in a new window. It will also help you progress seemleely through each of the tutorials. When a page opens in the ebook simply use your right mouse click and choose back.
HELP
No this is not help for you this time but for a friend of mine in Thailand. Over the past two years we have been working at setting up some orphanages in Chaing Mai to try and kurb the racket in child prostition. I have set apart some of the profits from the sale of this ebook to go towards the orphanages. See More. This is not plee for money but I wanted to show you where some of your money has gone. For this reason I would ask that you don't give this ebook away for free but direct your friends etc to our site at http://www.msincome.com where their purchase will help the orphanages. Our policy is however if they can't afford it at present you can give a free copy if they agree to pay when they get the money.
Table of contents
Workshop
Forward
Introduction
Hosting
What You Need
Planning
Composer
Templates
Graphics
Tables
Image Maps
Frames
Forms
Meta Tags
Publishing
Test
Promotion
E-mails
E-zines
Offline
Search Eng
E-books
Advanced
Cold Fusion
DHTML
Front Page
Java
Macromedia
Scripts
Graphics & Art
Introduction
Animation
Side Bars
Converting
GIF's & JPEG
Scanning
Site Design
Dimensions
Colours
Artwork
Links
Music
Converting
Midi
Extras
Motivation
E-Commerce
Australia
PDF Files
Validate

Compile E-books
EBooks
INTRODUCTION TO THE WORKSHOP
Welcome to your comprehensive Workshop on how to build a web site. Before we get started I just need to cover some basic uses of this EBook.
Up on the top right hand corner you will see your navigation tools. Some of the tutorials will take you into other sections so just use the arrows to return to your current lesson. Every page has a navigation side bar so you will never get lost. This also makes it simpler to progress at your own pace and also for referencing at a later date.
CREATING A WEB PAGE
Creating web pages is really quite easy and you should not be concerned about how to do the various functions as we cover everything you will need to know. There will be some practical work to help you with each step. It is also important to know that a web page is never finished. They are always works in progress. As you discover more you will want to add more features.
When I first started I had some text and a graphic on one page. Over time this has now blossomed into over 500 pages and multiple graphics. I have created pages for large companies, organisations and also individuals. I had no one to help me or provide information like you have here.
Learning Outcomes
After completing this workshop you will be able to compile a web site with a dozen or so pages complete with graphics, links and text. You will also be able to capture your visitors e-mail addresses and publish your pages to a website. We will use one of the free hosting programs for this. You will also discover ways to promote and advertise your site to generate traffic.
Navigation
All the links on the left for the workshop are in order so you can progress at your own pace. Do the examples and practice. Once you feel confident in each section branch out and try some other ways of doing the same thing.
Don't be scared of making mistakes because in most cases you can choose the undo function to take you back. This is especially useful when building pages as you can have a look at what it looks like first and if you don't like it you can try something different. Remember to save your work.
The Workshop
The workshop is the core of this ebook and is a fully interactive set of pages that will help you discover most of the major skills required to produce professional pages. While a little bit of computer knowledge and some artistic flare are preferable I have tried to accommodate every type of user.
You will find ways of building web pages with little or no artistic skill by using templates and graphic resources. There are many other sites that provide this type of information however very few give you the opportunity to practice as you are reading. Also by using certain software you can bypass the need for learning html. This means you can have a site up and running in a few hours.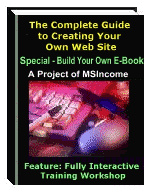 Site owner:
Put the rating form on your site!
Listing wrong or need to be updated?
Modify it.
Internet Package!
100 Internet ebooks Click here to see the full list of these ebooks
(total value $1114.40)
Buy Now
just for $49.95
$1064
off
Silver Package!
Any 100 ebooks from 2000+ titles Click here to see the full list of these ebooks
Buy Now
just for $29.95
Gold Package!
Get full access to 2000+ ebooks Click here to see the full list of these ebooks
Buy Now
just for $49.95
Mistake found?
Select spelling error with your mouse and press Esc