The Baby Belly Fat Loss Plan Ebook
How to lose weight after pregnancy
Category:
Weight Loss
,
Women
Title:
The Baby Belly Fat Loss Plan
Author:
Jago Holmes
Description:
Who Else Wants To Learn How To Lose Weight After Pregnancy And Discover The Closely Guarded Secrets Top Celebrities Use To Quickly Lose Pregnancy Weight?
Now You Too Can Discover How To Lose Weight After Pregnancy And Transform Your BABY BELLY In Just 8 Weeks GUARANTEED

The Hours Blend In To One And The Days Flash By Leaving You Wondering Where The Last Few Weeks Have Gone!
Not every mother has the luxury of family or friends that are able to watch on for an hour or so, and you don't always want to impose on them too much. Because of this you are left with no time whatsoever to yourself.
Leaving the house can take hours to prepare for with all the accessories needed for a simple trip out, you end up looking like you are leaving for a holiday, never mind just nipping to the grocery store.
It's usually very difficult to get in to a routine with a new baby, you don't know when they'll sleep, eat and need changing, you need to be available all the time...you are literally on call 24 hours a day.
If you have any other children, the fear of making them feel unimportant or less valued because of your new baby leads you to try even harder to spend time with them too.
You May Have Gained A Lot Of Extra Body Fat Over The Last 9 Months And It's Quite Possible That You Weigh More Now Than Ever Before In Your Life...
Your Baby Belly And This Extra Padding Can Leave You Feeling Tired, Fed Up And Self Conscious About The New Lumps And Bumps Clinging To Your Body.
Straight after giving birth many moms radically cut calories in a desperate attempt to lose baby weight. But this could cause deficiencies in your diet making it harder for you to lose weight and leading to poor milk quality, meaning your baby might not be getting the vitamins and minerals he or she needs.
It's often the little things that really hit home such as not being able to tie your shoes or put your socks on because your saggy tummy gets in the way. You can cope with this during your pregnancy its one of the usual problems, but it's difficult to justify weeks after having your baby.
If you've spent years trying one diet after another but never managed to get in shape without living like a nun, trying to lose baby weight like that now is definitely not the solution, it could lead to a lifetime battle against obesity.
Everyone expects new moms to look a mess, but the comments of 'haven't you put on some weight' can still hurt at a time when your self esteem is at an all time low.
It's Often Very Difficult To Summon Up The Energy To Do Anything In The First Few Days, You Feel Tired So You Take It Easy, You Feel Drained So You Eat For Comfort...
Nothing You Do Seems To Give You That Boost, Little Do You Know Your Actions Are Actually MAKING THE PROBLEM EVEN WORSE!
When you are tired, little things can build up in to huge problems, you lose patience quickly and can become irritable at the slightest thing, your new body shape constantly plays on your mind, everyone around you suffers.
Some days you won't feel like getting dressed and the thought of going out sends a shiver down your spine, you just want to stay inside, but this only increases your lethargy and tiredness.
Coping with a new baby can be hard enough, but coping on the bare minimum of sleep is harder still. You often end up feeling exhausted, and never get the chance to recharge your batteries or spend any time on yourself, leaving you feeling depressed.
A lack of energy can mean your baby suffers because you don't have the motivation to leave the house, missing out on fresh air and instead being stuck inside all day long.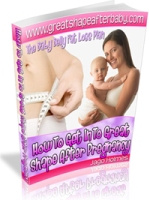 Ebook Type: PDF
Rating:
Site owner:
Put the rating form on your site!
Listing wrong or need to be updated?
Modify it.
Mistake found?
Select spelling error with your mouse and press Esc