The Art of Developing Your Product Ebook
The Art of Developing Your Product
Category:
E-Business
Title:
The Art of Developing Your Product
Author:
Teresa King
Description:
Internet Money Revealed - Volume 3
In The Art of Developing Your Product, Teresa shows you how to develop your product. Don't worry if you cannot write a ebook. You don't have to write your own product!
Introduction
Wahoo! You found a product idea that you want to create into an information product.
Wonderful! I'm so excited for you.
Developing your product can be a lot easier than you can imagine. You may be wondering right now, if you are not a "writer", how are you going to do it?!
You can with the help of this Course. This does not mean you won't need to spend some time learning how to hone your writing skills. You are going to need some practice in that area, no matter what kind of business that you are in. All professionals develop some writing ability because they don't want to always have to wait for someone else to provide any necessary small changes for their sales pages, etc.
This does not mean you have to discover how to be a professional writer with all the fancy skills of your favorite writers. But, it is good to face the inevitable as early as possible.
I've seen wonderful things happen over the years. Here is just one example:
Four years ago I got a letter from a man who could not type, could not spell, and was even negligent in spelling my name correctly. A couple of years later I got an email from him, and was happily surprised to see his growth in his business and his ability to correspond with a friendly, yet professional, air. I would not have recognized that the email was from him except for his name and his domain name.
Contents
Important Introduction
Choose Your Domain Name
Choosing your domain name is not the time to get sloppy.
Consider this small advertisement:
Finding your domain name, and testing it
Introduction to Ways to Develop Your Info-Product
Too Busy? That's Not a Problem!
What's Your Own Business Worth?
Outlining Your Product
Day 1 - Our first lesson will be on how to write an outline.
Sample Outline for a Digital Product
Elance!
How to Use your outline, once it is complete?
Research - Gathering Information - Day 3
Get Ghost Articles
Fillers
Public Domain
Gathering Information
Tips about writing items that are more than a page long.
Affiliate with Others Inside Your Product - Day 5
Interview with Bryan Kumar - Part 1
About Bryan Kumar's Interview
Spell Check your Product!
How to Edit Your Product
Getting Your Product into PDF
Recap
Finish What You Start!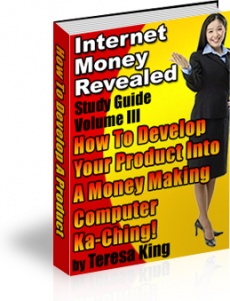 Site owner:
Put the rating form on your site!
Listing wrong or need to be updated?
Modify it.
Mistake found?
Select spelling error with your mouse and press Esc