The 30 Minute Marketing Miracle Ebook
The 30 Minute Marketing Miracle
Category:
E-Marketing
Title:
The 30 Minute Marketing Miracle
Author:
Louis Allport
Description:
How To Turn Any Loser Ad Into a 24/7 Money-Making Machone
REVEALED! The Incredible Secrets Of A Rebel Australian Copywriter Who Turns 'Do-Nothing' Ads Into Money-Making Machines In Less Than 30 Minutes!
Dear Internet Friend,

If you've ever wondered how to turn your marketing into a money-sucking machine, then this is most important message you will ever see.

Here's why...

When was the last time you actually saw a so-called "marketing genius" in action? When have you seen someone truly solve marketing problems on the spot?

Think about it: How many "gurus" have you witnessed actually doing their job as a consultant?

Unmasked! The secret process used by the world's best copywriters to turn any ad into a goldmine!

The truth is ... virtually NO marketing consultant ever lets you see them in action. They hide behind their polished presentations and tightly edited ebooks and courses ... and expect you to take their word for it that THEY are "geniuses at work".

Well, how valuable would it be to see how the brain of a true marketing genius works? How important would it be to your business ... and to your results ... if you were to see how a brilliant marketing mind takes common problems and solves them in a matter of moments?

If you did, wouldn't it make it so much easier to handle your own lack of customers? If you saw how a professional went about solving marketing problems (and I mean, if you were to see EXACTLY how he put his mind to use ... how he comes up with killer offers ... how he writes money-sucking headlines ... how he makes simple changes to ads in order to double or triple response - and so much more) - wouldn't that give you an incredible learning experience?

Well let me ask you something else:
Ever mailed a promotion that got little or no response?
Have you ever run an ad that absolutely bombed?
Ever wondered how other marketers get people flocking to their websites in droves?
And ... how much money have you wasted on "trial and error" in the past, just trying to find out? Thousands of dollars? Tens of thousands?
To be honest, you could be sending yourself broke by NOT knowing the simple little secrets that expert marketers know. Experts like Brett McFall. He's known as "The 30-Minute Marketing Genius." Often bringing in results like:
"$28,600 in 9 days"
"$142,263 in just 10 days"
"$289,500 in just 3 weeks"
"$1,477 a week from just $55 spent on advertising"
"$3,105 a week for just $600 spent on advertising"
These are results which very few business people know how to achieve.

BUT ONE THING'S FOR SURE: It's not your fault. You've just never been taught how.

But what if you were given an exclusive insight into how Brett McFall achieves these amazing profits? How much would it be worth to you to learn how you can apply his stunningly unconventional strategies to YOUR business for mega profits ... in a way that's never been used before?

What if you could get his amazing techniques that people pay him thousands of dollars for, but get them at an absolute bargain rate? Is this what you've been hoping for?

To put it simply ... it could literally revolutionize your business, couldn't it?

The greatest way to discover is to learn how the BEST of the BEST do it. Because then, you can just apply their master strategies to your own business, right? Simply plug in the system and off you go.

Trouble is, to get that sort of one-on-one help from a marketing genius would normally set you back thousands of dollars. Until now, that is.

Introducing The Easy Way To Say Goodbye To Your Money Problems Forever At World Record Pace ... By Discovering ...

"The 30-Minute Marketing Miracle"

How To Turn Your Ordinary, Poor-Response Ads ... Into Killer Money-Making Machines ... In Just 30 Minutes
An amazing opportunity!

Sit there stunned as you go behind the scenes with one of the world's best copywriters, and see how his mind solves the marketing problems that stump people like you and me ... and how he does it in just 30 minutes!

Ever seen those life-style shows that tell you how to build a shed ... paint your house ... or buy a property? In a similar way, Brett lets you see how he helps business owners turn their 'loser ads' into piles of cash - in just half an hour!

You'll actually listen-in as Brett McFall takes what REAL business owners have produced for their marketing, and see him analyze it ... re-strategize it ... fine tune it and make-it-over ... on the spot.

To be quite honest - he tears the ads apart. But the funny thing is ... the business owners he's talking to LOVE EVERY MINUTE OF IT!

This is LIVE - no editing ... no polishing -- just real down-and-dirty LIVE coaching sessions.

What's more - you actually get to see the ad that Brett is talking about (while you hear EXACTLY how to turn it into a smash hit!). You'll have the ad right in front of you.

You'd have to agree that this is the sort of powerhouse lesson that every business owner would give their eye-teeth for. That's because, you and I both know, that this sort of privileged information could literally make you hundreds of thousands of dollars.

It's one thing to discover from looking at a 'good ad' - but to see a very 'ordinary' ad and learn EXACTLY how to turn it into a blockbuster ... well that's a lesson which truly gives you the 'goose that lays the golden egg'.

(And by the way ... switched-on entrepreneurs regularly pay Brett $1,500 per half hour for the privilege of having their own powerhouse private session - well worth it when you realize that he reveals how to instantly make tens of thousands of dollars in extra sales!)

Let me paint you a picture ...

This experience is like taking an exam in school where you're wondering what the hell the answers are (that is, you're wondering how to sell more of your product or service). EXCEPT imagine you're sitting next to the smartest guy in the class and he's showing you ALL the answers! In fact, it's unfair to your competition to have this marketing genius reveal the secrets he uses to create million dollar ads! You get the inside advantage normally reserved only for the rich who can afford the one-on-one help!

To put it simply, it's like having:
David Beckham teaching you how to bend the ball into the net ...
Tiger Woods showing you how to add another 30 to 40 yards onto your drive ...
Michael Schumacher revealing how to wipe seconds off your race speed -
EXCEPT the killer secrets you're getting are all about making your ads pull MEGA response ... and MAXIMUM money - using low cost ... and sometimes no-cost ... methods!
Wouldn't you love to know how a master marketer's brain works? You'll see exactly how in...

Power Coaching Session #1 -

"How To Create A Simply Irresistible Offer"

You'll meet Elizabeth Moss, who runs a company which retails hygiene products for gyms, hotels, companies and more. Products which clean the air and add fragrance. Now, what Elizabeth's company does is NOT important. What IS important however, is how Brett revolutionizes her marketing in just 30 minutes.

And the best part is, from these insights you'll instantly see how you can apply what he reveals ... to YOUR business.
You know, you can listen to marketing theory all week long. But the penny never finally drops until you see that theory IN ACTION. Don't you agree? Real, LIVE examples are what make everything crystal clear. Well, here's what you'll learn in this amazing session:
SUSPECT NO-ONE'S READING YOUR ADS? Brett reveals what prospects REALLY hate to see ... and what they can't get enough of (this one master revelation could totally revolutionize your marketing and glue your prospects onto any ad you run in the future)
The simple change of approach needed in Elizabeth's advert in order to put her sales into overdrive (once you learn this straightforward strategy, you'll be able to apply it to your business too and make a 'killing')
A "killer" introduction to a sales letter which you can use as a template to get prospects licking their chops in excitement over your product or service!
The astonishingly simple process for working out which headlines are going to make you the most money (a change in headline can increase your response by up to 1700%! - and so Brett reveals the easy process you can use to find your winner)
The truth behind getting people to take you up on your offer ... like it was the last toy in the store on Christmas Eve!
4 hot headline examples straight from Brett McFall (and yes, you can model these suckers for your own greedy gain too!)
A knockout "marketing approach" to get your phone ringing off the hook (and why this sneaky little secret works any where any how)
How to educate your prospects to your amazing value (and have them LOVE every second of it - wouldn't that be nice?)
How to get your own customers to help you sell even more of your product or service (at no cost to you!)
Here's something you should be aware of:
This amazing fly-on-the-wall coaching session is an insight that no copywriter has ever allowed before - that's because coaching sessions like this reveal too many trade secrets (NOT ONLY THAT -- but few copywriters can actually walk their talk like Brett does. Sure, anyone can 'wing it' when they can write it down ... edit it ... and polish it up - but put most copywriters on the spot and they flounder like a sail boat in a god-awful storm).
That's not the case here.

You'll not only get to hear Brett's money-making strategies revealed, but you'll also have the actual ad he's talking about right there in front of you. So you can follow along as you listen. And once you see the points he makes, a host of money-making ideas are bound to explode in your head (and truly, isn't that the greatest gift of all? The more you listen - the more ideas you'll get!).

Being able to listen in like a spy at a top-secret meeting, is the equivalent of a university education in making money! You get a massive data-dump in one fell-swoop. What an incredible way to discover! You're getting it from the top - the kind of information normally reserved for private, $1500 consultations (Brett's words of wisdom are pure money in the bank)

But of course, that's not the only marketing advice you get in this groundbreaking package. Because you also get to sit in on ...

Power Coaching Session #2 -

"The Art Of Knowing WHEN To Tell People What You Sell"

You'll meet Brett Purser and see the actual direct mail letter that he was about to start sending out. But luckily, before he did, he let Brett fine tune it for mega response. And the best part is - you're there every step of the way.
Here's just some of what you'll learn:
The underlying master principle EVERY business owner MUST know in order to create powerful money-making advertising
REVEALED! 8 "killer" headlines (adaptable to any business) to get your advertising response taking off like a 747
The critical way to present your advertising that will have prospects flocking to your business and desperate to become a PAYING customer (and surprise ... surprise -- virtually NO one uses this amazing technique)
The best way to layout an ad for maximum response
The magic number of people you need to test a promotion on, in order to know whether you've got a failure on your hands ... or a BOOMING success (before you spend thousands of dollars!)
An astonishingly simple way to break through any prospect's suspicions in an instant and have them call you NOW! (This tool becomes your amazing "selling machine" and a powerful marketing weapon to blow your competitors out of the water)
Powerful questions you can use in your copy that get prospects reaching for the phone or their wallet! (These are the proven copy techniques that no copywriter ever reveals - that's because they usually form the backbone of their success ... but Brett reveals everything - with no hesitation - so you can use them for your own profit!)
See how Brett re-strategizes Mr Purser's whole marketing approach within a few minutes and has him gasping in amazement at all the extra money he's going to make
A secret 2-word phrase you can use to excite your customer and make your bullets come alive (literally bopping your prospect on the nose and forcing them to take notice!)
Learn what Brett says you should NEVER be afraid to do in your marketing (and chances are you're scared s---less of it!)
The truth about what advertising really is (and the trap no business owner can afford to fall into if they want to make huge sales)
Do you realize the amazing access that this program gives you? You'll get to sit in on the most powerful coaching sessions ever performed - and the best part is ... 30 minutes is all you need to spend in order to set your mind alight with red-hot money-making ideas.

The Truth About Getting Rich

What you're going to learn is how to create an auto-pilot system for attracting cash-paying customers to your business. By discovering how easy it is to create ads that work, not only will you know what 99% of your competitors don't even realize exists, but you'll develop a money-making skill for life!

However, don't settle back yet, because you also get a 3rd kick-ass coaching session...

Power Coaching Session #3 -

"How To Quickly And Easily Turn A Massive Failure Into A Huge Success"

Here, you'll meet Jan Denford. A courageous housewife who created her own amazing product - "The Podlett" - she makes it herself ... sells it herself ... and also markets it herself. Of which marketing is the only part she's falling down on - she ran an $800 ad and only made $180 in sales - in other words ... "A BIG FAT FAILURE!"
You'll see her ad and then get the low-down on how to turn it around into an absolute killer. Wouldn't you love to know how that's done? You'll find out exactly how ... along with these amazing insights:
How to take a real life story and turn into the perfect sales pitch (opening-up in your copy gives you an incredible edge over faceless corporate companies - learn what to do with your story to turn customers into raving fans)
Why people won't buy some products straight off the page! (and the secret little technique you can use to get around this and make record sales!)
The key to selling to females (yes, there's a definite difference - and once you know it you can double or triple your sales overnight!)
9 sensational headline templates ... any one of which could turn your response around on a dime (you'll likely get so many ideas from these alone that you'll have to pause the program just to write your own versions down!)
The truth about selling by mail (or the internet) - the simple rule you need to follow in order to get sales pumping like a oil rig in Saudi Arabia
REVEALED! How to boost your response by not allowing your prospect to talk to you! (Incredible, but true!)
The amazing twist you can use to make your offer ... ANY offer ... simply and unarguably IRRESISTIBLE! (it can send your sales through the roof - yet it won't cost you a cent!)
The key to getting people to see your ad as if their life depended on it
How to get as many testimonials as you'll ever need - even when your customers don't know what to say (including the powerful formula Brett uses to create testimonials that make prospects salivate uncontrollably and desperate to own your product or service!)
Who you must NEVER listen to when it comes to marketing and advertising unless you want to go broke FAST (this is the stuff no-one else has the guts to say - but Brett says it as plain as day)
The most powerful marketing tool you can EVER use ... for just cents in the dollar (yet few people realize what a goldmine it is - literally worth millions of dollars to many of Brett's clients)
Pretty amazing, don't you agree?

Whether you're in business ... or you just want to discover how to write ads - here are the world's deadliest marketing secrets presented to you on a platter. Nothing hidden, just one of the world's smartest copywriters showing you how it's done.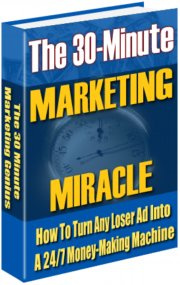 Site owner:
Put the rating form on your site!
Listing wrong or need to be updated?
Modify it.
E-Marketing Package!
338 E-Marketing ebooks Click here to see the full list of these ebooks
(total value $3366.90)
Buy Now
just for $49.95
$3316
off
Silver Package!
Any 100 ebooks from 2000+ titles Click here to see the full list of these ebooks
Buy Now
just for $29.95
Gold Package!
Get full access to 2000+ ebooks Click here to see the full list of these ebooks
Buy Now
just for $49.95
Mistake found?
Select spelling error with your mouse and press Esc