Text That Girl Ebook
Category:
Relationships
Title:
Text That Girl
Author:
Race dePriest
Description:
7 things you MUST know before you text a girl if you want ANY chance of her responding...
You've Got Her Number — Now Don't Screw It Up When You're This Close! If You Want Her To Pick YOU Out of All The Guys Who Are Texting Her, Follow My Instructions, And She'll Be Eating Out Of The Palm Of Your Hand!
TEXT THAT GIRL! is the result of 5 YEARS of my life and THOUSANDS of text messages that were meticulously catalogued, tested, and refined.
Well, in my ebook I'll teach you...
The very first thing to say to set the "balance of power" in your favor
The psychological principle you can use - right now - to pull any girl back into a conversation (no matter how long ago she stopped responding)
A super-advanced technique you can use to go on a date with multiple woman at the same time (I told you that you would want to exercise your superpowers!)
Two expert tips about how make your speaking voice sexy and powerful. If you sound meek on the call, you might as well call it quits right then and there.
The correct way to playfully tease her and get her "back in the game" (note: if you are doing this wrong you are massively turning women off)
An "under the radar" method for planting the seed for the date. This is one of my biggest secrets and I get a 10-for-10 success rate when I use this to ask a girl out
A secret technique I discovered that will turn a flake into an even better date next time (you might even look forward to a girl flaking after learning this)
When to get her number in a conversation so that it doesn't seem awkward or forced
Three "adorable" ways to ask her out without ANY awkwardness or nervousness (she simply won't be able to resist)
The absolute best way to call out a woman if for some reason she keeps on flaking, so that she respects you and won't do it again
What you MUST do when you get her voicemail if you want her to call you back.
My "advanced pre-emptive anti-flaking technique" that will "flake-proof" the number... this one is AWESOME
The first text "no-no's" - things you MUST avoid if you don't want to be stuck in "chump" purgatory
A sure-fire way to get her to respond if you need an answer about a date by a certain time
Four simple ways to avoid awkwardness on the first date
The proper way to answer the dreaded "Who is this?" text and spike her curiosity (and of course, if you answer this wrong, you're are dead in the water)
What to do the moment after you get her number to "seal the deal"
When you absolutely must pick up the phone and call her (if you miss out on these subtle cues, don't expect her to stick around. but get them right, and you've scored MAJOR points with her)
A fun little technique you can use to make her smile any time you ask a question
How to "push" her off-balance, then "catch" her gracefully in a verbal whirlwind that will leave her breathless
How to manage your phonebook when you have 50-200 numbers from random women (I TOLD you to get that unlimited texting plan!)
How to create urgency so she stops whatever she is doing and texts you back right away
How to know exactly when to end a text conversation so she is left wanting more
What if she wants to bring a friend along? No worries - I'll show you how to respond, and how to handle it, so that you still get your girl!
How to use misdirection to make it seem like she is the one chasing you, even though you are the one texting her!
The 3 things that absolutely must be present in your first text if you want to get the best response possible from your girl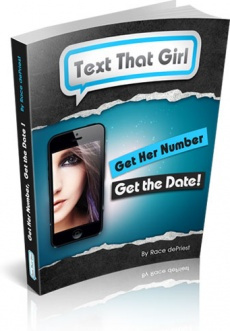 Rating:
Site owner:
Put the rating form on your site!
Listing wrong or need to be updated?
Modify it.
Mistake found?
Select spelling error with your mouse and press Esc