Tame Your Personal Computer Ebook
Category:
Computers
,
Manuals
Title:
Tame Your Personal Computer
Author:
Teresa King
Description:
A General Survival Guide for Your PC
Amazing New Survival Manual Guarantees You Can Conquer The PC Beast Right In Front Of You!
When was the last time you wanted to throw that monitor you're looking at through a window? This morning? Last night? Five minutes ago?
Have you ever spent hours upon hours digging through "techno babble" and "geek speak" trying to find an answer to a very simple question?
Maybe it was at 3:00 a.m. after spending almost 24 straight hours wading through "trouble shooting" text.
Or, how about this one. Have you ever called one of those so-called "help lines?" You know the ones I mean.
You're put on terminal hold and you have to keep listening to stale elevator music with the exception of an occasional break where some idiot tells you how much they appreciate your patience?
Then, when you finally get a warm body to speak to, the meter starts ticking and ends up costing you hundreds of $$$$$!
If you want to put an end to your PC Nightmares once and for all, "Taming Your Personal Computer" is a must have tool for your arsenal.
Written by veteran author, Teresa King, this is a tutorial that will definitely teach! Unlike other "guides," this manual reflects her knack for getting to the heart of a question and answering it the way you'd like to hear it. . .namely. . .plain English!
Here is a small sample of some of what you will discover:
The right ways to start and shut down your pc
All about your pc hardware
How to protect your password
Upgrading your browser
Converting images
What is defrag and how does it work
Internet searching
Zipping and unzipping files
Dangers of email attachments
Creating, saving and finding files
Protecting against viruses
and much more
Yes, finally, there is a survival manual for the masses. Simple, sensible and safe to use. Get your questions answered in a timely manner and move on to more productive tasks.
Conquer this beast once and for all and you'll never again spend countless hours or hard-earned dollars on information you can have at your fingertips!
About The Author Teresa King
Teresa King is the author of several ebooks which range from marketing to historical romances. She enjoys teaching and helping people to keep their minds alert and to inspire them to do the best they can in life. Teresa has learned many of life's lessons. Sometimes she learned the really hard way and other times she got lucky because someone took the time to teach her, or she found what she needed to know in ebooks.
Family is important to her. She has three grandchildren, two boys 4, almost 2, and one granddaughter 4.
She plays online bridge in her spare time and enjoys walks, nature, crossword puzzles, reading, and conversing with friends and her family and loves her computer.
Although she makes her living online, her latest endeavor is starting a soap wrapping business.
TABLE OF CONTENTS
1. YOUR PC
HOW TO CREATE FOLDERS?
2. HOW TO START AND SHUTDOWN YOUR PC
TO SHUT DOWN YOUR COMPUTER:
To restart:
Starting the computer
RESTARTING YOUR COMPUTER IN SAFE MODE
3. PASSWORD PROTECTION
4. SEARCH/FIND FILES ON YOUR PC
In Windows XP:
In Windows 2000:
5. IMAGE CONVERSION
Conversion rules:
Why we need to convert images from one format to another?
6. WEB BROWSER
7. ELECTRONIC MAIL (EMAIL)
HOW TO DEAL WITH JUNK MAIL / SPAM?
Blocking Spam In Outlook Express:
8. CREATING AND MANAGING FOLDERS IN OUTLOOK EXPRESS
9. BACK UP FILES
10. DOWNLOADING, NAMING, & SAVING FILES
11. ZIPPING AND UNZIPPING FILES
To open a Zip file using WinZip:
To zip a file using WinZip:
12. SEARCHING DATA ON THE INTERNET
The most popular search engines:
13. THE DANGERS OF MAIL ATTACHMENTS
14. VIRUS PROTECTION
15. SPYWARE
Some options to deal with Spyware nuisance:
16. SAVING FILES TO DISKS
TO SAVE FILES IN THE FLOPPY DISK:
17. UPGRADING YOUR BROWSER
18. UPGRADING YOUR PC
UPGRADING THE RAM:
UPGRADING THE HARD DRIVE:
CPU UPGRADE:
PORTS:
MOTHERBOARD:
19. MEMORY PROBLEMS
20. HOT CPU?
21. DEFRAGMENTATION
HOW TO DE-FRAGMENT A DRIVE:
22. CLEANING TIPS FOR YOUR PC
Mouse
Keyboard
Monitor
Printer
Computer Case
CD-ROM and other Drives
23. SLUGGISH PC
24. TROUBLESHOOTING TIPS
YOUR SYSTEM HANGS
Documents are smudged with ink
problems in printing a document.
25. WARN YOUR CHILDREN
FREQUENTLY USED KEYBOARD SHORTCUTS
NET ETIQUETTE
EXERCISE
To protect your neck and back:
SOME INTERESTING FREE SITES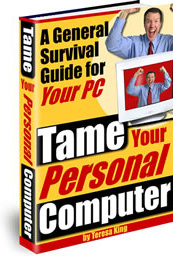 Add to Cart
Add to Wish List
P.S. Hey, if you are already skilled in how to use the resources your pc provide you, then you probably don't need this manual. But, if you are among the thousands of people who still have trouble trying to conquer the beast, grab your copy now!
P.S. Hey, if you are already skilled in how to use the resources your pc provide you, then you probably don't need this manual. But, if you are among the thousands of people who still have trouble trying to conquer the beast, grab your copy now!
Site owner:
Put the rating form on your site!
Listing wrong or need to be updated?
Modify it.
Mistake found?
Select spelling error with your mouse and press Esc