Take Better Digital Photos Ebook
Take Better Digital Photos
Category:
Photography
Title:
Take Better Digital Photos
Author:
Tony Page
Description:
Interested in Digital Photography? But not getting the results you hoped for?
"You can take better digital photos today. Just grab my photographic toolbox of creative tools and techniques and start shooting!"
You'll learn about:
How to use Design Elements - the basic building blocks of design:
Shapes: If some shape or pattern strikes us as interesting or noteworthy, the odds are that it will make a good photograph.
Texture: Add texture and you add depth to your photography.
Lines: Vertical, horizontal or diagonal, curved or straight, visible or implied...our eyes tend to follow lines
Perspective: In an image, size is relative and depends upon your viewpoint in relation to your subject.
Light: A subject of no intrinsic interest can be transformed into a fascinating image by the magic of creative lighting
How to use Design Concepts - ideas that provide a framework on which to build your image:
Pattern: Things not worth a photo by themselves frequently can become interesting when repeated to create a pattern.
Simplicity: Cut the clutter before you press the shutter: there should never be any doubt about the reason you took the picture.
Opposition: Using the contrast between usually two, but it can be more, elements to create a point of interest in your picture.
Dominance: When the main subject's prominence in the image virtually forces you to look at it.
Balance: When we look at a picture and everything seems to be in the right place, that is good balance.
Coherence: A coherent picture is one that hangs together as a whole; we can understand it, it all fits together in our mind.
Emotion: You can produce a shot that's brilliant technically, but without emotion it can never be great.
How to use Design Techniques - tools you can use to fuel your creativity:
Framing: Framing your images correctly and creatively is the quickest and most effective way to taking better digital photos.

Creative Angles: Show your viewers the subject in a way they've never previously seen it. All it needs is a little imagination!

Printing your photos - Digital printing options, doing it yourself, costs, colour correction, in-store photo printing machines (kiosks)...

Camera settings - Resolution, file compression, RAW format, sound volume, HDTV mode, world clock, power saving, LCD brightness, display options (histogram etc.), auto-rotate, viewfinder dioptre setting.

Positive and Negative Space: paying attention to the negative space around your subject is a killer shortcut to improving your images.

Depth of Field: Add visual depth to your image and increase its impact by isolating your subject.

Camera basics - Shutter, shutter lag, shutter priority, aperture, aperture priority, card formatting.

Playback - displaying in thumbnail mode, slideshow mode, TV output

Other useful stuff - Camera bags, support (tripods, etc.), batteries, filters: Tips on choosing and how to use them. You may find this section one of the most useful.

Rule of Thirds: It's been used by artists for centuries so it has a good track record!

Shooting with your camera - Scene modes (22 different examples)
... all interspersed with advice and tips gained over the many years I've spent travelling around the world as a working pro photographer.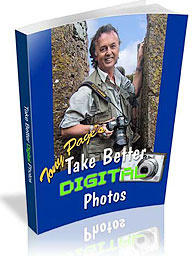 Ebook Type: PDF
Rating:
Site owner:
Put the rating form on your site!
Listing wrong or need to be updated?
Modify it.
Mistake found?
Select spelling error with your mouse and press Esc