Surviving the Recession Ebook
Category:
Finance
,
How To
Title:
Surviving the Recession
Description:
Survive the Recession, Discover How to Cut Costs and Win the Recession Game!

Unless you've been hiding under a rock, you are aware of the current state of the economy. There doesn't seem to be an end in sight. It affects all of us either directly or indirectly.

This isn't something "new." We've been through this before. The only upside of our situation this time is that we now have more sophisticated ways to share information.

When faced with an economic crisis, either individually or collectively, our first inclination is to cut out luxuries. That's a pretty obvious step to take. It's just the first step, however. Sometimes we are so close to a problem we just can't "see the forest for the trees."

The first thing to understand is that you are in this by yourself. There are no magic bullets or safety nets poised to soften the landing when you fall off the cliff. You have to look out for you and yours because no one else is going to do it.

There are steps you can take to minimize the effects on your finances. You just need to know where to begin.

We believe we have the answers to your questions about where to begin your quest on fighting the recession monster. "Surviving the Recession" is just what the doctor ordered to cure your recession ills.

You've taken the first step just by reading this page. Take a look at what's waiting in the wings to help you survive this mess:
How to reduce your grocery costs by 10% or more
What Kind of Mortgage Fits You Best?
Cut Your Energy Bill
Chop Your Cable Bill
Stomp Your Phone Bill
10 Ways to Bust the Cost of Your Auto Insurance
Heal Your Health Care Costs
Lower the Cost of Your Homeowner's Insurance
Tame the Credit Card Monster
Slash Those Travel Costs
Life Insurance - Who Needs it
Also learn how to get more out of your paycheck and how to build a budget and stick to it! You even get worksheets and comments from a credit counselor.

Don't wait. "Surviving the Recession" is your ticket to surviving these troubled times. They won't last forever, but thus far there is no end in sight. The upside is that by the time we do recover you will be way ahead of the game armed with all you've learned!

Get your copy now so you can survive this recession!



About The Author
Douglas Hanna
Douglas Hanna is a retired advertising and marketing executive. He lives in a suburb of Denver, Colorado with his wife and two dogs.
In his capacity as an advertising agency VP of Creative Services, Douglas worked closely with one of his state's largest banks and one of its largest savings & loan institutions. These experiences taught him many of the financial tips and tricks you will find throughout this book.
In addition, Douglas has spent many years researching and writing about personal finances and is the author of more than 25 well-received ezine articles on the subject. Douglas has also written more than 200 other articles on a variety of subjects.
Douglas knows from personal experience how difficult it can be to survive financially during tough times. As a 23-year old, Douglas found himself supporting a wife and baby on less than $5500 a year. This led him to a strong interest in personal money management, which has lasted throughout his adult life.
"My life was very difficult for a number of years," Douglas recently said. Given these experiences, he decided to learn everything he could about cutting costs and saving money. "While these times were tough," he said, 'I was able to get through them by learning many of the money-saving techniques I have included in this book."
His book is dedicated to all those of you who are interested in cutting costs and surviving tough times like Douglas.
ContentsIntroduction
Are you one of the lucky Americans?
How is your credit card debt?
8 Ways this Book can Help You Live Better
How would you feel if you were really in charge of your finances?
Getting Started2 The Myth of Fixed Costs
Where to get information on mortgage rates
Mortgage, Mortgage - What Kind of Mortgage Fits You Best?
Where to find an ARM calculator
Direct Lender Compared to Broker
Learn from our bad experience
3: Slice and Dice those Food Costs
Where to find those money-saving coupons online
How to reduce your grocery costs by 10% or more
Tried and true ways to save money on groceries
Get a notebook
Watch your Attitude
Read the fine print in all store ads and on your coupons
Know when not to use a list
Know when to use a list
Grocery stores are for groceries
Know the system
Take a rain check
Realize that more isn't always cheaper
Look for double coupons26 Copyright © 2009 All rights reserved- 3 -
Does your store honor competitors' prices?
"Surviving the Recession" by Douglas Hanna Page 4 of
Make sure those bargains really are bargains
Weigh before you pay
Realize that sometimes the best bargain isn't the lowest price
Put your savings to work
Make sure mistakes don't happen
Chapter 4: Cut Your Energy Bill
The Cheapest Answer
Quick, easy things you can do to reduce that bill
Inexpensive storm windows
Do new windows make sense?
A great $60 investment
Do your own cost analysis
Free Information from Your Government
Chapter 5: Stomp Your Phone Bill
Drop that landline?
Fewer features could mean nice savings
Minutes, minutes, are you really using all those minutes?
Dial a few extra numbers and save big!
Have you thought about phone cards?
Tricks and Traps
Be sure to check billing increments
Some Simple Questions
Chapter 6: Chop Your Cable Bill
Could you save with satellite TV?
Subscribe to movies instead of premium channels
How about DirectTV?
Chapter 7: 10 Ways to Bust the Cost of Your Auto Insurance
Check insurance costs before you buy your next car
Get at least three price quotes
Reduce the coverage on older cars
How old is your car and what is its condition?
Keep a good credit record
12 fast and simple formulas to get low-cost car insurance
Check about group insurance
Can you qualify for a low mileage discount?
Are you paying for duplicate medical coverage?
Look for other discounts
Chapter 8: Lower the Cost of Your Homeowner's Insurance
See what you might save with higher deductibles
Shop around
Can you make your house disaster-resistant?
Look for other discounts
Upgrade your home security
Keep your credit record clean and up to date
Don't pay for coverage you don't need
Don't change insurers
If you are in a government plan, look at private insurance
Consider the cost of insuring it before you buy a home
Chapter 9: Heal Your Health Care Costs?
Pay less for your medication
Can you actually trim these costs?
Can you take advantage of a flexible spending account (FSA)?
Can you play "Let's make a deal?"
Fight overcharges
Chapter 10: How to Tame the Credit Card Monster
More ways to get out of credit card debt
Interest Rates Really Matter
What about those credit counseling companies?
Give yourself a credit check-up
The time value of money
If you find errors
How to get your credit reports
Chapter 11: Life Insurance - Who Needs it?
Term compared to cash-value Insurance
The Secret to Buying Life Insurance
Term or cash-value; which is right for you?
How to eliminate that pesky life insurance agent
Chapter 12: Slash Those Travel Costs
How can you get the best possible fare?
Travel like a Prince on a pauper's budget
How flexible can you be?
What about charter flights?
How to cut the price of a ticket you've already purchased
Interested in saving money on a Disney World vacation?
Resort Vacations
How to save money on a hotel room
Sink the cost of cruising
Chapter 13: Even More Cost-cutting Tips
If your car is under warranty
Auto Maintenance
When your car is not under warranty
Cutting your entertainment budget
Lunches at work?
Trim those clothing costs
Free coupons that can help you save big!
Buy school supplies when they're on sale
Chapter 14: Building a Budget and Sticking To It
See your savings
Were your goals too high or too low?
Budgeting - tough love style
A 401K: It can still be a working person's best investment
Is saving money part of your budget?
Other investment alternatives
Why you might select a SEP over a Solo 401K
For the small business owner and the self-employed
Chapter 15: How to Get More out of Your Paycheck
How Flexible Spending Accounts Work
Flexible Spending Accounts
Dependent-care flexible spending
Retirement
Transportation reimbursement
Chapter 16: The Other Alternative - Increasing Your income
Build a business on eBay
One picture can definitely be worth 1,000 words
Liquidations and close outs
How to profit from bad spelling
More places to get the good stuff
How to find out what's hot
Appendix A - Check Your Progress
Your New Budget Worksheet
How to use this worksheet
Appendix B: Your Worksheet for Auto
Insurance

Appendix C: Facts About Credit Scoring
Other factors
The factors that make up your credit score
If you're turned down for credit
What about loans?
Is Credit Scoring Fair?
What could create an error on your credit report?
What a credit counselor says
Keep a good credit score?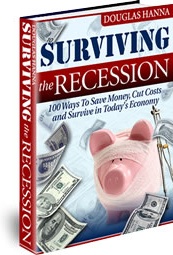 Add to Cart
Add to Wish List
P.S. Don't wait catch your recession beaters now!
P.S. Don't wait catch your recession beaters now!
Price: $

17.00
Ebook Type:
PDF
Rating:
Site owner:
Put the rating form on your site!
Listing wrong or need to be updated?
Modify it.
Mistake found?
Select spelling error with your mouse and press Esc