Step-by-Step Genealogy Guide Ebook
Step-by-Step Genealogy Guide
Category:
Entertainment
,
Hobbies
Title:
Step-by-Step Genealogy Guide
Description:
Here's a sneak peak at what you'll discover in "The Step-By-Step Genealogy Guide"
How to still enjoy your family and friends, yet make significant family tree search progress because you've mastered genealogy time management.
Are there any free services for people who are pulling their hair out over name spelling problems? This is what you must know to sail past any name related hassles with ease
"To die for" family search resources you can rely on for information, help, and savings
The Single biggest complaint beginning family tree researchers have about search websites (once you know this, you'll be able to create an ultra successful search plan while others who don't know this remain oblivious)
The BIGGEST mistake most first time genealogy searchers make when it comes to searching names (truth is, you're spending way to much time on the wrong things!)
How to create a network of people that pulls your ancestors out of the woodwork (that's right, people find your ancestors and bring them to you, not the other way around)
Where to see the best online graveyard search engines in the country (this is where you pick up that extra "edge" for your projects)
How to quickly and easily get started on your family tree with free family tree charts that you can easily download (it truly is earlier than you think!)
How to organize your personal workspace so that you have a great time AND make great progress
This next one was a huge hit with past readers!
What supplies you need to get started (and which you don't!)
How to use the least expensive or free online tools yet still get the same data you'd get from the most expensive sites (even if you never spend one red cent and you're a complete "computer dummy")
How to find trusted websites you can count on...ones that have solid, accurate data you can count on.
How to manage your time so that your resolve to build a great family tree doesn't take over your life
No idea where to start? Here's a secret almost nobody (except the few successful genealogists) know about build a huge family tree at lightening-quick speed - even if you've never created a family tree in your life
How to get started (can you imagine getting started tonight? It's true - you just need to know how)
Where to find rare surnames databases that virtually no-one else uses (in fact, their right under you nose and are surprisingly easy to use)
How to find up-to-date information on your ancestors that is easy that you'll have a list of searches to make (one remarkable find will lead to dozens of others... once you get started you won't be able to stop)
How to know if you've found the right person (and how to make headway from it even if you're wrong!)
A simply amazing options in how you layout your tree - discover exactly what a family tree looks like
What to know the "right price" to pay for professional genealogist assistance? Don't hire a professional genealogist until you know this important tip - getting it wrong could render you "dead" from the start
Why even a beginner can get started in their own family tree design (that's right, you don't need to be a "genealogy guru" to have great family tree)
The ideal ways to organize your search in order to make the most from many limited pockets of time (this makes a huge difference to the success of your project)
How to conduct online research with your a clear plan in mind so that you don't waste time, but still get everything you need from search session in order to create a "top gun" family tree.
How to know that you found the right person - so you can lock on to your ancestors with laser-guided accuracy
How to make your family tree different from the rest and have 3 times more samples and templates than the typical beginning genealogists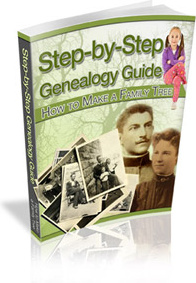 Rating:
Site owner:
Put the rating form on your site!
Listing wrong or need to be updated?
Modify it.
Mistake found?
Select spelling error with your mouse and press Esc