Starting Right With eBay Ebook
Category:
E-Marketing
Title:
Starting Right With eBay
Author:
Tim Swike
Description:
The Last and ONLY eBay Guide You'll Ever Need!
Chances are pretty good that you almost clicked away as soon as you say the word "eBay!" Be glad you hung in with us! This is definitely the last eBay Guide you will ever need.
Shocking but true, the majority of marketers using eBay to create their online wealth rarely make enough money to cover their ad placement. You see, most of them have fallen prey to the enormous number of "get rich quick with eBay schemes" that are prevalent online.
Most of these cite outrageous claims telling you that all you need to do is list your item on eBay and people will flock to your offer throwing you fists full of money. Ridiculous? Yes, but still, many people want so badly to believe that they jump at anything!
All these outlandish claims do is sour the pot for legitimate eBay marketers. Yes, there is still money to be made using the eBay model. What's important, however, is that you need to know the right way to get started!
"Starting Right with eBay" cuts straight through all the hype and ridiculous claims and earns the right to be a "coveted" online publication. Tim Swike gets right to the point in easy to understand language and blows away all the mystique leaving you with nothing but great ideas that you can put to work immediately! Take a look at what he shares:
What should you sell
Getting started the right way - everything you need to know BEFORE you jump in
Learn all about taxes and lawyer speak
Staying out of trouble
What are the different types of auctions (What, you thought there was just one!)
Learn the language, the eBay language that is
Have you got a good reputation - this will make or break you!
Posting your very first auction
Ten sure-fire ways to kill your eBay business
Growing your other business using the eBay model
Part time or full time?
What about the supply and sales side lighty businesses
10 tips to increase your responses
Writing your titles - including samples
Buy now or bid? Learn what to do.
eBay has it's own Scotland Yard
What to do AFTER you win the auction
Solving disputes
Avoiding eBay automobile and computer scams
All about collectibles
Beware of any eBay marketing information that promises you untold wealth and riches. "Starting Right with eBay" promises you a simple, practical approach to starting your eBay business the right way.
Honest, legal and above board "Starting Right with eBay" does not apologize for giving you the plain, unadulterated facts about starting your own auction business. Check it out and we are sure you will agree that this is not some of the same old - same old rehashed information.
Act now and you can be starting your own new eBay business within minutes of downloading your own copy! eBay is not dead if you are armed with the right information and get off on the right foot! "Starting Right with eBay" gives you a huge jump start over any other competitors.
Get your copy right now. Don't wait - you are wasting precious time.
About The Author
Tim Swike
Tim Swike is a very successful eBay Seller. After reaching Power Seller status and reaping substantial rewards from his eBay success, he decided to retire from auctions and concentrate on other business interests.
Much of the information in this guide is from his own hard-won experience.
Follow it carefully and you could save and earn good money for years to come.
Contents
eBay: The Beginning
Income Possibilities
What You Need to Know BEFORE You Get Started
Tax and Legal Matters
What to Sell
Prepare Yourself
Different eBay Auction Types
Reserve Auctions
Normal Auctions
Fixed Price ('Buy it Now') Auctions
Multiple Item ('Dutch') Auctions
Staying Out of Trouble
eBay "Lingo"
Posting Your First eBay Auction
Open an eBay seller's account
Decide what to sell
Submit your item
Wait for it to sell
Collect payment and post it
An eBay Seller's Checklist
What's Your eBay Reputation Worth?
Is the eBay Customer Always Right?
10 Sure-fire Ways to Kill Your eBay Business
10 Steps to Successful Selling on eBay
eBay - Part Time or Full? How to Decide
How to Use eBay to Grow Your Other Businesses
The Sales Side
The Supply Side
The eBay Search Engine
How to Choose the Right eBay Product Category
Title Writing Tips
Description Writing Tips
10 Tips for Increasing Your eBay Response
Your Rights as an eBay Buyer
So How Do I Use My Rights?
How Important is Your Buyer's Reputation?
How to Check an eBay Seller's Reputation
How to Check Feedback Ratings
Understanding the Different eBay Auction Types
Reserve Auctions
Normal Auctions
Fixed Price ('Buy it Now') Auctions
When to "Buy Now" and When to Bid
Multiple Item ('Dutch') Auctions
Buy it Now. - The Advantages
Buy it Now - The Disadvantages
eBay Auction Buyer's Tips and Tricks
When and How to Withdraw Your eBay Bid
You made a typographical error
Here are eBay's three acceptable reasons for withdrawing a bid
The item's description changed
So How Do I Retract My Bid?
The seller is uncontactable
Are There Any Consequences?
You Won that eBay Auction! Now What Do You Do
Checks and Money Orders
PayPal
Money Transfers and Bank Deposits
The eBay Buyer's FAQ
eBay Sent Me an Email Saying They're Going to Close My Account. What Should I Do?
Does eBay have a Customer Service Department I Can Phone?
It Seems Too Good to be True. How Does eBay Make Money?
How Safe is eBay?
SafeHarbor - eBay's Own Scotland Yard
Using PayPal
Opening a PayPal Account
What is PayPal?
Paying with PayPal93 Copyright © 2007 by Tim Swike
Becoming Verified
"Starting Right with eBay®" by Tim Swike Page 8 of
Tips and Tricks for Using eBay Search
When Things Go Wrong: How to Resolve eBay Disputes
Independent Dispute Mediation
Before you open a dispute
eBay Automobile and Computer Scams
Computer Scams
Automobile Scams
How to Beat the Scams
Tips for Buying Collectibles on eBay
Taking Advantage of "Slow" eBay Auctions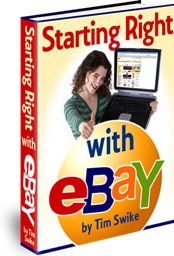 Site owner:
Put the rating form on your site!
Listing wrong or need to be updated?
Modify it.
Mistake found?
Select spelling error with your mouse and press Esc