South-East Asia Rising Internet Marketers Ebook
South-East Asia Rising Internet Marketers
Category:
E-Marketing
Title:
South-East Asia Rising Internet Marketers
Description:
"Model Your Internet Marketing Success After Any One Of Eleven (11) South-East Asian Internet Marketers Of Your Choice!"
Discover The Closely Guarded Money Making Secrets Of 11 South-East Asian Marketers. Use Them For Your Own, Mix And Match The Plans, It's Your Choice!
Dear Aspiring Internet Marketer,
"How to make money online? How? How?!" you're asking that almost as if it's a super tough riddle to crack. Trust me, it was just as puzzling a question to me, too, when I got all started out in Internet Marketing.
I knew next-to-nothing about making money online until I make my own discoveries. At my own expense, of course. While the trying times of trial and error are over for me, it's the one period in my life I dread most.
And you're going through it right now.
You probably know next-to-nothing about making money online, too, or else your income won't be next-to-nothing, either. Now, don't fly into the offence zone too soon and I apologize if you were taken aback by the last sentence.
But I really want to share a powerful advice with you. NOT that it will guarantee you quick riches, but it CAN guarantee you will accelerate your learning curve by leaps and bounds.
Just Be Like Soichiro Honda.
"Who is Soichiro Honda?" you might ask.
While I'll have to offer you a short trip back into history lessons before we move on to the juicy point of this letter, Soichiro Honda predicted that oil supplies would not last forever so made small cars. True to his vision, the Honda cars that were misers in oil consumption became the choice of most motorists.
And so this is the guy who found the Honda cars. But what has this got to do with you BECOMING like HIM?
You see, other than what Honda was famous for during his time, what most people didn't know is that Honda modeled himself and his success after Napoleon Bonaparte. Honda said, "Like Napoleon, I'm short, came from a poor family, and was born on an island and managed to conquer a continent."
It's Modelling Success In A Nutshell.
This is one of the fastest way possible to achieving success online: you simply need to find and recognize a successful Internet Marketer and model after him or her.
By this, I do not mean that you should copy his or her product literally but you can very well duplicate his or her money making method for your own in perhaps a niche of your choice (to conquer!).
It's not only a no-brainer. You don't have to commit as many mistakes as the Internet Marketer you model after since what he or she is doing is already proven to work.
Now, finding a successful marketer to model after can also prove to be quite a challenge. Sometimes, watching someone doing something isn't enough. You would understand better if you know what the marketer is thinking and planning as well. And perhaps, you will do even well to model after a marketer who once started like you.
But what if you have the opportunity to:
Discover 11 completely different making money methods online, each varying from another?
Model after 11 powerful Asian Tigers successful and making money in their own rights?
Copy for your own, mix and match the plans, and use it in your favor?
Introducing:
The Star-Studded Line Of South-East Asia Rising Internet Marketers!
Uncover The Secret Interviews With Asian Tigers Who Have Successful Rake In Internet Profits Even Their Small Currencies CAN'T Afford To Serve As An Investment Excuse!
Firstly, introducing the 11 South-East Asian Marketers:
Dechen Lau
Bob Bastian
Edmund Loh
Joe Tiew
The Lazy Pig
Joseph Then
Nelson Tan
Justin Koh
Siah
Melvin Ng
Keith Choy
And In This Exclusive Series Of "Behind The Scene" Interviews With Each And Every South-East Asian Internet Marketer, Discover:
Powerful tips on taking full-fledged control over your Internet Business and ultimately result in raking in passive income for profits!
All the newbie's questions answered! How to start your Internet Marketing business, promote it and then pocket the profits!
How you can accelerate your learning curve by modelling your success after any one or more South-East Asian marketers of your choice!
How to make money online following any one or more of the 11 completely different plans, proven to work, followed and practiced by the South-East Asian marketers!
How you can save the rest of your limbs from making blunders, goof-ups and terrible mistakes that has cost some of these marketers a fortune - simply by learning from THEIR mistakes!
How to profit from your Internet Business using affiliates by Joseph Then!
The leverage of eZine advertising and how YOU can use it in your favor as it had for Joe Tiew's business!
Why build your mailing list and how you can easily follow the 4-step plan to building massive targeted opt-in list the way Edmund Loh tells it!
The birth of a new possibility in Niche Marketing and Dechen Lau tells you from true experience in 5 star tips, and how YOU can milk in from profitable niches!
How to craft your own lucrative Joint Ventures and leverage on Pay-Per-Click (PPC) for your business and earn massive income like Keith Choy!
The success secrets of re-known Adsense engineered monster "The Lazy Pig"!
Masters of the Internet Mastery Center, Justin Koh and Nelson Tan, as they get together in this exclusive Interview in revealing their individual strategies on making money online from Adsense and Niche Marketing - you just copy!
How to cash in on Information Marketing and Melvin Ng tells you his way!
How to win the war of the professionals like Siah in the graphics line!
And much, much more!
Foreword
By Joseph Then
Dear Valued Reader,
Hi and thank you for investing in this book. What is staring at you right now is a series of exclusive interviews with some of South East Asia's finest marketers.
Here's a quick introduction about me before we get into the juicy point of this powerful material: my name is Joseph Then from sunny-side Singapore and I have been marketing on the Internet for the last 5 years.
I work as a party entertainer and developed my business on the Internet. I still enjoy doing them, but I cannot say the same back in the Year 2000 when I quit my daytime job.
Telling you that my first year of Internet Marketing was hell is probably an understatement - the loss of "today's money," fear of failing and not being able to pay my bills on time were real.
I made a grand total of ZERO income in my first year from Internet Marketing - what an achievement. I didn't count on sapping out my credit card. In almost every night that year, I looked at my wife and my 6-month old son, and I wondered if I was right to quit my job to be self-employed, especially since my savings were depleted and I had yet to make any solid income online.
I will never forget those miserable days, and the nights were worse. ??
Yet, I didn't give up. In my second year, I achieved my first success when I purchased a Web site on eBay.com with my last USD$2,000.00, which I had accumulated by luck (beg, borrow or steal, you name it!). That Web site brought me a steady income of USD$1,000.00 to USD$2,000.00 every month.
Finally, I was making money online! Then, the rest was history.
I continued to venture into various online businesses. Yes, I lost some money to unworkable businesses, earned a little from some, but the few hits on the bull's eye brought back profits that made up more than the amount of money I lost in other investments.
Today, I have several profit-pulling Web sites that are making me money and even my wife has joined in to work with me - minus the skepticism she had 5 years ago. ?
Just last November, I had the chance to meet Edmund Loh in person at the Tampines MRT station. He's Malaysian but since he was staying only in Johor Bahru (which is 20
minutes from my place), we didn't pass up the chance to meet in person. It is not everyday that I meet Internet Marketers.
Edmund has proven to be a great Internet Marketing partner in success, before and after the meeting. We struck some joint ventures as well as helped each other out building our online businesses.
While working on my online businesses, I have also come to learn that several other Asians share the same desire to make a living online. I know what it's like to live for a long period of time without money and the risks are there, whether we like to regard it or not.
With that in mind, I thought, "Since there are definitely other Internet Marketers in South East Asia who are making money (quietly), and even more who want to learn from them, why don't we bridge the gap by gathering a group of 'hidden' South East Asian marketers in one ultimate compilation of success interviews?" I conveyed my genuine desire to help these beginning South East Asian marketers to Edmund.
We quickly agreed and got to work on it almost immediately. Together, we successfully gathered a number of Internet Marketers and this eBook is the result: a series of success interviews, up close and personal, with some of Asia's finest!
You will come to learn that each interviewee's experience is diverse in one way or another, but everyone has definitely come to an agreement: Internet Marketing didn't start out on a smooth journey for every individual on this planet.
It won't come easy, but with this eBook, it is our sincere wish that you can gain quick insight into what it's like to start an Internet business and what horrible mistakes you can avoid (and perhaps save tens of thousands of dollars).
You will also discover that in spite of the currencies in most South East Asian countries are smaller than that of the US Dollar, one shouldn't flinch over online expenses but rather the rewards it can bring.
And last but not least, this eBook will never be complete without each South East Asian Marketer revealing their unique methods of making money online. You get to pick, choose and mix who you want to model after!
So, take a cup of coffee, read this eBook, learn from our mistakes and model our success. I'm sure that you will see success much sooner than expected!
Thank you, enjoy this ebook!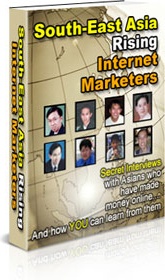 Add to Cart
Add to Wish List
P.S. Please don't let this amazing opportunity pass you by. Get your copy of South-East Asia Rising Internet Marketers now and learn 11 totally-different-but-proven blueprints to Internet Marketing success... Asian or not!
P.S. Please don't let this amazing opportunity pass you by. Get your copy of South-East Asia Rising Internet Marketers now and learn 11 totally-different-but-proven blueprints to Internet Marketing success... Asian or not!
Site owner:
Put the rating form on your site!
Listing wrong or need to be updated?
Modify it.
E-Marketing Package!
338 E-Marketing ebooks Click here to see the full list of these ebooks
(total value $3366.90)
Buy Now
just for $49.95
$3316
off
Silver Package!
Any 100 ebooks from 2000+ titles Click here to see the full list of these ebooks
Buy Now
just for $29.95
Gold Package!
Get full access to 2000+ ebooks Click here to see the full list of these ebooks
Buy Now
just for $49.95
Mistake found?
Select spelling error with your mouse and press Esc