Silent Signals Ebook
Category:
Psychology
,
Relationships
Title:
Silent Signals
Author:
Ward Oxley
Description:
Body Language for the 21st Century
Okay. You're just seconds away from your interview for the job of a lifetime! You've covered all the bases. You're dress in your very best power suit. Every hair is in place. Your perfectly manicured hands are folded serenely in your lap. You're totally prepared. . .or are you?

What if you could have a look inside the mind of your interviewer? What if you knew what he or she is thinking? What if you could anticipate their overall perception and respond appropriately?

Have you ever given any thought to just how many times a day you are required to negotiate? Every single time we interact with another person it includes a negotiation. Most of the time we glide through our day dealing with numerous little situations where we lost the negotiation.

Can you just imagine how much simpler your life would be if you knew that you could control each and every one of those situations? Just think how pleasant life would be if you could avoid the negative ones.

Well, it IS possible. And no, you don't need to be a "mind" reader. But you DO need to be a "body" reader. Say what? Yes, you read it right the first time.

Learn to be a body reader and you can take control of every aspect of your life. Even better, learn how to adjust your own body language to take the best advantage in any situation.

It's easy - if you know how. That's where we come in. Learn how to recognize the messages being sent to you by every person you come into contact with. Also learn how to project those messages as well.

It's all available in "Silent Signals - Body Language for the 21st Century." It covers it all. Take a look:
First Impressions - How to read one and make a good one.
Visible Signs - Learn how to read each movement of the arms, legs, hands and how the head is held.
In the Workplace - Discover how to stand out.
Risk Free Guarantee

Can we guarantee you a perfect life by reading "Silent Signals - Body Language for the 21st Century." Well, of course not!

But, we have removed all the risk of learning about how to use body language to your advantage.. We will guarantee that "Silent Signals - Body Language for the 21st Century" will give you the skills necessary to put reading body language to work in your life.

Look, we could go on and on about the information you will find inside this terrific guide. The best thing for you to do is get your copy right now.

Order your copy right now and get the answers to all of your questions today! You'll be glad you did.

Remember, we guarantee it!
About The Author
Ward Oxley left school in his early teens to earn money and help his family.
He says that it was not easy but he learned a lot. He also earned quite a bit because he always worked hard as he moved from job to job and around various States.
He first encountered "silent signals" when he worked with a magician who used body language and other techniques, long before they became well-known to the general public.
Ward got a "real" job and settled down a couple of years later.
He said the lessons he learned from his friend have help ed him immensely throughout his life.
He hopes that his book will help you as much. You can read and learn from it in comfort, but you will not get full value until you start using your new knowledge in the real world.
Table of Contents
Why You Need to Know the Silent Signals
Visible Signals
Personal Space
Status Signals
The Body
Hands
Arms
Legs
Eyes
The Head
The Voice
Scratching
The Breath
Stress Signals
Excellent Exercise for Everyone
Meeting People
First Impressions
Fitting into Groups
Leave Them Smiling
Men's Moves and Women's Wiles
Family Matters
Children
Reducing Friction
Bad Influence
Children's Body Language
Lies
Signals in Your Workplace
Making your Mark at Meetings
Reducing Interruptions
Power up Your Presentations
Visual Aids
Be Comfortable
Making Your Points
What can go Wrong?
Get the Whole Picture
Different Languages
Don't Look for Complex Motives
Don't Start with a Negative
Don't Expect to be Right Every Time
How to Practise

Workshops
Using Audio and Video
Improving Your Own Signals
Eye contact
Is this Cheating?
Keep Your Verbal and Silent Signals in Synch
Don't Score Points, Build Relationships
Personal Space
Making a Deal

Animal Body Language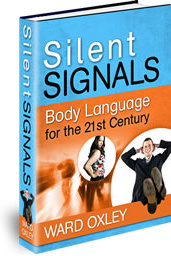 Add to Cart
Add to Wish List
P.S. What have you got to lose? We take all the risk so you don't have to. Get your copy now!
P.S. What have you got to lose? We take all the risk so you don't have to. Get your copy now!
Price: $

17.00
Ebook Type:
PDF
Rating:
Site owner:
Put the rating form on your site!
Listing wrong or need to be updated?
Modify it.
Mistake found?
Select spelling error with your mouse and press Esc