Setting Up Your Site for Automatic Sales Ebook
Setting Up Your Site for Automatic Sales
Category:
E-Business
Title:
Setting Up Your Site for Automatic Sales
Author:
Teresa King
Description:
Internet Money Revealed - Volume 4
In Volume Four, Teresa shows you what you need to do
to get your product online, to accept credit cards, and be ready for your orders and the necessary sales page to make that happen.
Introduction
This is not a free book. It is part of a five-volume set written by Teresa King to teach you what you need to know about creating a winning product.
Writing this book is going to a challenge for both you and I. Because the marketing book is the last volume to work on, I will have to refer to things that are not introduced to you yet as to why we have to do certain things. I will make a note such as: You'll learn why in the next book.
You'll have to trust that I am not going to lead you astray. Nor will I attack your wallet if I don't have to.
Any money you spend above the absolute necessities to get your site online will be up to you. I started with nothing. It was a tougher road than if I had money. However, there are reasons why I am most grateful that I did start out that way.
One of them is that it forced me to learn way more skills than the average person on the Internet. Those skills made me money. I used them to make money by doing things for others for a price that someone else was willing to pay.
In fact, skills you learn can bring you an easy $100.00 per hour for doing small tasks for other people. So, if money is your problem, do not despair. It might take you a little longer, but you must stay focused on your goal with the tenacity of a ferocious animal on his first meal in three days.
Contents
Introduction
Planning for a Direct Response Sales Page
Your Graphics
Sales Copy
Choosing a Web host and Credit Card Processor
Your Sales Page
Setting up an Affiliate Program.
"Bond With Your Reader!"
Okay, back on track!
What is a decent rate, you may ask?
Your Thank You Page
RELATIONSHIP
Getting set up for a List
Suggested Format for Your List
Getting it all Together and Ready to Go!
Work sheet for Ideas for Writing Copy and Headlines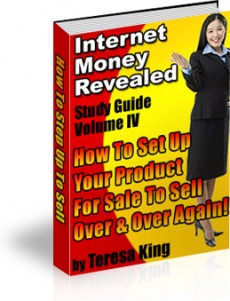 Site owner:
Put the rating form on your site!
Listing wrong or need to be updated?
Modify it.
Mistake found?
Select spelling error with your mouse and press Esc