Selling Made Easy Ebook
Category:
Business
Title:
Selling Made Easy
Author:
Vlad Slavnic
Description:
How To Sell Anything!
Discover how to master the art of professional sales once and for all!
Have you ever wondered why it is that a good salesperson seems to breeze right through and close sales right and left? Well, here's your opportunity to find out how they do it!
Selling Made Easy is a step-by-step manual that unlocks the inside secrets, tips and techniques you need to become a sales pro.
Quickly discover the secrets to start or polish your sales skills by completing the interactive practical exercises contained in each information packed chapter.
Find out what makes a successful salesperson, learn the components of a successful sales process and discover how emotions play a role in the process.
This guide covers it all, and makes it easy for you to discover how successful salespeople are not born, but created.
With Selling Made Easy, you will quickly discover:
How to define the sales process
How to create your own unique sales identity
How to apply the process
How to close a sale
How to overcome objections
How to follow up effectively
How to determine buying signals
How to recognize a buyer
How to sell yourself
Selling Made Easy covers all this and much, much more. You'll even find a daily action plan and 50 sales generating tips. If you are even thinking about a professional sales career, you need Selling Made Easy.
Don't delay. . .discover how to skyrocket your sales and become a sales pro!
CONTENTS
LEGAL STATEMENT
AUTHOR'S NOTE
THREE TENORS OF SALES
SECTION 1: THE SALES PROFESSIONAL PERSONA
WHAT MAKES A SUCCESSFUL SALES PERSON
ATTRIBUTES/QUALITIES OF A SALES PERSON
CREATING YOUR UNIQUE IDENTITY
SECTION 2: THE SELLING PROCESS
COMPLETE SYNOPSIS OF THE SALES PROCESS
WHAT IS SELLING?
CREATING RAPPORT
HANDLING/OVERCOMING OBJECTIONS
ESTABLISH PROSPECTS' NEEDS (QUALIFYING PROSPECTS)
CLOSING THE SALE
EFFECTIVE FOLLOW UP
SECTION 3: THE ROLE OF EMOTIONS
HOW TO APPLY THE SALES PROCESS
WHY PEOPLE BUY
CONSTRUCTING A SALES PRESENTATION
SECTION 4: RECOGNIZING A BUYER
IDENTIFYING BUYER SIGNALS
VARIOUS BUYER TYPES
INFLUENCE OF PERSONALITY TYPES
SECTION 5: FUNCTION OF SELLING IN THE ECONOMY
8 STEPS TO YOUR SELLING SUCCESS
NOTHING HAPPENS UNTIL A SALE IS MADE
SECTION 6: HOW TO BE STREET SAVVY
HOW TO SELL TO VISUALS
HOW TO SEE WHAT YOUR CLIENTS EYES SAY
HOW TO SELL TO AUDITORIES
THE "COMMANDMENTS" OF STREET SMARTS
HOW TO SELL TO KINESTHETICS
THE ART OF SELLING YOURSELF
PART 1: HOW TO GET THE SALES POSITION YOU WANT
PLAN YOUR ATTACK ON GETTING A TOP SALES POSITION
WHAT ARE EMPLOYERS LOOKING FOR?
KEEPING RECORDS
PART 2: RESUMÉ STRUCTURE FOR SALES POSITIONS
ACTION PLAN FOR SUCCESS !!
50 SALES GENERATING TIPS
BIBLIOGRAPHY AND RECOMMENDED READING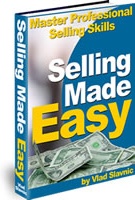 Add to Cart
Add to Wish List
P.S. Remember, there's only one thing standing in your way of becoming a successful salesperson; you must take action. Get your copy of Selling Made Easy today!
P.S. Remember, there's only one thing standing in your way of becoming a successful salesperson; you must take action. Get your copy of Selling Made Easy today!
Site owner:
Put the rating form on your site!
Listing wrong or need to be updated?
Modify it.
Mistake found?
Select spelling error with your mouse and press Esc