Selling Books on Amazon Ebook
Category:
E-Marketing
Title:
Selling Books on Amazon
Author:
Larry Scott
Description:
How YOU Can Set Up and Launch Your Very Own Business On Amazon That Earns You Cash on Demand 24 Hours A Day, 7 Days A Week!
Have you had enough workplace stress yet? Are you sick and tired of the rat race and ready to call the boss and tell him you are too well to come to work? How about a business that's so simple, you can operate it in just a few hours a week?
You just found it!
Today, you are going to discover how to set up and operate one of the most lucrative businesses imaginable. Larry Scott is going to take you by the hand and step by eye-opening step, teach you how to create your very own proven, cash generating business using the Amazon model.
It's never been easier to get started in business, but does it work? You bet it does! And you're about ready to discover how to do it from an expert!
When you order your copy of the Insiders Manual, you will:
Discover the different types of online ebook selling
Discover how to get started
Why and how to choose an online store
How to buy the ebooks
What hardware and software to use and where to find it
What ebooks to buy
How to sell them
What kind of ebooks to sell
How to handle your shipping
How to store them and track your inventory
How to find them
How much you should pay for them
How the Amazon sales process works
How much should you sell them for
When, why and how to sell on auction
Part time or full time, you'd be hard pressed to find a better model to follow for a home based business. By the time you finish these 76 jam packed pages, you'll be chomping at the bit to get started.
If you are sick and tired of being sick and tired, here's your chance to break the pattern and leap way ahead of the pack. People around the world are wearing their pajamas while working from the comfort of their own home. You could be next... Today... NOW! And it's easier than you think.
Table of Contents
Chapter 1 Introduction
1.01 Why sell ebooks?
1.02 Minimum Start-Up Investment
1.03 On-line Store vs. Auctions
1.04 Who Are The Competition?
(1) Full Time Booksellers
(2) Part Time Booksellers
(3) Ebook Selling Groups
(4) People Unloading Their Ebooks
Chapter 2 How Do I Start?
2.01 Types Of Online Bookselling
2.02 Background For My choices
2.03 Choosing My Store
(1) Amazon.com
(2) Half.com
(3) eBay
2.04 Operational Hardware & Software
(1) Computer and Monitor
(2) Printer For Shipping Labels and Postage
(3) Bookkeeping Software
(4) Ebook Database Software
(5) Contact Management Software
(6) Internet Connection
(7) HTML Editor
Chapter 3 Set Up Your Accounts
3.01 Amazon.com
3.02 Half.com and eBay.com
3.03 PayPal
3.04 Endicia
3.05 SellerEngine.com
3.06 YourBookstore.com
Chapter 4 The Ebooks
4.01 What Kind Of Ebooks Should I Sell?
4.02 How Much Should I Pay For Them?
4.03 Where Do I Store Them?
4.04 Where Do I Buy Brand New Ebooks?
(1) New Bookstores
(2) Publishers
(3) Auctions
4.05 Where Do I Buy Good, Used Ebooks?
(1) Auctions.
(2) Estate Sales
(3) Libraries
(4) Rummage Sales
(5) Thrift Stores
(6) Churches
(7) Run An Ad
(8) Used Bookstores
(9) Ebook Scouts
(10) Consignments
Chapter 5 Inventory
5.01 Accounting
5.02 Inspecting Ebooks
5.03 Cleaning
5.04 Uploading
(1) SKU
(2) ISBN
(3) Condition & Description
(4) Pricing
5.05 Weekly Price Check
(1) Penny Sellers
(2) Weekend Warriors
(3) Wait For Lowest Priced To Sell If Too Low
(4) Get Ebook To First Page Of Listings
Chapter 6 The Amazon Sale
6.01 Receive An Order
(1) You Have an Amazon Marketplace Buyer
(2) Your Amazon.com Sale Remains Pending
(3) Sold -- ship now! SKU-000441-6.7 Black Beauty
(4) The sale of your item has ended.
6.02 Get The Ebook
6.03 Inspect The Ebook
6.04 Package The Ebook
(1) Wrap Ebook
(2) Create Packing Slip
(3) Ebook Mailer
(4) Put Wrapped Ebook In Mailer
(5) Expedited Mail
(6) International Mail
6.05 Postage And Labels
(1) Put Buyer Information In Contact Manager
(2) Run Postage Program
(3) Delivery Confirmation
(4) International Mail
(5) Final Cleanup
Chapter 7 Supply Ordering
Chapter 8 eBay Auctions
8.01 Creating An Auction
(1) Use Good Pictures
(2) Proper Title
(3) Describe properly
(4) Start Auction Time
(5) Use HTML software
(6) Use bid tracking software
(7) Bold, Highlight, Etc
8.02 Check Your Ebook's Value
8.03 Types Of Auctions
(1) Fixed Price
(2) Standard Auction
(3) Reserve Auction
8.04 When Should I Start My Auction?
Chapter 9 Final Thoughts
9.01 Half.com
9.02 Diversify
9.03 Add-On Advertising
9.04 Bookseller Community
9.05 Vacations and Moving
9.06 Don't Get Discouraged
9.07 Good Luck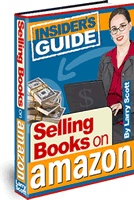 Add to Cart
Add to Wish List
P.S.
Please don't hesitate. Whether you would like to make a few hundred dollars extra each month, or are looking for a full-time business to take you away from the stress, you owe it to yourself to take a good look at this business model. Do it now!
P.S.
Please don't hesitate. Whether you would like to make a few hundred dollars extra each month, or are looking for a full-time business to take you away from the stress, you owe it to yourself to take a good look at this business model. Do it now!
Site owner:
Put the rating form on your site!
Listing wrong or need to be updated?
Modify it.
Mistake found?
Select spelling error with your mouse and press Esc