Secrets of Skateboarding Ebook
Category:
Sports
Title:
Secrets of Skateboarding
Description:
"Underground Skater Reveals his Secrets to Learning Almost Every Single Skateboarding Trick- In 8 Weeks or Less"
Now you can legally steal his undisclosed master guide and quickly unlock every single trick that once seemed difficult- even if you have never stepped on a skateboard before!
Here Is a Tiny Fraction of What You'll Discover...
Where to keep your balance and how to avoid falling out of the rough Smith Grind
The secret to coordinating the spin and flip perfectly for the Varial Flip so it flips smoother and higher
The importance of foot positioning for the flawless Frontside Flip and how a simple adjustment can help you unlock them in a brief amount of time
The most important step in landing Heelflips... this is something that 99% of beginners mess up
A sure-fire and safe way to learn the Board Slide safetly
The single most important key to landing clean 360 Flips... once you realize this and put it into practice, 360 Flips will be a piece of cake
The secret to landing the king of all flatland tricks, the Hardflip... discover how to flip and spin your board smoothly and how to practice these safely
A simple, yet extremely effective practice technique for "sticking" and balancing your Nose Grinds and Tail Slides
How to remain completely balanced during the nasty Nose Grind
Exactly how and where your weight and balance should shift so you can pull off clean, soaring 180 Ollies
The quickest and easiest way to practice and learn the 50-50 Grind
The quickest way to learn the Ollie, the foundation of all skateboarding tricks
How to give the "just right" amount of flick to land perfect Backside Flips
The key to having Pop Shove-its stay under you and landing them with consistency
How to pop insanely high Ollies... learn to take Ollies to next level and land those huge stair sets and gaps
How to tackle the Killer Kickflip... most beginners get stuck on the Kickflip, but I will show you how to avoid the mistakes that almost everyone makes and the key to unlocking it quickly
Some of the Secrets You'll Uncover Include...

A breakthrough instructional system that's clear to understand and guarantees results
A little known technique to keep your mind constantly working on learning tricks while you do your daily activities
Exposed... What pre-practicing is and how it will allow you to get the most out of skate sessions
The power of visualization and how to use it to perfect your tricks
How to defeat frustration and remove the blocks that are preventing you from improving at the rate you should!
A simple trick learning progression to ensure you are learning as efficiently as possible
Common problems and mistakes for almost every possible scenario and how to correct them
The 5 most common mistakes that drastically hurt the learning process and how to absolutely make sure you avoid them
The reason everyone doesn't learn tricks as fast as they could and how to overcome it
Revealed...a couple of simple adjustments that you can make to get your tricks higher
Revealed... An effective technique to improve at skateboarding without actually skating
How to stay motivated and pumped up throughout the whole process so you stay focused and see results quickly
Uncovered... A simple and crazy effective technique that will allow you land a trick close to 100% of the time
An explosive practice routine that guarantee results in the shortest amount of time
Powerful goal setting techniques to get you to where you want as quick as possible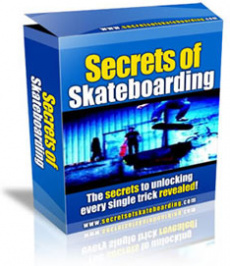 Rating:
Site owner:
Put the rating form on your site!
Listing wrong or need to be updated?
Modify it.
Mistake found?
Select spelling error with your mouse and press Esc