Scrapbooking Life's Great Moments Ebook
Scrapbooking Life's Great Moments
Category:
Crafts
,
Family
Title:
Scrapbooking Life's Great Moments
Author:
Ryan Sawyer, Jan Sawyer
Description:
Capture Your Favorite Memories
Learn How To Capture Life's Great Moments In Scrapbooks That Are Works of Art
Dear Future Artist,
Have you caught the bug yet? The scrapbooking bug, that is. It's literally sweeping the country and if you've wondered if it's something you would like to learn you're definitely in the right place.
The only decision you need to make is how to get started. There are scrapbooking classes held in many communities around the country. The challenge with enrolling in a class is scheduling. Most of us have little free time and frankly don't want to spend it away from home.
That's where "Scrapbooking - Life's Great Moments" comes in. You won't find a more comprehensive guide to creating beautiful works of art. Learn how to create timeless treasures that your friends and family will cherish for years, even generations to come.
"Scrapbooking - Life's Great Moments" reveals insider secrets and tips to spare yourself hours of frustration and costly mistakes.
Just take a look:
Getting started - how to take that first step
Learn the characteristics of a simple scrapbook
Planning the design
How to write the best text for your pages
Selecting just the right photographs
Planning your layout
Decorations
If you are just beginning there are important tips to keep in mind. For instance:
Assembling and organizing your photos
How to scrapbook economically
Artistic layout
How to crop and mat your pictures
All about labeling
What supplies and accessories you need to begin
Scrapbooks aren't just about photos anymore. Experimenting with different textures and color as well as three dimensional resources is fun and creative.
Learning how to include these elements is must have information and will set your scrapbooks a notch above the normal. "Scrapbooking - Life's Great Moments" takes that extra step by including the how-to of creating themed scrapbooks.
"Scrapbooking - Life's Great Moments" includes common scrapbook layouts for holidays, home, sports and other themes. Plus, one resource you just won't find anywhere else are scrapbooking verses, quotes and sayings for occasions such as:
Birthdays
Babies
Christmas
Halloween
Fourth of July
Romance
Mother's Day
and many more
"Scrapbooking - Life's Great Moments" is the ultimate resource for anyone who wants to learn about scrapbooking as well as those whose scrapbooking efforts are running a little "stale."
Listen, you've got every reason to give "Scrapbooking - Life's Great Moments" a fair trial 100% risk free to you. If it doesn't give you everything we've discussed you have our iron-clad money back guarantee for up to 60 days.
No excuses. Grab your copy now and be ready to build your first scrapbook in just long enough to browse the 100 scrapbooking ideas. In just a few short hours you can begin "Scrapbooking - Life's Great Moments" - you'll be glad you did!
About The Author
Ryan and Jan Sawyer
Ryan and Jan live in Maple Valley, Washington with their two energetic sons. Jan loves scrapping. Ryan and Jan Sawyer put together a how to scrapbook downloadable ebook so that people like you can learn how it is done and get ideas to improve your scrapbooks, or to simply learn how to do them.
Ryan and Jan own Wrapcandy.com, a Christian based site and have 1,000s of members who not only love wrapping candies, but many of them enjoy scrapbooking too. It's amazing how their members come up with ideas, and the tremendous creativity they have.
The beauty of doing creative works with scrapbooking is with a little help you soon will be creating beautiful creations. Your scrapbooks will look like a professional did them for you.
Scrapbooking is relaxing. You will enjoy taking experiences from your life, or your grandchildren's life, or your own children's life and turn them into a wonderful scrapbook.
Ryan and his brother's wife, Ava also own the You Scrap Software

Ryan Sawyer is also the author of "Stress the Silent Killer."
Table of Contents
1. Scrapbooking - Hobby, Passion, and Fun
Maintaining Scrapbooks
Reliving Your Past
2. What is Scrapbooking?
The Present Scenario
History of Scrapbooking
3. Characteristics of a Simple Scrapbook
4. How to Start Scrapbooking
Selection of Photographs
Getting Started
Planning Your Design
Matting Photographs
Selection of Stationery
Verbal Expressions
Decorations and Beautifications
Planning the Layout
Wrapping up
5. Important Notes for Scrapbook Beginners
6. How to Scrapbook Economically
7. How to Assemble and Organize Your Photos
8. How to Place, Label, Crop and Mat Your Pictures
Labeling Your Photographs
Placing Photographs and Pictures
Cropping Photos
Matting Photos
9. Supplies and Accessories to Get You Started
10. Scrapbook Cutting, Cropping Tools and Templates
11. Choosing an Album
12. Packing Your Scrapbook Supplies for a Get Away
13. Embellishing Your Scrapbook Pages
14. Planning Your Scrapbook Layouts
Materials Required
How to Plan Scrapbooking Layouts
Procedure
15. Creating Layouts for Your Scrapbook
Getting Scrapbooking Ideas
Where to Start
16. Some Examples of Scrapbook Layouts
Christmas
Common scrapbook layouts include:
Homes
Heritage
Summer
Sports
Sleeping
17. Explore Your Perfect Scrapbook Style
Common Styles of Scrapbooking:
18. How to Make Lumpy Scrapbook Pages
How to Care for Scrapbooks with Lumpy Pages
19. Why and How to Journal in a Scrapbook
How to Journal Your Scrapbook
20. Ideas to Improve Your Scrapbook Journaling
21. Handwritten vs. Computer Journaling
Computer Journaling
Handwritten Journaling
22. Making Time for Your Scrapbooking
23. Preserving Your Scrapbook
24. Choosing a Scrapbook Theme
25. Wedding Scrapbook Album
26. Scrapbooking Your Family History
27. Make a Family Recipe Scrapbook
28. Baby Scrapbooking Thoughts
29. Recollecting Your Love Notes
30. Christmas Memories
31. Halloween Scrapbooking Fun
32. A Father's Day Gift
33. Happy Graduation
34. Summer Vacation
35. The World of Digital Scrapbooking
36. Scrapbooking Verses, Quotes and Sayings for Various Occasions
Babies
Good Friends
Birthdays
Fourth of July
Christmas
Heritage
Scrapbooking
Halloween
New Year's Day
Thanksgiving
Love/Romance
Graduation
More Ideas
Mother's Day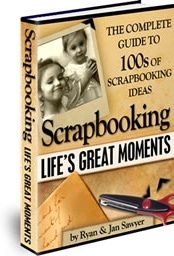 Site owner:
Put the rating form on your site!
Listing wrong or need to be updated?
Modify it.
Mistake found?
Select spelling error with your mouse and press Esc