Say A Few Words Ebook
Category:
Relationships
Title:
Say A Few Words
Author:
John Williams
Description:
The Speaking Guide for EVERYONE
Hear Ye!
Hear Ye!
Some day each of us will be called upon to stand up and Say A Few Words. Maybe it's already happened to you.
Unless you were fortunate enough to be born with the natural talent of an orator, your first experience in public speaking probably sent chills of sheer, unadulterated terror throughout your entire body.
Isn't it amazing how even the most prolific "gabber," who can carry on a one-side conversation for hours on end, can turn into a mumbling, bumbling bowl of jelly when called upon to speak up in front of a crowd?
Well, it really needn't be that way. Now, we aren't promising that you will become as skilled as the captain of your school debate team, but follow the simple rules outlined in Say A Few Words and you will be amazed at what talent lies behind those rusty vocal chords.
John lays it all out for you. You get the benefit of the tips and shortcuts that he learned as a magician and workshop presenter. In his words, he makes the process as goof-proof as humanly possible.
You will discover how to answer a casual inquiry and the ebook will also help you when you do a formal speech, promotional address for your business or even an appeal for funds.
How to get them listening and responding.
Discover how to see the dynamics of your audience
Learn the magic of incorporating a story into your presentation.
Why you should never give a thank you or apology
What to do about hecklers.
How about butterflies as big as buffaloes?
Whatever level of expertise and polish you may be striving for, you will find that Say A Few Words definitely delivers.
Whether it's a brief call to action at a PTA meeting, presenting an award to a co-worker or giving a full scale business presentation, you will be prepared with this ebook in your arsenal. Grab your copy now!
CONTENTS
About The Author
Dedication
Introduction
Impromptu and Prepared Speaking
The Reason
Get Action
What's In It For Them?
Get Them Listening and Acting
Local Meetings
Media
Opportunity for Publicity
The Basics
Be a good audience.
Breaking the "rule
Smash the mirror
Discover by Doing ... Something Else!
Add to Your People Skills.
Role Models
Copycats don't have nine lives
Record only Yourself
Your voice may shock you!
Stretching;
Video is even Better.
Your Audience
Volunteers
Questions
No thankyou or apology.
Hecklers!
Start Talking
Butterflies as Big as Buffaloes
Rehearse your ad-libs.
Start With a Story
Manager of First Impressions
Humor
Equipment
Microphones
Lights
White Boards
Slides
Paperwork That Works for You.
Hand-outs
Feedback
Get Their Real Opinion
Get Paid For Free Talks
Your Products
Questions?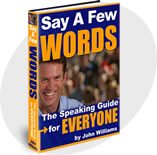 Add to Cart
Add to Wish List
P.S.
Sure as shootin', the minute you pass up this great offer, you will be called upon to speak in public. It's Murphy's Law! Don't take that chance. Order your copy now!
P.S.
Sure as shootin', the minute you pass up this great offer, you will be called upon to speak in public. It's Murphy's Law! Don't take that chance. Order your copy now!
Site owner:
Put the rating form on your site!
Listing wrong or need to be updated?
Modify it.
Mistake found?
Select spelling error with your mouse and press Esc