Save Your Photos... ...and Your Sanity Ebook
Save Your Photos... ...and Your Sanity
Category:
Action
,
Home
,
Manuals
Title:
Save Your Photos... ...and Your Sanity
Author:
Christine Sutton and Tracey DuBois
Description:
"How to organize and protect your entire photo collection in as little as 10 days...
. . . .without losing your mind."
With Save Your Photos and Your Sanity™ you'll be able to:
Learn why your procrastination--and even your attempts at organizing--may be destroying your precious photographs!
It goes without saying that your inaction may be destroying your precious photographs, but would you believe that your attempts at organizing might actually be accelerating the deterioration of your photographs?
Here are some typical organizing steps that may actually do more harm that good:
Using self-stick notes on top of photographs to keep track of memories.
Storing photographs in their original photo-developing envelopes. Talk about unfairness! Who would ever imagine that your photos would not be safe in the very envelopes they come in? I know this is hard to believe, so if you'd like to see this for yourself, click here for an example of the damage caused simply by storing photos in a standard film developing envelope.
Using plastic baggies, or standard index cards to separate photographs.
Using a ball-point pen to write dates and information on the back of your photograph.
Storing photos in manila envelopes or unsafe photo boxes.
You'll never have to worry about this happening to you, once you understand:
How to organize your entire photo collection in as little as 10 days, even if you've got years and years' worth of photos and have absolutely no idea where to begin!
The obvious but commonly overlooked secret to drastically reducing the time you need to spend managing your photos. At the very least, this one secret will cut your work time in half!
How to uncover your unique "organizing profile" and discover which organizing methods will be right for you.
The top 5 reasons why people put off organizing their photographs, and how to overcome them.
You'll know exactly what to do, and you'll be able to enjoy peace of mind knowing that your precious photographs will be safe, once you learn:
What acid, lignin and PVC are and why they absolutely create havoc with your precious photographs.
The 5 biggest mistakes that people make in handling their photographs. Are you making them?
The best places in your home for storing your photographs, and the 3 places you should absolutely avoid.
The meanings behind all of the lingo (ie. archival vs. acid-free) so that you can be sure that the materials you buy will truly protect your precious photographs. You'll know exactly which terms to trust and which to steer clear of.
How to recognize and avoid the photo albums that will DESTROY your precious photos.
Discover the ONLY safe method for writing on the back of your photographs. . .
How to handle your negatives - Do you even need to keep them, and if so, how should you organize them?
How to remove your photos from unsafe albums, without destroying them in the process!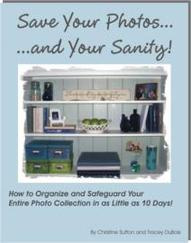 Rating:
Contraction Your Own Home
Author: Bill Edwards
Category: Business, Home, How To
Price: $17.95
101 Tips To Save Money At Home
Author: Dennis Lively, Gene Barry
Category: Business
Price: $4.95
The Homemade Medicine
Author: Charles Silverman
Category: Health
Price: $24.97
Save the Marriage
Author: Dr. Lee H. Baucom, Ph.D.
Category: Family, Relationships, Self Help
Price: $47.00
Designing on a Budget. Decorating Your Home Interior Cheap!
Category: Decorating, Home, How To
Price: $9.99
THE PAY ME PLAN Home Study Course
Category: Finance
Price: $49.95
Build A Container Home
Category: Home, Real Estate
Price: $47.00
Bulletproof Home Defense
Author: Steve Walker
Category: Home, Self Defense, Self Help
Price: $37.00
Site owner:
Put the rating form on your site!
Listing wrong or need to be updated?
Modify it.
Mistake found?
Select spelling error with your mouse and press Esc