Sandwiches Recipes Ebook
Category:
Cooking
,
Food
Title:
Sandwiches Recipes
Description:
"Sandwiches are great for an easy-going, laid back meal. If you are tired of the same old peanut butter and jelly sandwiches. then Delicious Sandwiches Recipes is the sandwich recipe eBook for you!"
"Over 300 Quick and Easy Sandwich Recipes That Sure To Satisfy Even The Hungriest Stomach!"
"Just whip up one of these Yummy Recipes whenever you need an easy meal."
Use Delicious Sandwich Recipes to make great sandwiches to share at your next picnic, backyard party or tailgate party. Never have a boring lunch again!
Contents
ALL-AMERICAN BARBECUE SANDWICHES
ABC Sandwich
All American Club Sandwich Acapulco Fishburgers
Alaska Salmon Sandwich Stuffer
Anytime Apple Muffinwiches
Alaska Salmon Salad Sandwich
Apple-Mustard Sliced Ham
Alan's Special Sandwich
Antipasto Sandwich Asian Turkey Burgers
Avocado Bacon Sandwiches
Avocado and Chicken Tortas
Avocado Chicken Melt
Avocado Monte Cristo
Avocado Chicken Salad Sandwich
Avocado Quesadillas
Bagel Face Sandwiches
Baby Bam Burgers
Bacon 'n Eggs Crescent Sandwich
Baked Beer Burgers
Bacon-Wrapped And Cheddar Stuffed Dogs
Baked Cheese Sandwiches
BAKED PIZZA SANDWICH
Baked Crabmeat Sandwich
Baltimore-Style Oysters Loaves
Barbecue Burgers
BANANA AND NUT SANDWICH
Barbecue Frankburgers
Barbecue Quesadillas
Barbecue Pork on Buns
Barbecued Brisket
Barbecued Pork Sandwiches
Barbecued Pork and Beef Sandwiches
Barbecued Slaw Burgers
Barbecued Turkey on Focaccia
Barbecue Sloppy Joes
Bay Area Classic Ham Sandwich
Bean 'n' Burger Pockets
BBQ Pork Sandwiches
Beef Burgers
Beef Sandwiches
Beef And Cabbage Joes
Beef Sandwiches with Onion Marmalade
Berry Turkey Bagel
BEEF STROGANOFF SANDWICH
Benedictine
Bistro Cheeseburgers
Bistro Beef Sandwich
Black Forest Beef Sandwiches
Bleu Cheeseburgers
Beef Burgers
BALONEY" CHEESE DOGS
Brats and Beer
Bourbon Franks
Brats 'n' Beer
Brie, Pear and Walnut Sandwiches
Brew Burgers
Cajun Chicken Sandwich
California Chicken Cobb Sandwich
Calico Sandwiches
California Club Sandwich
California Pork Sandwiches
California Club Ham Sandwich
Camel Hump
Carnitas
Candied Corned Beef Sandwiches
Carnival Corn Dogs
Caesar Sandwich
Carolina Pulled Pork Sandwich
Cheddar Apple Smoked Turkey Sandwich
Cheese Flautas
Cheddar Bacon Treat
Cheese Sandwiches
Cheesy Apple Ham Grill
Cheese Stacked Hero
Cheesy New York High Rise Club
Cheesteak Po'Boy
Cheesesteak Pockets
Cherry Chicken Salad Sandwich
Chicken Cordon Bleu Calzones
Chicken Salad Sandwiches with Smoked Almonds
Chicken Crescents
Chicago Hot Dogs
Chicken-Vegetable Salad Filling
Chicago-Style Italian Beef Sandwiches
Chicken Cordon Bleu Sandwiches
Chicken a la King
Chicken Pizza Burgers
Chicken Taco Pita Pockets
Chicken Salad Sandwich with Lemon-Herb Dressing
Classic Egg Salad Sandwiches
CHILI DOG ROLLS
Chutney-Turkey Salad on Focaccia
Chile Rellenos Sandwiches
Chili Dogs
Chili Burritos
CLUB BURRITO
Coca-Cola® Sloppy Joes
Cobb Salad Pitas
Coconut Hot Dogs
Continental Baguette
Colorful Pepper and Mango Quesadillas
Coney Island Dogs
Corned Beef & Slaw Sandwich
Coney Island Hot Dogs
Corn Dogs
Couzan Billy Burger
Corned Beef Sandwich Spread
Cowboy Joes
Crab Benedict
Cowpoke Sandwich
Crab Burgers
Crab Newburg
Crab Melt Sandwiches
Crab Tomato Sandwiches
Creamy Chicken And Braeburn Apple Sandwiches
Crabmeat Calzones
Creamed Chicken on Toast
Creamed Shrimp on Toast
Creamed Dried (Chipped) Beef Over Toast
Creamy Tuna on Bagels
Creole Jack Rabbit
Creole Bean Burger
Crescent Cordon Bleu
Crock Pot Barbecue Beef
Crescent Monte Cristo Loaf
Cuban Sandwich
Curried Shrimp Toast
Cucumber Sandwiches
DAGWOOD BUMSTEAD SANDWICH
Davy Crocketts
DAGWOOD ITALIANO
Denver Mile-High Taco Burger
Dilled Chicken Spread
Deviled Hamburgers
Dill-icious Turkey Sandwich
Dogs in Blankets
Dixie Bar-B-Que Sandwiches
Easy BBQ Beef Sandwiches
Eggless Egg Salad Sandwiches
Easy Crescent Dogs
Egg Salad
Elvis Presley's Fried Peanut Butter and Banana Sandwich
Egg Salad Spread Supreme
Fiesta Steak Sandwich
Firecracker Turkey Sandwich
Filled Frankfurters
Fluffernutter
French Dip Sandwich
Frank Blandi's Original Devonshire Sandwich
French Dip Sandwich with au Jus
French Onion Sandwiches
French Dip Sandwiches
Fried Oyster Po' Boy
Fried Green Tomato Sandwiches
Fried Catfish Sandwiches with Bacon, Lettuce and Tomato
Fried Peanut Butter and Jelly Sandwiches
Garden Fresh Calzones
Game Day Sub Sandwich
Garlic Bread with Philly Steak
German-Style Ham Sandwich
Garlic Meatball Po'Boys
Giant Meatball Sandwich
Grands Tuna Melts
Glop
Green Chile Egg Salad Sandwiches
Greek Quesadilla
Greek Chicken Pockets
Greek Salad Heroes
Green Chili Burger
Grilled Caramelized Onions Circle E Ranch Burgers
Grilled Cheese with Ham and Tomato
Grilled Crab Sandwich
Grilled Chicken Sandwich with Roasted Red Onion and Garlic Mayonnaise
Grilled Cuban Sandwich
Grilled Garlic Steak Sandwiches
Grilled Eggplant Burgers
Grilled Ham and Brie Sandwiches
Grilled Peanut Butter and Bananas
Grilled Hamburgers
Grilled Portobello Sandwich with Goat Cheese and Green Sauce
Grilled Rachel
Grilled Quesadillas
Grilled Reuben Chicken Melts
Grilled Vegetable Heros
Grilled Salmon Burgers
Grinder
Guacamole Burger
Guacamole BLT
Gyro-Style Pork Sandwich (George Foreman Grill)
Halloween Burgers for Kids
Gyros
Hamburger Salad Sandwiches
Ham and Cheese Party Loaf
Hanky Panky
Ham and Onion Sandwich Spread
HALF-TIME BEEF SANDWICHES
Ham Salad
Harley Hog Sandwich
Hawaiian Chicken Spread
Harvard Hot Cheese & Bologna Sandwich
Hawaiian Ham Spread
Herb Burgers
Hens in a Blanket
Hero-In-The-Round
Hoisin Garlic Burgers
High Roller Sandwiches
Hoagies
Hometown Ham & Turkey Focaccia
HOBO BUNS
Horseshoe Sandwich
Hot and Sweet Sausage Sandwiches with Grilled Peppers, Onions and Horseradish Mustard
Horseshoes
Hot Bandanas
Hot Sub Sandwiches
Hot Ham Sandwiches
Hotdogs Azteca®
Island Franks
Inside-Out Sandwiches
Italian Pork Sandwiches
Italian Grilled Cheese
Italian Beef
Italian Sausage and Peppers
Italian Submarine Sandwich
Italian Sausage Sandwiches
Jalapeno Grilled Chicken Sandwiches
Jumbo Party Sandwich
Josefinas (Toast with Chile Cheese)
Kentucky Hot Brown Sandwiches
KNISHES
Kicked Up Blue Cheese-stuffed Bacon Hamburgers
Kraut Burgers
Lasagna on a Bun
Lamb Patties
Lasagna Sandwiches
Little Italy Sausage Sandwiches
Lewis' Coney Island Hot Dogs
Louisiana Sandwich
Luncheon Loaf
Lox, Bagel and Cream Cheese Sandwich
Lobster Club Sandwich
Meatball Sandwiches
Maid-Rites
Meatball Subs
Mediterranean Grill
Meatless Reuben Sandwich
Mediterranean-Style Pork on Sourdough
New Orleans Muffuletta
New England Haven Ham Sandwich
Mexican Beef Sandwiches
Mexican Rarebit
Mexican BLT
Midwestern Delight Ham Sandwich
Milwaukee Hot Corned Beef
Mile High Shrimp Sandwiches
Mini Cheese Calzones
Mozzarella Basil Melt
Monte Cristo
Muffuletta Sandwiches
New York Deli Sandwich
Navajo Tacos
Nola Rib-Eye Sandwich
Onion Crunch Burgers
Old Time Sloppy Joes
Open Face Avocado Sandwiches
Open Face Pineapple Sandwich
Open-Face Cucumber Sandwiches
Open-Face Steak Sandwich with Mushroom Sauce
Open-Face Pizza Sandwiches
Open-Face Bacon-Mushroom Melt
Open-Faced Vegetable Sandwich
Original Coney Island Hot Dogs
Orange-Marinated Pork Sandwiches
Original Philadelphia Cheese Steak Sandwich
Oven "Pit" Barbecue
Original Ranch® Cheeseburgers
Oyster Loaf (La Mediatrice)
Palm Beach Sandwiches (a.k.a. Pimento Cheese Sandwiches)
Oyster Po'Boy Sandwiches
Pan Fried Grouper on a Bun
Peanut Butter, Apple, and Bacon Sandwiches
Pan Full of Burgers
Peanut Butter, Banana and Date Pita Sandwiches
Peppered Steak Sandwiches
Peanut Butter & Cheesy Apple Bagels
Philly Cheese Meatball Sandwiches
Pimento Cheese Spread
Pigs in a Blanket
Pineapple Bagel Sandwich
Pizza Burgers
Pita Bread Sandwiches
Pizza Burgers
Pork Barbecue
Pocket Sandwiches
Pork Burger
Portobello Burgers with Red Pepper Mayonnaise
Pork Pull Sandwiches
Portobella Fajitas
Pulled Pork with Root Beer Barbecue Sauce
Portobello Reubens
Pressed Picnic Sandwich
Quick Chick Sandwich Filling
Pretzelwiches
Red Devil Franks
Reuben Sandwiches
Red Hots
Rinktum Ditty
Roast Beef Sandwiches
Roast Beef Pita Sandwiches
Roast Beef with Horseradish Ranch Dressing Sandwiches
Roast Pork and Spicy Slaw Sandwiches
Roasted Pepper & Turkey Sandwiches
Roasted Red Pepper Stuffed Sandwich
Roasted Vegetable Sandwich
Roast Turkey Sandwich with Cranberry Pecan Mayonnaise
Rolled Reuben
Santa Fe Chicken Sandwich
Samantha's Peanut Butter Candy Sandwiches
Santa Fe Pork Sandwich
SAUSAGE SANDWICHES
Saucy Franks
Sausage and Green Pepper Heroes
Shredded BBQ Beef
Sausage Loaf
Shredded Beef (Carne de Res Deshebrada)
Shrimp Boats
Shrimp-Avocado Club Sandwiches
Shrimp Hoagie
Shrimp Sandwich
Shrimp Melts
Shroom Sandwiches
Sloppy Franks
Skirt Steak Guacamole Sandwich
Sloppy Joe Meatball Subs
Sloppy Veggie Burgers
Sloppy Joes
Smoked Gouda and Caramelized Onion Quesadillas
Submarine Sandwich
Smoked Pork Loin Sandwiches
Soft Shell Crab Sandwiches
Sourdough Picnic Loaf
Souperburgers
South of the Border Muffuletta
Southwestern Sandwiches
Southern Shrimp Sandwich
Southwestern Club Sandwich
Spamburgers
Special Spaghetti and Meatballs
Spanish Sandwiches
Spicy Gator Etouffee Sandwich
Spicy Calzones
Spicy Sausage Sandwiches
Steak and Mushroom Sandwiches
Spinach Calzone
Steak and Veggie Sandwiches
Stick to a Monte Cristo
Steak Sandwich with Mustard Spread
STROMBOLI
Stuff on a Shingle
Stroganoff Sandwiches
Stuffed Bacon-Wrapped Dawgs
Super Monte Cristo Sandwiches
Stuffed Sandwich
Submarine Sandwich
Supper on a Slice
Super Roast Beef Subs
Sweet and Sour Pork Pockets
Taco Burgers
Swiss Tuna Bunnies
Taco Joes
Tarragon Chicken Salad Sandwiches
Tangy Barbecue Sandwiches
Tavern Burgers
Tea Sandwiches
Taverns
Tex Mex Turkey Sandwich
Texas Tavern Burgers
Texas Barbecue Sandwich
The Best Stinkin' Sandwich in Town (Garlic-Stuffed Tri Tip Sandwiches with Roasted Garlic and Olive Aioli)
Tostadas
Tortilla Sandwiches (Sincronizadas)
Tri Tip Sandwiches with Spicy Chipotle Mayonnaise
Tuna Bumsteads
Tribble Chicken Salad Sandwiches
Tuna Cheese Spread
Tuna Spread
Tuna Salad
Tunaburgers
Turkey Sausage and Pepper Calzones
Turkey Melt
Turkle Burgles
Veggie Burgers
Vegetable Sandwich Filling
Veggie-Wich
Waffle Devils
Vidalia Onion Finger Sandwiches
Welch Rarebit
Western Trail Sandwiches
Western Burgers
Wild West Burgers
World's Best Roast Beef Sandwiches
Wineburgers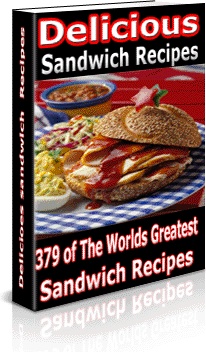 Site owner:
Put the rating form on your site!
Listing wrong or need to be updated?
Modify it.
Cooking Package!
114 Cooking ebooks Click here to see the full list of these ebooks
(total value $710.95)
Buy Now
just for $30.95
$680
off
Food Package!
41 Food ebooks Click here to see the full list of these ebooks
(total value $262.85)
Buy Now
just for $28.95
$233
off
Silver Package!
Any 100 ebooks from 2000+ titles Click here to see the full list of these ebooks
Buy Now
just for $29.95
Gold Package!
Get full access to 2000+ ebooks Click here to see the full list of these ebooks
Buy Now
just for $49.95
Mistake found?
Select spelling error with your mouse and press Esc