Resumes with Impact Ebook
Category:
Jobs
Title:
Resumes with Impact
Author:
Lester Watts
Description:
Prepare a Powerful Presentation
It's an extremely competitive job market out there today. Unlike your parents or grandparents, it's very rare that someone has a single job in their lifetime. It's a foregone conclusion that you will never earn that proverbial "gold watch."

Today, it's all about survival of the fittest and it begins with your résumé. Of course you can pay someone a hefty fee to prepare a résumé for you. Or, you can choose to do it yourself.

Preparing your own résumé can be a daunting task without a mentor. We have just the ticket for you. Résumés with Impact is like having a mentor sitting by your side while you prepare for your career.

Writing your résumé requires skill and purpose. Slapping together a list of experience and hobbies doesn't even put you in the running, let alone winning that prize position.

The odds for employment being with they are today dictate that you will have to apply for new positions several times throughout your life. The sooner you get it together the better off your professional landscape will look.
Do you fully understand the position you are seeking?
Do you know what type of résumé you wish to prepare?
Do you know how to find out what the employer wants?
Do you know how long your résumé should be?
Do you know exactly what you must always include?
Writing an effective cover letter can be crucial. Do you know how to do it? Answers to all these questions and more can be found in Résumés with Impact.

You will also learn the fine art of the successful interview. Plus, find out what you need to know about following up properly so you can snag that job you are hoping to land.

Do yourself, and your career, a huge favor and grab your copy now. We know you will be on your way to a powerful presentation - we guarantee it!
About The Author

Lester Watts

Lester Watts worked in various clerical jobs before starting and running his own business.
After selling the business because of the long hours, he was in a position to not have to work again.
But, he was very active and interested in changes to his community and the lives of his friends and other people that came from the rapid advance of technology and the effects of the Internet.
So, he started researching and writing articles about a wide variety of subjects.
He interviewed many people of various ages and backgrounds for positions with his business and has interviewed many people about the increasing pressures on applicants and employers in the 21st Century employment scene for this book.
He hopes that his plain language approach will help people to cope with the stresses and demands of the changing job landscape and show them some ways to make their applications and their results better.
Lester Intends that the information he shares with you in this book will help you to cope with the pressure and uncertainty so that your road to successful employment is short and smooth.
Contents
Introduction
The Basics of Resumés
Which Type of Resumé?
Photographs
Your History
Fitting the Specifications:
Your Skills and Achievements:
Preparing a Powerful Resumé
Cover the Specific Points in the Ad
Read, Understand and Respond to the Advertisement
Basic Requirements
Be Clear about Their Needs
Find Out what They Really Want
If You Aren't Ready, Try for Something Else
Written or Printed?
Collecting Information
Your Information
Job Opportunities
About the Employer
Local and State Newspapers
Sources
Yellow Pages
The Company
Professional Associations
Private Consultants
Internet Resources
A Warning about Dangerous Web Sites
Phishing
Free Advice Could Cost You Plenty
Writing Your Resumé
Career Highlights
What You Must Always Include
Contact Details
Education History
Your Work History
Memberships
Referees
Optional Information
Final Tips for a Top-class Resumé
Put your Resumé on Your Web Site
Body Piercing, Decoration etc
MySpace® and Other Social Networking Web Sites
Emailing Your Resumé
Just Fill out Our Form
Common Questions
Writing the Cover Letter
Check these Points
Outline for your Cover Letter
What to send the Employer
Holding Your Pages Together
Waiting to Hear from the Employer
Answering the Call
Start Another Application
Making a Positive Impact at Interviews
The Applicant's Focus
The Interviewers' Focus
Reduce the Anxiety
Mental Preview
Get Ready for Your Interview
Answer all the Questions
Before You Leave
The Interview
No Regrets
Prepare Yourself
Give Yourself a Deadline
Appearance
Last Words from Lester Watts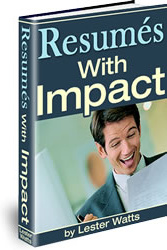 Add to Cart
Add to Wish List
P.S. Please Don't Order this product if you're wanting a fat ebook full of fluff. You'll get a mini guide of high quality information written by someone who tells you what you need to know.
P.S. Please Don't Order this product if you're wanting a fat ebook full of fluff. You'll get a mini guide of high quality information written by someone who tells you what you need to know.
Price: $

17.00
Ebook Type:
PDF
Rating:
Site owner:
Put the rating form on your site!
Listing wrong or need to be updated?
Modify it.
Mistake found?
Select spelling error with your mouse and press Esc