Renegade Mental Golf Ebook
Category:
Golf
Title:
Renegade Mental Golf
Author:
Coaches Stephen & Bill
Description:
Finally, the Renegade Golf Mental Gurus reveals their secret, easy-to-use golf psychology techniques to overcome lack of confidence, skill, physical power and practice time on the range.
Here's a quick overview of each of the golf hypnosis sessions:

Golf In The Zone
Never feel intimidated or outclassed again, no matter who you are paired up with
Discover a simple move that will instantly induce a calm and relaxed state (this is a crucial skill to possess!)
Experience an entire round of golf, played to perfection, in less than 20 minutes. This data will be stored in your subconscious and will be unleashed into the "real world" the next time you hit the links.
Imbed the innate feeling of being a winner into every fiber of your being (this is the number one trait of all successful golfers)
Release negative thoughts and feelings and actually ENJOY the game again
The Perfect Golf Swing
Transfer your perfect practice swing over to a dead-on reliable swing on the course... where it really counts
Let go of inappropriate muscle tension... instantly... for a silky smooth swing - every time
Finally become one with your swing (it's not as far out as you might think... and it's the ONLY way to go low day in and day out)
Learn how golf is like walking a tightrope (the mental process necessary for success are exactly the same)
Putt For Dough
Never thee putt again - EVER!
Once you get your unconscious mind and your "awake" brain on the same team, you'll be a very dangerous golfer.
Turn on confidence faster than flicking on a light switch
Effortlessly link up your unconscious mind and your body every time you approach a green (the KEY to consistent scoring)
Own the smooth and easy flat stick stroke of a seasoned pro... without the backbreaking hours on the practice green
Discover how ancient Zen archers tricked their minds into believing it was impossible to miss... and how you can steal their methods to drain putt after putt on command
And Here's More of What You'll Discover In The Renegade Mental Golf Manual With NLP and Energy Psychology:
Get rid of negative barriers that are ruining your focus and costing you strokes... (you're probably not even aware of them)
How to eliminate tension on the tee box... especially the dreaded first tee... automatically
The "secret", brain-dead SIMPLE technique that has been missing from your pre-shot routine (this is costing you precious strokes)
How a little known cure for sea sickness can calm your nerves and help you slash strokes
How to eliminate fear and doubt, no matter how tight the fairway or ominous the water hazard
Why most golfers NEVER reach their true potential! (Here's a hint: hard work has nothing to do with this!)
NEVER feel embarrassed or self-conscious on the course again
A short cut to relaxed focus (this works like magic in any pressure situation!)
How to never choke again, EVER!
How to enter "the zone" at will... and stay there
How to quickly eliminate negative swing thoughts that kill your game
CRUSH that first drive long and straight... and set the tone for the entire round
Shatter your limiting beliefs about your game... and play with power
How to silence your "inner critic" once and for all. If there's one thing holding you back from playing better golf today, this is it.
Why traditional positive thinking actually hurts your game... and what to do instead
How your fingertips can help your game (trust me - you've never heard this before!)
Develop the laser focus most golfers only dream about
How to play to your true potential
Why practice does NOT make perfect
A three minute pre-round technique that guarantees your success on the course
Discover the amazingly simple strategies developed by a Stanford Engineer to help war veterans overcome post-traumatic stress disorder (PTSD)... and how to use these same tools to shave strokes off your game... Instantly!
What Albert Einstein and quantum physics have to do with you playing better golf
How to easily remain calm and confident throughout any round of golf... regardless of who you're playing with!
How to free yourself from the burden of mistakes and poor play in the past
How to improve any specific area of your game... in 45 seconds
Drain putts with obnoxious confidence - your friends may start to actually hate you (but I'll bet you get over it)
What to do after a round to guarantee ongoing success
What to do AFTER every shot that is absolutely vital to playing your best (this is something 99% of all golfers know nothing about... and it shows on their scorecard)
Avoid the mistake that almost every golfer makes... before leaving home!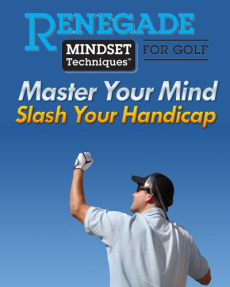 Ebook Type: PDFAudio Included,
Rating:
Site owner:
Put the rating form on your site!
Listing wrong or need to be updated?
Modify it.
Mistake found?
Select spelling error with your mouse and press Esc